Treadmills provide an effective way for individuals to engage in a workout routine from the comfort of their homes. With the ability to adjust speed and incline settings, treadmills can offer a customizable workout experience to help individuals achieve their fitness goals.
However, choosing the best treadmill to suit an individual's needs can be a challenging task, given the many factors that must be considered. These factors can range from storage space, functionality, price, special features, consumer reviews, and brand reputation, among others. To assist individuals in making an informed decision, Athletic Insight has compiled a list of the top treadmills available today based on expert analysis and consumer reviews.
NordicTrack Commercial 1750 (Best Overall Choice)
NordicTrack Commercial X32i (Best Commercial Use)
Sole F80 Treadmill (Best Budget Option)
1. NordicTrack Commercial 1750
NordicTrack is a trustworthy brand known for making high-quality fitness machines. During the fitness journey, pro athletes and elite trainers can guide and motivate the runner to keep going and feel the burn. This commercial grade treadmill is the second best treadmill on this review list.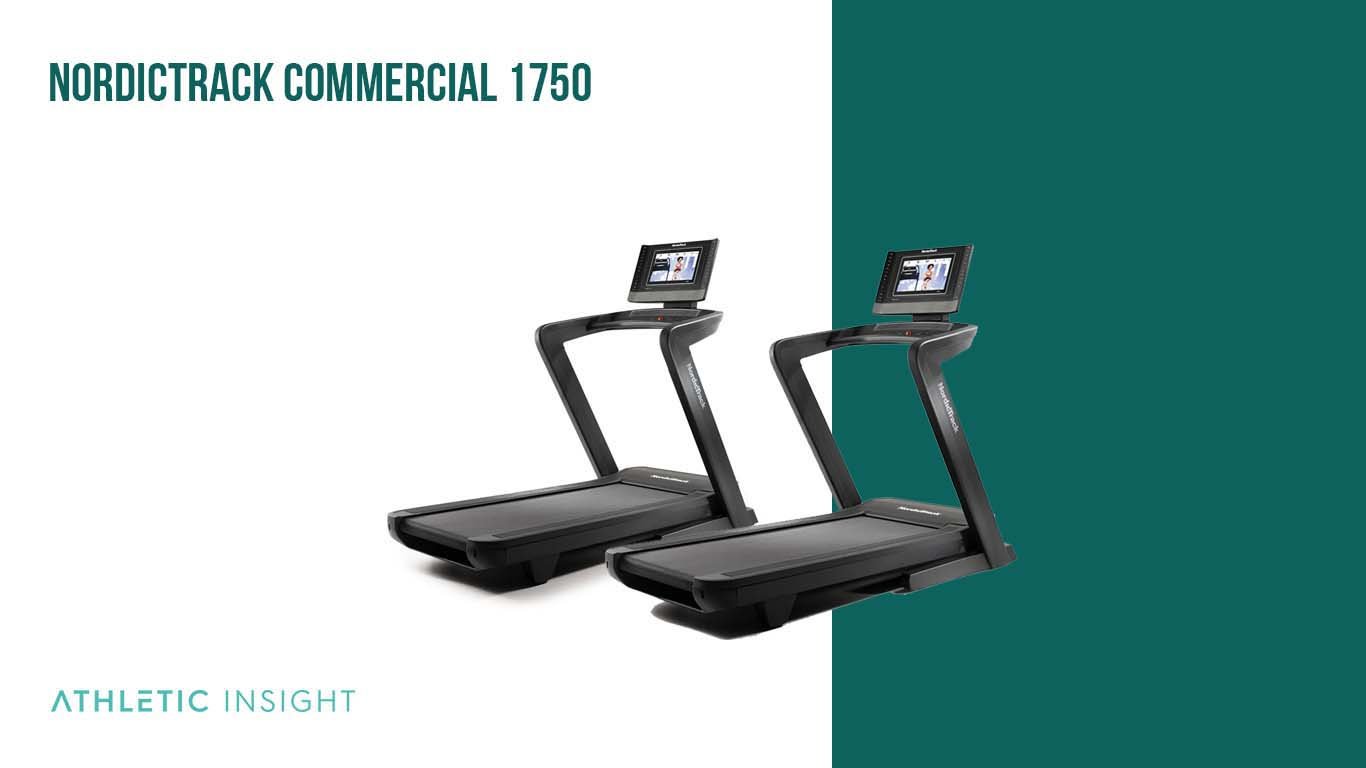 The versatile pivot and tilt 14-inch touchscreen displays thousands of iFit workouts that range from yoga to HIIT. The Smart Adjust technology will also adapt the workout for the person using the machine based on heart rate, previous use, pace, and more.
The 1750 treadmill tracks each heartbeat, calorie, and distance milestone reached, making it easy to continue to set and reach new goals while monitoring progress. This machine comes with a -3 percent decline to a 15 percent incline, miming real-life terrain.
Recommended for: Serious runners
Speed range: 0-12 mph
Max Capacity: 300 lbs
Dimensions: 80" L x 38" W x 65" H
Pros: 14-inch touchscreen, numerous training programs, automatic adjustment technology, 30-day iFit trial included, easily track stats
Cons: No multi-use display options (only for training), it takes up a lot of space
2. NordicTrack Commercial X32i
It's no surprise that NordicTrack treadmills continue to appear on the list, as so many models are worth mentioning. The X32i is a top-tier machine built for excellence. The best treadmills for running generally have some interactive display screen, and this model doesn't disappoint.
With a 32-inch touchscreen, the biggest on the list, it's easy to get lost in the workout. The graphics are crystal clear, and the WiFi connectivity speed is impeccable. Aside from this, the running deck is extra expansive, making it perfect for runners of all sizes.
Stay fresh throughout the workout with the cooling fans that automatically blow air while in operation. It can also be deactivated easily when need be. All workout progress gets tracked and is visible on the large screen at all times, and the complimentary one-month iFit training sessions are engaging and keep the runner motivated.
The impressive decline and incline options go from -6 percent to 40 percent, with maximum speeds topping off at 12 mph.
Recommended for: Large touchscreen
Speed range: 0-12 mph
Max Capacity: 300 lbs
Dimensions: 76.5″ L x 40″ W x 73″ H
Pros: 32-inch touchscreen, autoBreeze workout cooling fans, fast WiFi connectivity, wide running deck, complimentary iFit membership
Cons: Difficult to transport, screen wobbles when running at high speeds
3. Sole F80 Treadmill
The Sole F80 is the best treadmills and also the best value choice. The competitive lifetime warranty, strong 3.5 horsepower motor, and easy-to-fold frame design makes the F80 a top contender for home treadmills. If you find yourself needing a budget friendly treadmill (F63), or a high quality commercial treadmill (ST90), Sole has everything that you'll need.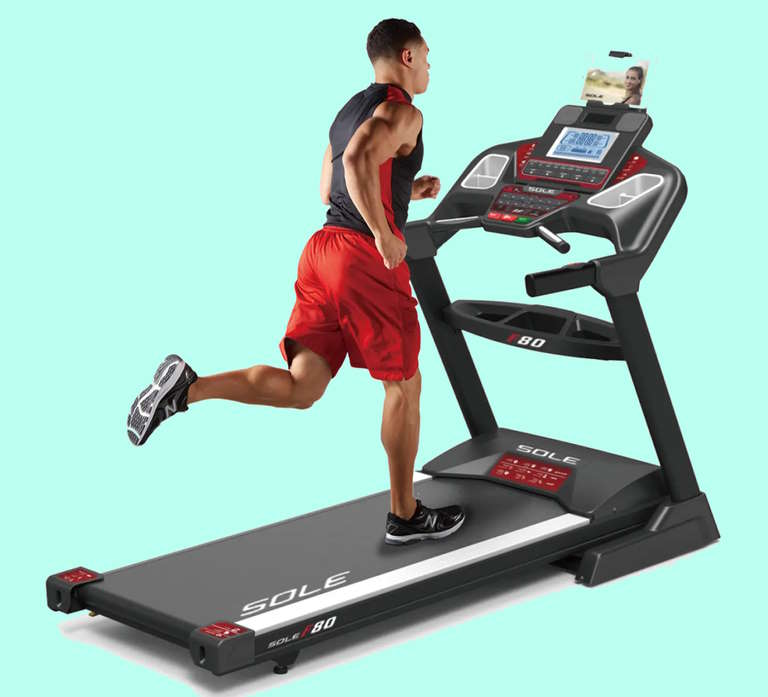 The Sole F80 is the best overall treadmill with a robust 15 incline levels and speeds up to 12 mph, allowing the runner to push the limits. There are six preset training programs, two that measure heart rate and two workouts that the runner can customize.
The bright display screen allows runners to view calories easily, distance traveled, pulse, time, incline, pace, speed, and other crucial information during the workout. Also the cushioned deck offers stability for the feet, reducing impact by as much as 40 percent.
Recommended for: Small spaces
Speed range: 5-12 mph
Max Capacity: 375 lbs
Dimensions: 82" L x 37" W x 66" H"
Pros: Nine-inch LCD screen, easy to adjust during use thanks to rail-mounted buttons, feels stable when running, high maximum capacity, integrated tablet holder
Cons: Small motor, doesn't have a training platform
4. NordicTrack EXP 10i Treadmill
The best treadmill 2023 for stability goes to the NordicTrack 10i. It has zero shaking and wobbling movements when training. This treadmill has unlimited training sessions with personal trainers available through the iFit app.
With this subscription, it's possible to sync the treadmill to automatically adjust to whatever the instructor says during the workout regarding speed and incline changes. The ten-inch console is also Bluetooth-compatible. The cooling fan, one-touch controls, storage trays, and water bottle holders make the NordicTrack 10i a solid option for home runners.
Recommended for: Stability
Speed range: 0-12 mph
Max Capacity: 300 lbs
Dimensions: 79.9" L x 35.08" W x 59.25" H
Pros: Folds easily for storage, instructor-led workouts (iFit), FlexSelect Cushioning, one-touch speed/incline buttons, cooling fan
Cons: Limited Programming, the EXP 10i has a large console but the actual screen is small
5. NordicTrack EXP 14i Treadmill
The NordicTrack EXP 14i has many benefits, and the most notable ones are the 14 pre-programmed workouts and a collapsible design. The treadmill comes with a hydraulic lifting mechanism so that buyers can store the machine away quickly. The 14-inch smart HD touchscreen is another welcomed feature. The sheer size enables easy adjustment between settings.
The auto-adjustment feature is convenient and gives fitness class trainers control of the incline and speed based on guided workout cues.
For individuals with joint pain or injuries, the deck cushioning will help to alleviate some of those nagging pains. Furthermore, the cruise control technology allows the treadmill to keep the speed within an optimal heart-rate zone.
However, a Bluetooth heart rate monitor is necessary to use this feature, which is sold separately. The NordicTrack EXP 14i is an excellent investment for people who like to have lots of workouts to choose from.
Recommend for: Sprinting
Speed range: 0-12 mph
Max Capacity: 300 lbs
Dimensions: 79.9″ L x 35″ W x 59.25″ H
Pros: Bluetooth compatibility, 14-inch HD smart touchscreen, automatic incline and speed controls, folds and unfolds easily, cushioned deck for reduced impact to the knees
Cons: Doesn't include a heart rate monitor, fan too low for taller runners
6. Echelon Stride
The Echelon Stride is ideal for people living in small spaces and doesn't need to run at high speeds. This auto-folding treadmill only requires these quick steps for easy upright storage at just ten inches tall.
The Stride has an integrated device holder to place any smartphone or table. Use the Echelon membership app for live and on-demand classes.
Additionally, there are handlebar sensors that allow for heart rate monitoring. You'll also get eight programmed workouts on the console screen, a rubber running deck that absorbs impact well, and 12 incline levels with maximum speeds of up to 12 mph.
Recommended for: Light running
Speed range: 0.5-12 mph
Max Capacity: 300 lbs
Dimensions: 69" L x 31" W X 49" H
Pros: perfect for small spaces such as apartments, quiet motor, excellent for walking, live classes through the Echelon United app, easy to fold and store
Cons: Doesn't have a screen, limited one-year warranty
7. Bowflex Treadmill 10
Everyone knows the Bowflex name, so it's no surprise that this machine is amongst the best treadmills for working out at home. With a powerful performance, personalized coaching, and plenty of streaming entertainment options, the Treadmill 10 is the perfect addition to a home gym.
You can easily customize workouts daily and watch Disney+, Hulu, and Netflix while breaking a sweat. You can sync to an Amazon Prime Video account and become engaged in immersive environments on the 10″ console.
Some of these features require a JRNY membership, free for the first year. Also, the machine comes with folding technology to safely lower the treadmill into a flat position. Other features include a tether cord to stop the device in an emergency, a cushioned deck, and much more.
Recommended for: Big and tall runners
Speed range: 0-12 mph
Max Capacity: 400 lbs
Dimensions: 85″ L x 39.6″ W x 65.3″ H
Pros: Reputable brand, comfortable treadmill, large deck supports runners of sizes, features incline and decline options, JRNY integration on a built-in 10″ HD touchscreen
Cons: Bulky, JRNY subscription is expensive
8. Pro-Form City L6
The ProForm City L6 is for people who want to get a solid workout but need more space to do so. This machine is the best treadmill for walking, as the maximum speed is eight miles per hour. Well, it isn't swift but allows for an intense power-walking session.
The folding design is innovative, making this treadmill one of the best space savers on the list. It also comes with a 30-day iFit membership, perfect for an introduction to fun classes from personal trainers that will push the trainee to the limits.
The app also conveniently adjusts the machine speed when training, changing the incline, decline, speed, and more to match the selected workout. It's also possible to stream entertainment during a manual exercise.
The deck also has enough cushioning. Therefore, low-impact running is an option, though not recommended.
Recommended for: Walking
Speed range: 0-8 mph
Max Capacity: 250 lbs
Dimensions: 70.25″ L x 29″ W x 44.5″ H
Pros: Complimentary one-year iFit membership, easily slides under a bed, ten-year warranty, excellent for power walking, device holder for smartphone or tablet
Cons: No integrated screen, limited motor (1.6 horsepower) and low max speed not suitable for running
9. Xterra Fitness TR150 Folding Treadmill
Looking for something that offers flexible performance, speed, and convenience? Look no further than the XTERRA Fitness TR150. This treadmill was built with comfort and durability in mind.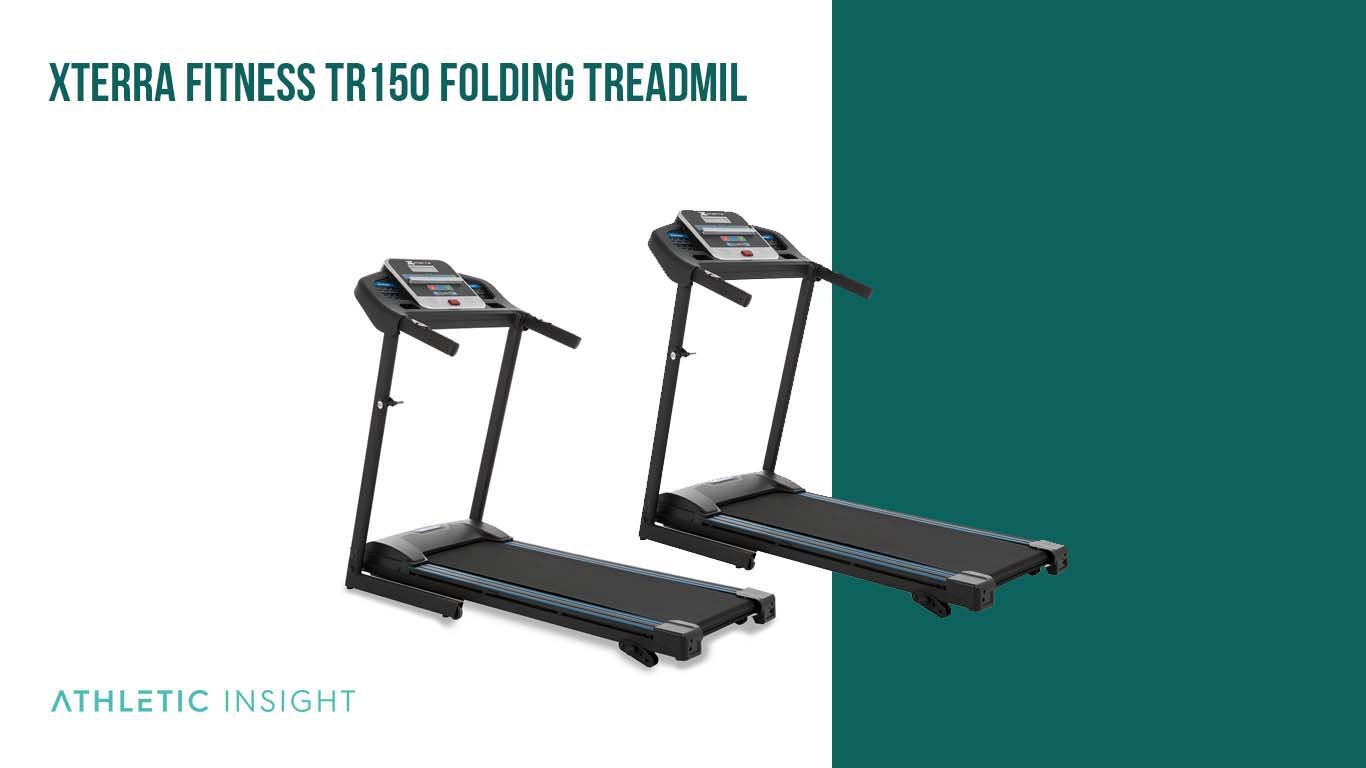 Its quiet, smooth motor propels the twelve preset training programs for an optimal entry-level running experience. There are three manual settings for various incline levels, which makes it simple to fine-tune a workout according to the runner's fitness level.
The five-inch LCD offers crucial feedback during the training session, and the button layout is intuitive, with the speed controls in direct view. The TR150 treadmill has accessory holders for a book remote, smartphone, and more, for entertainment while training.
Pulse sensors along the handlebars help runners stay focused on the goal and enhance the workout. The XTERRA machine is the best at home treadmill for someone who wants to get introduced to the fitness world.
Recommended for: Budget-conscious purchasers
Speed range: 0-10 mph
Max Capacity: 250 lbs
Dimensions: 63.4″ L x 28.75″ W x 51.4″ H
Pros: Large running/walking surface for people of all sizes, lightweight, 12 preset training programs, budget-friendly, built-in accessory holders and book rack
Cons: No electronic incline option, small display
10. Horizon Fitness T101
The Horizon Fitness T101 is another of the best treadmills for home use when a moderate workout is needed. The setup is quick, the controls are simple to navigate, and the equipment is a great workout machine.
It is perfect for apartments, home offices, and other small spaces. The T101 folds up effortlessly in one step and can store upright against a wall. The incline and speed changes are fundamental but easy to use, with a simple dial rolling forward or backward to increase or decrease the settings.
There are also heart rate grips on the handlebars, a water bottle holder, an audio input/output jack, a tablet rack, a cooling fan, and many other convenient features to optimize a home workout.
Recommended for: Moderate workouts
Speed range: 0.5-10 mph
Max Capacity: 300 lbs
Dimensions: 70" L x 34" W x 55" H
Pros: One-touch controls, it only takes 15 minutes to assemble, frame folds in one step, 41 program levels available, built-in Bluetooth speakers
Cons: Low top speed, short track
11. Horizon Fitness 7.0 AT Treadmill
The Horizon Fitness 7.0 is the best treadmill for home if someone wants total control over the training session. There's advanced Bluetooth connectivity, which allows multiple devices to connect simultaneously.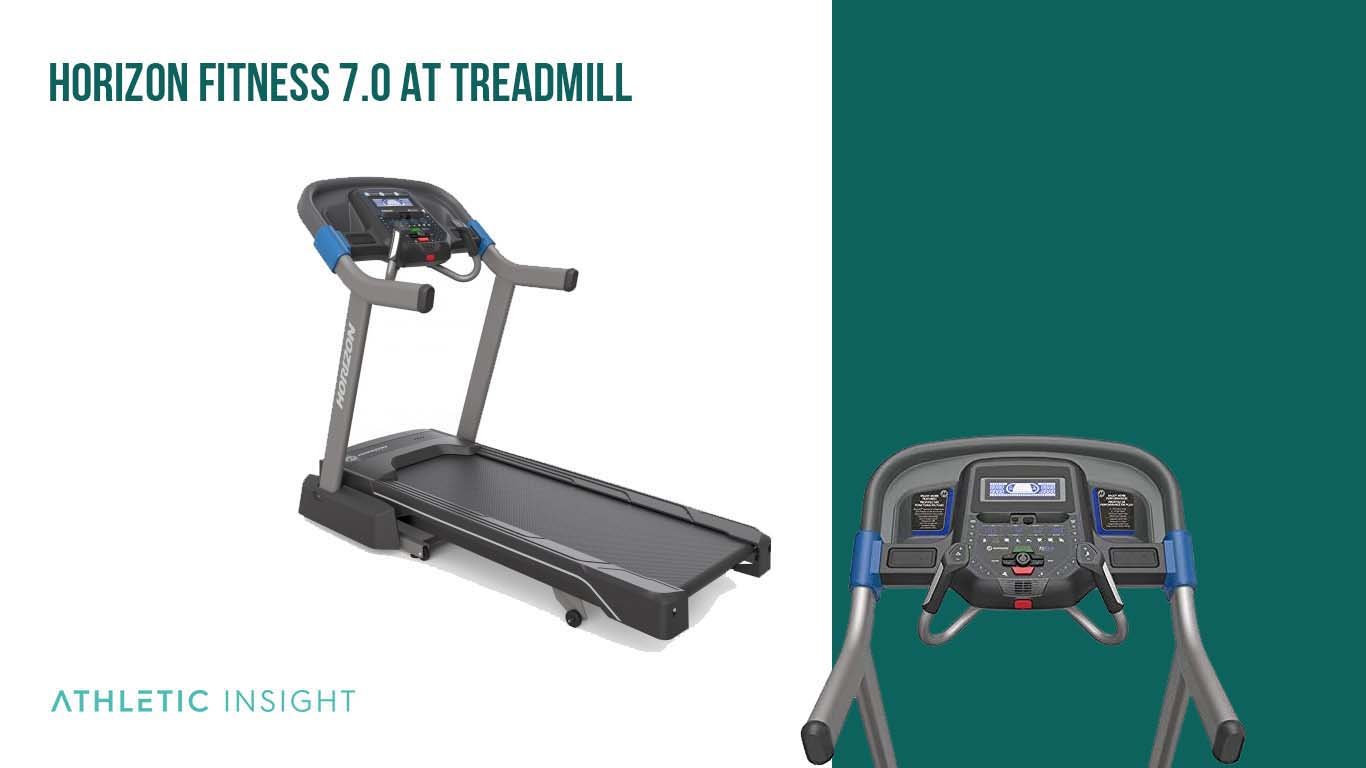 It is, however, ideal to note that there aren't many integrated training programs. This option is perfect for anyone who prefers to choose a favorite fitness app instead of being forced to use the workouts built into the machine.
The quick controls are easily accessible through the high grip bars near the chest, which is more intuitive than reaching forward to adjust the settings on a console.
The rugged frame is durable, though the deck is somewhat narrow and short. The hydraulic folding mechanism makes storage a breeze. The incline and decline settings are also respectable.
Recommended for: Non-proprietary training
Speed range: 0.5-12 mph
Max Capacity: 325 lbs
Dimensions: 76.5″ L x 36″ W x 59″ H
Pros: Affordable, accessible control panel, lifetime motor and frame warranty, three-zone deck cushioning, device holders are versatile
Cons: The seven-inch screen is small, limited workout programs, no decline available
12. Urevo 2 in 1 Under Desk Treadmill
The UREVO 2 in 1 is a folding treadmill for sale as an under-desk machine is the best choice for a home office. There's no need to take up additional space in a garage or any other room in the house when the UREVO can simply slide underneath a workstation to provide a light workout instantly.
While using the Under Desk Treadmill as a simple accessory to the workday between tasks is possible, someone can also use the UREVO as a standalone machine for light jogging.
The display shows training statistics like distance, speed, calories, and time. A remote also changes the speed or stops the treadmill altogether during use.
The motor is relatively robust for a budget treadmill and can support nearly 300 lbs, which is impressive for the size. Lastly, the best part of this home treadmill is that purchasers can start training with this machine directly after unboxing.
Recommended for: Home office
Speed range: 0-7.6 mph
Max Capacity: 265 lbs
Dimensions: 53.1″ L x 26.4″ W x 5.1″ H
Pros: Portable, no assembly required, phone holder, speed buttons on the handrail, doubles as a standalone machine
Cons: Narrow running surface, the machine can break down within a few years
13. Pro-Form Carbon T7
Dive head first into an immersive training experience with the help of the Carbon T7 treadmill by ProForm. Patrons can access the 30-day iFIT family membership using the 10-inch HD touchscreen and gain immediate access to thousands of training sessions. All these are led by motivational trainers who can control the incline and speed of the treadmill.
The membership offers studio classes, global workouts, live and more. The family membership allows up to five individual workout profiles.
iFIT also allows the trainer to auto-adjust the treadmill to optimize all training routines. The treadmill also has integrated comfort features, such as the ISO Flex cushioning positioned in the deck and a workout fan in the console. Additionally, the space saver design of the treadmill encourages easy storage.
Runners can enjoy speeds up to 10 mph and 12 percent incline controls with just the touch of a button. There's even the BILT Intelligent Instructions that one can download as a free app for step-by-step 3D instructions to help with seamless machine assembly.
Recommended for: iFit membership
Speed range: 0-10 mph
Max Capacity: 300 lbs
Dimensions: 73.5" L x 33.5" W x 57" H
Pros: Three-year iFit membership, space-saving design, 10″ touchscreen, sufficient deck cushioning, responsive motor
Cons: No built-in cooling fan, manual folding is challenging
14. Sunny Health & Fitness Exercise Treadmill
The Sunny Health and Fitness SF T4400 is among the most affordable treadmills on this list and is best used for walking, jogging, and low-intensity exercise. The treadmill only offers the essentials; however, the machine does provide quality exercise in exchange for a meager price.
The running surface is 49″ x 15.5″, meaning there's not enough space for long or wide strides. And it has a top speed of just nine miles per hour. The SF T4400 has a 220-pound weight limit and offers three positions of manual incline adjustment.
The tread has a small digital display and intuitive controls with conveniently placed handrail controls that make it easy to adjust. This treadmill is not meant for those who are avid fitness gurus.
There are hand grip pulse sensors that help runners monitor heart rates in real-time during a workout. To help individuals accomplish fitness goals, nine pre-defined workout programs, and a manual mode can be utilized.
Recommended for: Small fitness budget
Speed range: 0.5-9 mph
Max Capacity: 225 lbs
Dimensions: 62″ L X 25.5″ W X 50″ H
Pros: Controls built into the handrails, two water bottle holders, no-fuss assembly, decent balance of features, nice preset training programs
Cons: Small running surface, low maximum weight limit
15. Lifespan Fitness TR 1200-Power Treadmill Desk
The Lifespan Fitness TR 1200-Power Treadmill Desk is a console and a standing desk treadmill compatible with most standing desks. The compact console gives customers ample access to workout readouts and control buttons.
The treadmill features an LED digital display that shows walking/running time, steps taken, belt speed, distance traveled, and calories burned. Also, the Bluetooth-enabled console allows customers to connect wirelessly to OS X or Windows computers to track the results automatically during exercise.
Additionally, after completing the exercise, the results get synced with the LifeSpan Fitness Club account to keep track of all progress online. The console also features a USB port for any portable device.
The treadmill can fit under virtually any standing desk at least 29.5″ tall; the machine has a weight limit of 350 lbs and has a versatile walking surface for various heights and sizes.
Recommended for: Desk treadmill
Speed range: 0.4 to 4 mph
Max Capacity: 350 lbs
Dimensions: 74.5″ L x 46.8″ W x 36″ H
Pros: Easy assembly, quiet when in action, sturdy, simple controls, high weight capacity
Cons: Too basic for the price, small display, console too bulky
16. Sprintbok Treadmill by NOHrD
The NOHrD Sprintbok Motorless Treadmill is something that many runners can get behind because of its unparalleled advantages. The runner's legs wholly power the treadmill. Therefore, the Sprintbok doesn't have a speed limit.
No matter the intensity of the training, the motorless treadmill can absorb any impact via the ball-bearing mounted slats.
The person training can shift the body's center of gravity to change the speed and rhythm of the treadmill effortlessly.
Compared to motorized treadmills, the Sprintbok provides more intense and effective treadmill workouts. Runners can enjoy a higher calorie burn thanks to the higher level of effort.
Whether it's interval runs, sprints, or distance—all forms of training are suitable on this treadmill. The Sprintbok is very quiet during use and reacts instantaneously to any change in speed input.
Recommended for: Innovative treadmill
Speed range: 0- No limit
Max Capacity: 350 lbs
Dimensions: 71″ L x 27.5″ W x 55″ H
Pros: 17.3-inch integrated tablet, multiple wood choices are available, no power required, this treadmill burns more calories than a motorized treadmill, the runner can go as fast as desired
Cons: It takes a while to get used to, requires some upkeep for the wood
How to choose the best treadmill?
You should choose the best treadmill based on your fitness level and goals. The budget, reviews, capacity, amount of space available, and desired features on the machine will also play a prominent role in deciding which piece of equipment to purchase.
What to consider when buying a treadmill?
You should allow fitness aspirations to help you make a well-informed decision. Therefore, if you plan on using the treadmill for an extended time, choose a more expensive treadmill with a console and warranties to protect against wear and tear. Generally, that is where a commercial option stands out as they are made with higher quality components and last longer.
Afterward, consider whether having a trainer is essential. Runners who want a trainer have to consider an excellent screen display to maximize the experience of having access to in-home training and elite trainers. In addition to the screen, you'll want to stick with one that has access to online trainings.
Similarly, if you are looking to track improvement and progression conveniently, you should search for treadmills with LED screens that track heart rate, steps, distance traveled, etc. Some even have Bluetooth setups that relay data directly to a computer.
However, if the bare minimum is needed, getting a solid inexpensive treadmill that is budget friendly without the big bright touchscreen monitors, is a great tradeoff.
Where to buy the best treadmill?
Whether online or in-person, you should always do proper research before buying. However, going in person will always be better if one can test the equipment. However, with the proper research, individuals can make wise and informed decisions online by using reviews and specs as a guide to choose the best treadmill.
Is a treadmill expensive?
Yes, a treadmill can be expensive, especially when compared to the alternative (running outside for free). However, treadmills last a long time and provide a home solution where you are safe and not exposed to the elements. Top treadmills have a wide price range of variation where you can get a treadmill for a few hundred bucks or several thousand.
What is the best treadmill for home?
The best treadmill for a home depends on the individual's fitness level and budget, but would likely be the Nordick Track Commercial 1750. The device has a 14-inch touchscreen, multiple training sessions, a complimentary online workouts, and easy controls. For a more budget-conscious buyer, the Sole F63 is lightweight and has multiple preset training programs. 
What is the best treadmill for gym?
The best gym treadmill is the Nordick Track Commercial 1750. This running machine does well as a space saver. It also has a lightweight design and plenty of ways to enhance a workout. For example, a tablet holder allows the runner to use a device with personal training videos at no additional cost. 
What is the best treadmill for walking?
The best treadmill for walking is the Sole F63. This treadmill has a narrow running deck better suited toward walking over running, and is lightweight. Coming in at under $1000, it is the best quality treadmill money can buy at this price point. If you want something that can support running and that will last a bit longer, the Nordick Track Commercial 1750 is an upgrade you should suggest.
What is the best treadmill for running?
The best treadmill for running is the Nordick Track Commercial 1750. The machine adapts to any running style and speed, making it the best option for any skill level. If you are in need of a high-end machine that can stand the test of time, you may consider upgrading to an NordicTrack Commercial X32i or a Sole ST90.
What is the best incline treadmill?
The best incline treadmill is the Nordick Track Commercial 1750 which is not only budget friendly, but it is built with top quality components and has advanced technical abilities. Whether you are just starting out, or a professional athlete that doesn't quite need a commercial machine, the 1750 is the best incline treadmill that money can buy.
What is the best-curved treadmill?
The best-curved treadmill is the Sprintbok by NOHrD. The curved wooden running surface allows runners to change the speed and intensity of the workout by using more effort and leg strength when training.
What is the best treadmill for big and tall users?
The best home treadmill for big and tall users is the Nordick Track Commercial 1750. This treadmill can support people up to at least 350 lbs. and has a longer length to help prevent accidental falls.
What is the best treadmill for beginners?
The best treadmill for beginners is the Sole F63. This machine has access to many online guided workouts for those unsure what a training session should look like. The most significant advantage is that the Sole F63 is budget friendly, stable and offers easy folding for storage, a cooling fan, and a warranty.
What is the best under-desk treadmill?
The best under-desk treadmill is the Urevo 2-in-1 treadmill. This machine steals the category because this 2-in-1 device reaches a slightly higher soled than the Lifespan treadmill. The UREVO also doubles as a standalone machine, doesn't require assembly, is compact and portable, and has accessory holders for water and more.
What is the best top-rated treadmill?
The top-rated treadmill is the Nordick Track Commercial 1750, deemed by many as the best overall treadmill for home use. In the middle of the pack in terms of price point, 1750 offers a decent screen size, many features, interactive workouts, and more. 
Is a treadmill a good investment?
A treadmill is a great investment for fitness fanatics and novices alike. Treadmills grant people the ability to work out from the comfort of home without having to go to a gym. Also, treadmills are known to last for a while, and customers can buy one that includes a warranty.
Does a treadmill consume too much electricity?
The best treadmills today do not consume much energy. However, runners using treadmills avidly will see a slight uptick in their energy bill but nothing excessive. Having a well-laid routine helps you know the average energy use per month and what to settle.
What is the difference between outdoor walks and walking on a treadmill?
Energy exertion is one of the most significant differences between walking outdoors and on a treadmill. When walking outdoors, there's wind resistance, terrain to traverse, and the person's need to propel the body forward—meaning that more calories get burned when walking outside.
Conversely, the treadmill propels individuals forward, causing less energy usage. There aren't any wind conditions to consider, which all combine to make individuals burn fewer calories. However, the differences are nearly negligible; therefore, people should allow preferences to inform which is best.
While outdoor walks are free and good for rejuvination, there are many advantages of using a treadmill. From avoiding bad weather, improving time efficiency, and competing with others online or following courses, the treadmill has many benefits.