Beta-alanine is one of the most common beta-amino acids in pre-workout supplements that your body naturally produces. It's beneficial for muscle gain, increases how long you can work out, and helps you recover faster.
Even though your body naturally produces beta-alanine, supplementing your natural production with a pre-workout or specific beta-alanine supplement can improve your overall performance in the gym. Here are the most common beta-alanine supplements.
Thorne Beta Alanine-SR – Best Overall
Transparent Labs Beta-Alanine – Top Rated
Optimum Nutrition – Most Popular
Bulksupplements – Best Budget
1. Thorne Beta Alanine-SR
Thorne Beta Alanine-SR is an athletic performance pre-workout supplement, often taken as a bundle or stack. The Thorne Beta-Alanine supplement helps aid muscle growth, energy levels, endurance, and power.
Each container comes with 120 tablets of beta-alanine, with a serving consisting of two (2) tablets. While the majority of the ingredients consist of 1.6 grams of Beta-Alanine, the product does contain a few minor ingredients as well.
As always, there are potential side effects. While rare, you may feel lightheaded, dizzy, or experience a mild tingling sensation while using this product.
For best practice, take the capsules with six to eight ounces of water and drink it 30 minutes before exercising. You can take it on rest days once with a meal if you want to see increased results.
Coming in at under $0.36 per capsule, Thorne stands out as the best overall product on the market. For the best price possible, be sure to sign up for a subscription.
---
2. Transparent Labs BULK for Beta-Alanine
One of the best pre-workouts for muscle gain is Transparent Labs BULK for beta-alanine. This supplement contains 4,000 mg of beta-alanine in the container, making it one of the products that have the most of the ingredients. It comes in ten delicious flavors, unlike other brands.
Other supplements' ingredients include citrulline, BCAAs, taurine, caffeine, L-tyrosine, L-theanine, and several vitamins. You'll get all the benefits of beta-alanine like increased energy, endurance, muscle recovery, and others associated with classic pre-workouts.
The advanced training formula is perfect for serious gym-goers. You'll feel that intense surge of energy when you take it, but the beta-alanine helps prolong the surge, so you don't immediately crash. There may also be a tingling feeling in your face, hands, and feet.
Due to the caffeine content, you may experience difficulty sleeping and headaches. Other uncommon side effects include irregular heartbeat and dizziness.
There are about 30 servings per container. You'll mix one scoop with eight ounces of water, shake, and drink. The cost of BULK is $50, making it a more expensive option, but it's still a fantastic product worth the money.
---
3. Optimum Nutrition for Beta-Alanine Intake
Another one of the best pre-workouts for muscle gain is Optimum Nutrition's beta-alanine powder. It's designed for energy management to keep you working out for longer, enabling more muscle growth.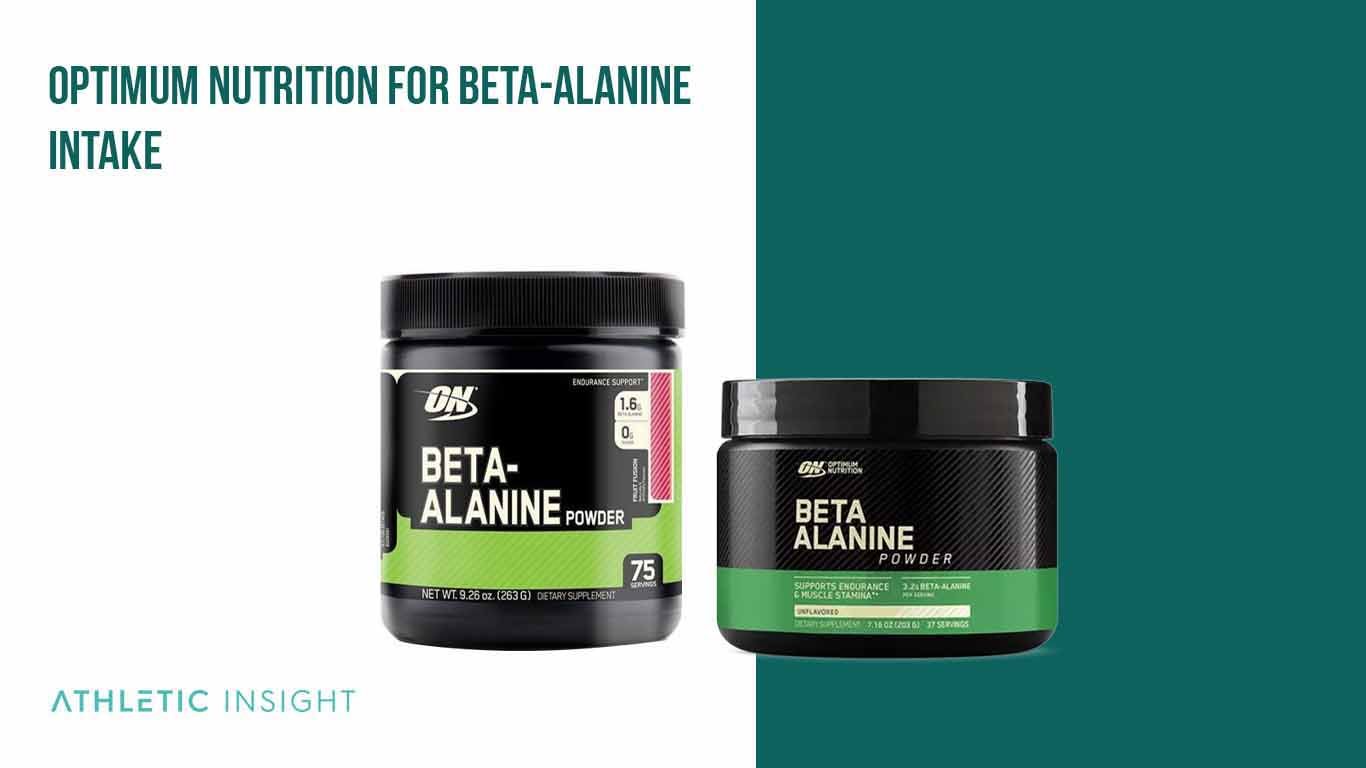 Optimum Nutrition's beta-alanine intake consists of carnosine beta-alanine, histidine, phosphates, and silicon dioxide. It helps your body get into carnosine synthesis, improving intramuscular buffering. You can purchase the powder without a flavor or in fruit fusion.
As you consume the supplement, you'll experience a completely normal tingling. The sensation can amplify as it settles into your system more. The feeling should never be painful, and if it is, you should stop taking it immediately.
Possible side effects of this beta-alanine powder include nausea and headaches if taken on an empty stomach. Each container comes with 75 servings. A serving size is one scoop, and you'll mix it with six to eight ounces of water.
To get the most out of this product, you'll take it twice a day on your workout days. You'll take it once in the morning with your first meal and then 30 minutes before your workout.
This product is a little more costly than BSN's product. It's under $30 on Amazon, but you'll likely spend more money replacing this product more often since you take it twice a day.
---
4. Bulksupplements for Beta-Alanine Consumption
A reputable pre-workout with beta-alanine found within is sold by a brand called Bulksupplements. It's one of the best pre-workouts for weight loss since it can help with fat blocking. You can purchase the product in powder form or gel capsules.
The product includes 600 mg of beta-alanine to help you power through your workouts, recover faster, and see muscle gain and weight loss. You'll likely experience a tingling sensation when you take the supplement as with other similar supplements.
The tingling should go away the more you take the product, but you should consult your doctor if you experience prolonged tingling. Potential side effects include trouble sleeping, headaches, and nausea.
When purchasing this supplement, you can order 100 g, 200 g, or 500 g at a time. The serving size is ¼ of a teaspoon and can be taken up to three times a day as a dietary supplement. You'll mix it with four ounces of water and consume it before your workout.
This Bulksupplements product is a little costly. For 100g, you'll pay $13 before taxes. If you like it, it's better to invest in a larger bag of powder to save money.
---
5. Nutricost for the Beta-Alanine Need of Athletes
Nutricost has one of the best pre-workout powders for athletes, incorporating the all-important beta-alanine. The product is gluten-free and free of GMOs, making it one of the cleanest beta-alanine recipes. This unflavored product comes with 500g in each bottle, which is about 167 servings per container.
This beta-alanine product is designed to assist you with the energy you need to get through your workouts. You'll be able to do more reps, resulting in a better burn and the muscle growth you want.
Upon taking the supplement, you'll feel flush and possibly experience a tingling sensation. It shouldn't burn and is otherwise harmless and should subside within a few hours. While side effects are abnormal, you can experience sluggishness and headaches afterward.
Each serving of this beta-alanine contains three grams of amino acid. To use, you'll mix one scoop, into six to ten ounces of water. You'll shake it together and then consume it before heading to your workout.
The price for this product is excellent, considering it's a non-GMO product suitable for vegetarians and those who are gluten-free. It's $21 on Amazon before added taxes which is an excellent investment since you'll only take this once daily.
6. BSN
BSN's beta-alanine supplement is an endurance and performance amplifier useful for a pre-workout for men. Their product uses a unique combination of CaronoSyn, beta-alanine HCI, and beta-alanine that BSN only uses.
The product is designed to take before your workout to help increase your endurance and performance in the gym. You can do cardio for longer and more reps when taken correctly. You'll feel a gradual energy boost that allows you to stay in the gym for longer.
You may experience itchiness, dizziness, and even a burning sensation when taking this product. The best thing you can do when taking it is to eat or have something in your stomach before taking it and going to work out.
Each container contains 300 g. The serving size is one teaspoon, giving you roughly 75 servings per container. You'll mix one teaspoon with four to six ounces of water and drink 30 minutes before your workout.
The cost will vary depending on where you buy it. You can find it at affordable retailers like Walmart for under $15, making it a very affordable beta-alanine supplement.
7. GNC Pro Performance for Beta-Alanine
GNC is a popular supplement store, and their beta-alanine is an excellent option to consider. This product is in tablet form, so there's no need to measure serving sizes or mix in a shaker bottle.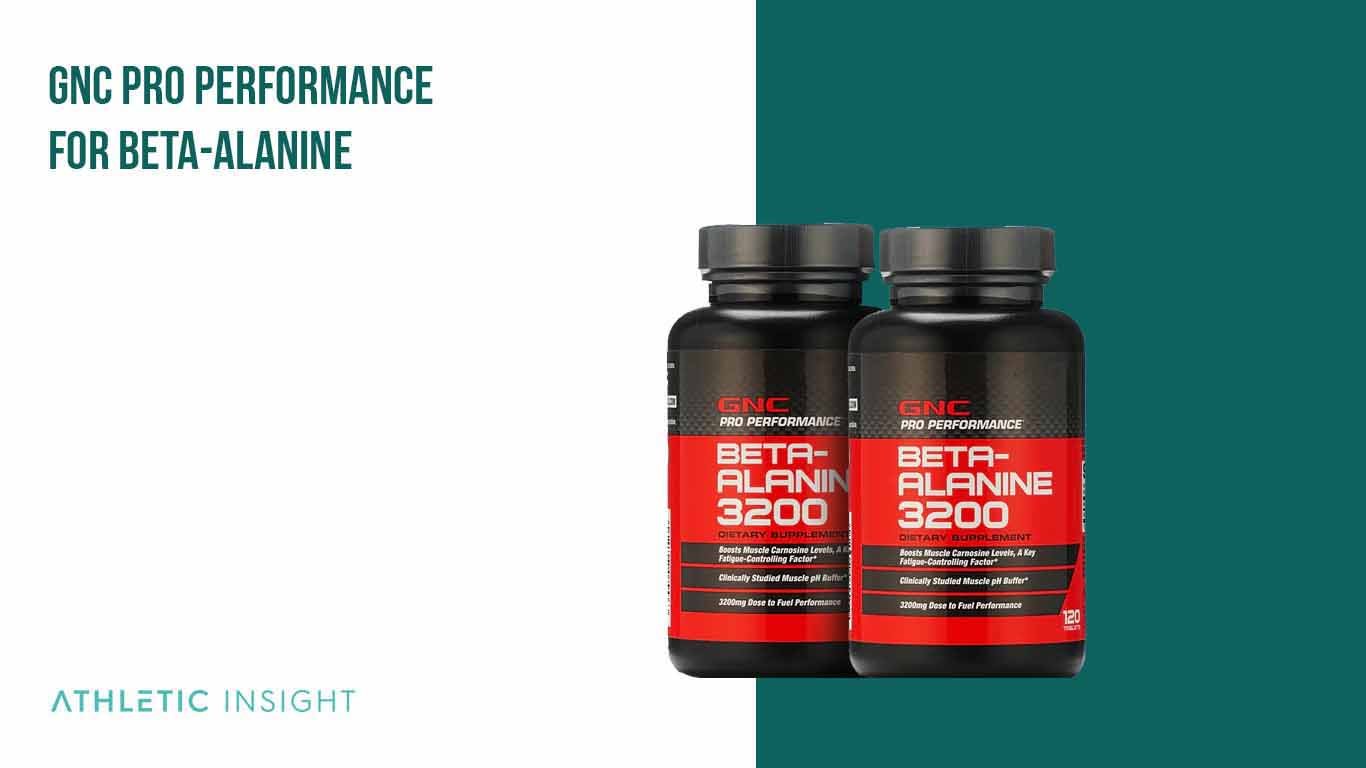 When taking this product, you'll experience increased muscle carnosine levels which helps them grow and recover faster after an intermittent lifting session. The only main ingredient in the tablets is carnosine beta-alanine, making it a clean product.
Most people experience flushing and tingling when taking the product. This is harmless and should lessen the longer you take it. You can choose to have the supplement regularly shipped to you every 30, 45, 60, 90, 120, or 180 days.
Each bottle contains enough for a 30-day supply. If you're taking it as instructed, the serving size is four tablets a day. You'll take two tablets two hours before your workout and two hours after you're done. You can also choose only to take it beforehand.
The tablets are affordable at $24.00 for 120 tablets. You can save money by signing up to have it automatically shipped to you every 30 or more days.
8. Hard Rhino To Provide Beta-Alanine for Muscles
The Hard Rhino beta-alanine for muscles is a product you can get in powder or capsule form. It's proven to help boost endurance, and brain function, decrease fatigue and improve your overall physical performance.
It helps increase the carnosine in your skeletal muscles, which reduces acid levels that make you sore after a workout. While most pre-workouts cause a tingling sensation, most people don't feel it when taking this product, so if you hate that feeling, this is an excellent product.
Side effects include itchiness, burning, tingling, headaches, and stomach cramps. These are rare but are worth keeping in mind.
You can purchase the powder in 250- or 500-gram containers. Each serving contains one gram of beta-alanine to aid in your fitness journey. You'll take one scoop, combine it with eight to 12 ounces of water, and consume 15 to 30 minutes before exercise.
Hard Rhino's products are at affordable prices. They range from $16.99 to $21.99, depending on how much of the beta-alanine you purchase.
9. PrimaForce for Beta-Alanine
PrimaForce for Beta-Alanine is another fantastic pre-workout for muscle gain. It allows you to train harder, reduces fatigue after workouts, and helps you gain lean muscle mass. It's a great product to take with creatine to enhance overall performance.
Each serving of this product contains 2,000 mg of beta-alanine, regardless of whether you purchase a 200- or 500-gram container. When taking this product, you're likely to experience redness in your face and tingling in your hands or face.
Like other supplements, Prima Force has side effects. You may have headaches, difficulty sleeping, and other non-life-threatening side effects.
You'll take the serving size, two scoops, and mix it with eight or more ounces of water to ingest this product. You should take this before working out, and if you want to see further results, you can take another two scoops post-workout.
Pricing for this product is comparable to other supplements. The 200-gram container is $29.99, and the 500-gram container is $59.99.
10. NOW Sports Nutrition
One of the most popular pre-workout brands is NOW Sports Nutrition. Its beta-alanine powder is a great supplement to incorporate into your workout routine if you want to see improved endurance in the gym or wherever you work out.
This pure powder helps increase your endurance and helps your muscles feel less tired after a strenuous workout. The primary ingredient is carnoSyn beta-alanine, and there are two grams per serving.
Some adults feel a tingling sensation when taking the product. Many love it because they know the product is working. The sensation shouldn't be painful, and if it is, you need to stop taking the powder. Potential side effects include headaches, nausea, and dizziness.
One serving of the product is half a teaspoon. You'll mix this with eight ounces of water three to four times a day to see maximum results. It's always best to take it when you have food in your stomach to prevent nausea.
Each container comes with 250 servings, making the cost higher. One container is just under $50, but it's a great deal when you factor in that you get 250 servings.
What Is the Best Beta-Alanine Supplement?
The best beta-alanine supplement is BSN's product because it's affordable and available at various retailers and online. It uses a unique combination of beta-alanine ingredients that are beneficial for encouraging muscle growth and endurance and extending your workouts.
Is Beta-Alanine a Pre-Workout Supplement or Post-Workout?
Beta-alanine is a pre-workout supplement. While you can take it as a post-workout supplement, studies have shown that taking it as a pre-workout supplement can help improve your endurance in the gym, allow you to lift for longer, and help with muscle recovery afterward.
The best pre-workout supplement you can take are BCAAs because they can help reduce muscle soreness and support muscle protein synthesis.
Is Beta-Alanine Similar to Creatine?
No, Beta-alanine is not similar to creatine and that question comes up quite often in the fitness community. They're both amino acids found in animal proteins, but their differences outweigh their minimal similarities. Beta-alanine and creatine work better when taken together rather than individually.
What Is the Difference Between Beta-Alanine and Creatine?
There are three differences between beta-alanine and creatine.
Creatine is a combination of three amino acids, and beta-alanine is a single amino acid.
Beta-alanine increases endurance.
Creatine increases ATP for short bursts of power rather than endurance.