Being a mom is one of the sweetest callings a woman can hear, but sometimes the calling requires a little extra support to nourish and grow her precious newborn baby. That's why supplements add the perfect dose of nutrition during breastfeeding aside from drinking ample water and including whole fruits and vegetables in your exercise regimen.
Supplementing vitamins to increase your milk supply is the easiest way to remedy breast milk nutrient deficiency, vitamin deficiency, balance hormones, and boost immunity for mother and baby. Choosing the best breast milk supplements in a sea of thousands of brands can feel overwhelming, but don't worry– check out this list of the best breastfeeding supplements to find the one that accommodates your lifestyle and goals.
1. Mommy Knows Best Lactation Supplements
Like the name, Mommy Knows Best is well known for its maternal nutrition support that replaces breastfeeding challenges with an ample milk supply. Before consuming their products, speak with your healthcare professional about sensitivities that you or your baby may have to Mommy Knows Best ingredients.
The Lactation Formula Supplement features fenugreek, blessed thistle, fennel seed, and no artificial ingredients. Fenugreek is an herbal plant that blooms white flowers with green leaves and golden seeds that can help your baby gain weight by boosting breastmilk supply.
While Blessed Thistle Mediterranean herb and dandelion-like blossoms stimulate healthy immune response and increase prolactin, the oxytocin hormones stimulate lactation, using anethole substances from fennel seed that produce breast milk secretion.
However, Blessed Thistle should not be ingested during pregnancy as the plant is renowned for inducing uterine contractions, nausea, and mild diuretic effects. Mothers also rave about Mommy Knows Best Goat's Rue, Lactation Fruit Drink Mix, and Lactation Cookie Mix products.
2. Pink Stork Lactation Support
Pink Stork by Amy Suzanne was born out of the will to survive her first pregnancy and heartache for finding the faith-fulfilled perfect natural products to restore her health. Just like Amy, her products offer lactation support filled with clean natural ingredients.
To reap the most benefits from Pink Stork, the Nursing bundle contains doctor-recommended ingredients such as fenugreek, anise, milk thistle, blessed thistle, and alfalfa for breast milk flow, flavor, supply, and inflammation release.
In addition, if you struggle with the upkeep of a supplement regimen, Pink Stork has the best lactation support for one-time and subscription-based purchases that can be delivered to your door every 30 days.
However, an allergic reaction can occur when dietary supplements and herbs combine with severe medical conditions and medications. Therefore, pink Stork products are not suitable for infants or children.
Other products mothers enjoy include the following items.
Total Lactation Probiotic Capsules
Lactation Sweets
Lactation tea
Pumping Moms Lactation Support
3. Moringa Supplements
Moringa, a superfood, is rich in proteins, vitamins, and minerals and yields few harmful side effects in healthy individuals. If you're a mom who struggles with tiredness, fatigue, or sleepless mornings and nights, moringa has the perfect dose of caffeine-free restorative power to keep you going.
Unlike many herbs that stimulate milk supply, morning enhances your milk supply. That means the morning enriches your milk supply with rich minerals like zinc, iron, copper, vitamin a, and calcium instead of altering your body's hormones to produce milk.
However, mothers with pre-existing ailments such as diabetes and high blood pressure or who take thyroid or liver medications daily should consult their physician before adding moringa to breastfeeding.
You can find the best breast milk booster with moringa supplements that other mothers love from their favorite brands.
Motherlove's love supplement
Kuli Kuli foods
Legendairy Milkpalooza
Apothekary Moringa 
4. Fenugreek Supplements
Fenugreek is a worldwide favorite adaptogenic herb whose demulcent qualities soothe digestion, lower blood sugar levels and enhance a mother's milk supply.
Unlike traditional herbs and roots, adaptogens like fenugreek meet your body's body where it's at by adapting to your body's needs. That means they rarely overwhelm or skimp on their desire to return the body to a state of harmony with subtle adverse side effects.
Common side effects in persons that have an allergy or mix prescription medications with fenugreek include symptoms of diarrhea or upset stomach, sweet scent, urine odor, hypoglycemia, and fast heart rate.
In addition, consuming fenugreek from unreliable brands can pose a severe threat to mother and baby via lacing with pesticidal toxic heavy metals and more.
However, here are a few trusted brands with the best fenugreek for breastfeeding that moms love to help boost their breast milk supply and feel safe consuming while breastfeeding.
Gaia Herbs Fenugreek Seed
Milkies Fenugreek Supplement
Wild Harvest Fenugreek Capsules
Nature's Way Fenugreek Seed Capsules
5. Fennel Supplements
Fennels are bright green herbs with white bulbs, yellow flowers, and wispy leaves that home cooks, chefs, and ancient shamans use for their antioxidant, antibacterial, and nutritional profile. In addition, mothers like you love fennel to help support lactation production as lactation vitamins.
Fennel seeds contain anethole essential oils like photoanethole can stimulate galactogenic activities that may be the best milk supply booster with mammary gland growth, support your baby's weight gain, and soothe colic. In addition, fennel can soothe postpartum symptoms such as fatigue, dull skin, and hair and relieve vaginal irritation.
However, women who are breastfeeding while pregnant should not consume fennel or fennel seeds supplements without consulting their primary healthcare providers. Excessive estrogenic activity can irritate fetal development and fetal cell growth.
If fennel supplements pose too much of a threat, mothers can inquire about integrating whole fresh fennel into their diets. Popular supplements that include fennel that mothers recommend you keep in your breastfeeding arsenal bag include the following items.
Pure MOM Breastfeeding Supplement
Love Bug Postnatal Probiotic
Happy Healthy Hippie Pump It Up
6. Lecithin Supplements
If you're the type of mom that reads every label at the grocery store, you've probably seen the standard additive soy lecithin on your favorite foods. If you have allergies to soy proteins, you probably avoid anything that reads lecithin for fear of triggering an allergic reaction.
However, it is a safe compound lipid of fatty acids, alcohol, nitrogen, and phosphoric acids that occur naturally in phospholipids or lecithin. For mothers, that means that when lecithins interact with your breastfeeding body, they can help unclog clogged breast ducts and unstick your milk for optimal flow.
You can trade sore-gorged breasts, slow-flow milk, and mastitis for free-flowing bountiful milk-filled breasts. In addition, you should always consult your physician before consuming lecithin supplements if you are pregnant and breastfeeding.
Although you can find lecithin naturally in breastmilk, dairy milk, meat, whole grains, and soybeans, they are also in sunflower's best milk supply supplement– a rare allergen and typically hypoallergenic.
Legendairy Milk Sunflower Lecithin
NOW Sunflower Lecithin
Raw Revelations Sunflower Lecithin
7. Brewer's Yeast Supplements
Brewer's yeast is a favorite source of rich nutritional vitamins and energy boosts for moms who prefer to sip their supplements in a bitter drink or sprinkle into their favorite recipes rather than swallowing sometimes uncomfortable tablets. Brewer's yeast is available in powder extract and capsules.
Although it is not uncommon to see brewer's yeast as the main ingredient in bread or beer, it is pretty standard for the yeast to take on the role of the lactation stimulant, galactagogue, in the context of breastfeeding, especially when the supplement pairs with on-demand feedings.
However, moms that take antifungal or anti-depression medications should avoid using brewer's yeast to boost their milk supply. In addition to women who live with diabetes, autoimmune diseases, and allergies to yeast. On the contrary, otherwise healthy mothers can double check efficiency potential for mom and baby with their primary physician to choose the best brand.
Check out these typical brewer's yeast supplements that tend to be one of the top lactation supplements that you'll likely hear about during a lactation consultation.
Mommy Knows Best Brewer's Yeast Powder
Swanson's Premium Brewer's Yeast Powder
Lewis Labs Brewer's Yeast Flakes
Oat Mama Lactation Brewer's Yeast
What Are Breastfeeding Supplements For?
In short, breastfeeding supplements are for mothers seeking to increase or enhance their milk supply, especially for mothers with babies that are not gaining weight or have a large appetite. They also promote breastfeeding habits that can carry your child into her toddler years.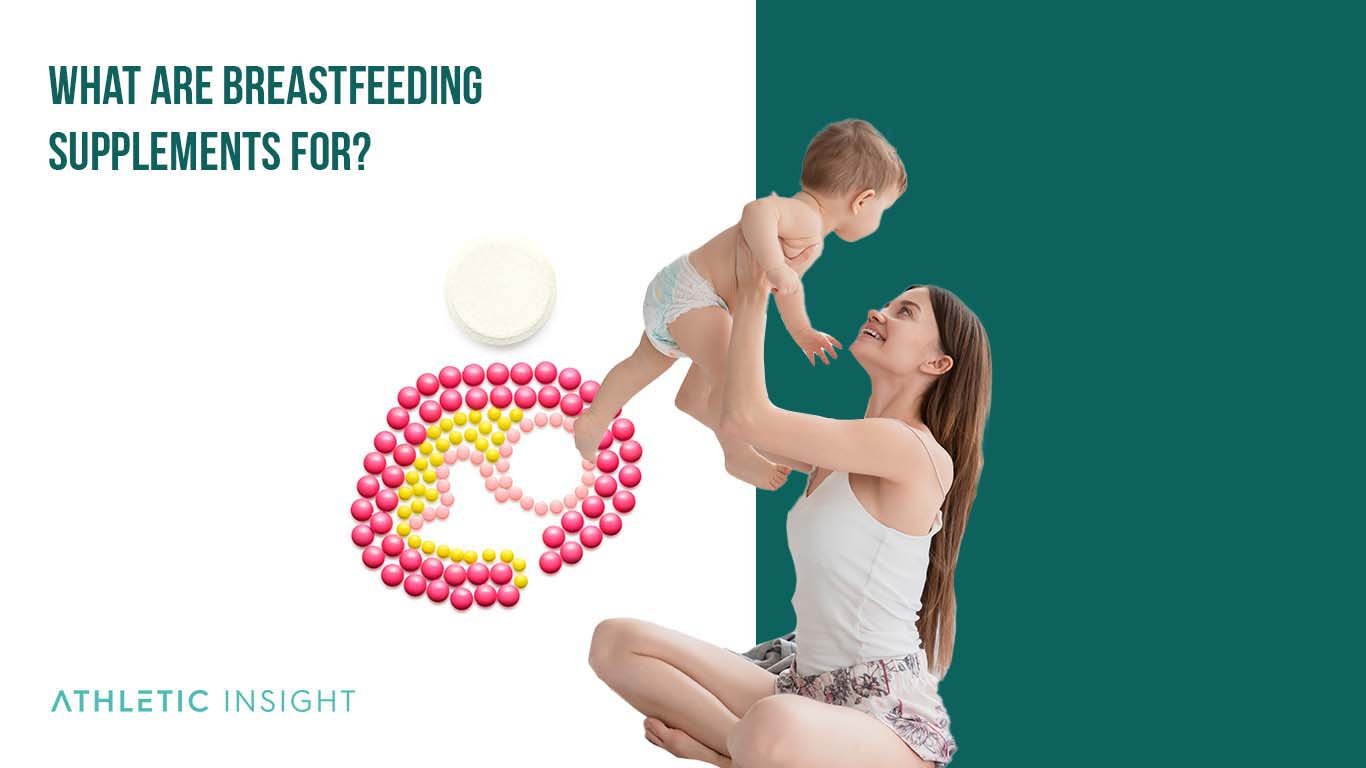 However, if you've never breastfed before, you may be wondering about how breastfeeding can support you and your child.
It supplies your baby with antibodies that lower the risk of illness and disease
It promotes healthy baby weight with beneficial gut bacteria
It increases oxytocin hormones that help the uterus contract to its pre-pregnancy size
It can lower the risk of postpartum depression, high blood pressure, and heart disease
In addition, breastfeeding can help you grow deep affection for your baby. If your milk supply is low due to hormonal imbalance or supplementation, you might get stuck in a stress cycle that depletes your breast milk production.
As a result, breastfeeding supplements may be the holy grail you need to keep a bountiful milk supply and a happy baby.
What Are the Benefits of Taking Breastfeeding Supplements?
Aside from having a well-fed baby, there is a long laundry list of benefits that mom and baby can receive from adding breastfeeding supplements to moms' daily vitamin regimen. After using a lot of vital nutrients to support your body during pregnancy and all the stages of labor, it may crave more nutrition to support healing and growing your new baby.
That's why taking breastfeeding supplements during the years of breastfeeding can benefit you in the following ways.
Create an abundant milk supply and flow
Increase mood-boosting hormones to get you through the day
Improve dull-looking hair, skin, and nails postpartum
Enhance baby weight gain and immunity with antioxidants
If you're feeling discouraged by a lack of breast milk supply, breastfeeding supplements may be the perfect alternative to giving up breastfeeding altogether.
How To Choose the Best Breastfeeding Supplements?
Finding the right breastfeeding supplements is challenging but it can also threaten your and your baby's health if you are unaware of the potential side effects. So, when your milk supply is low, instead of searching the internet for the right breastfeeding supplements, inquire with your primary physician, pediatrician, or lactation consultant. 
First, speak with a lactation consultant to help you get to the root problem of your low breast milk supply. For example, you may have a low supply due to clogged ducts, mastitis, underwhelming feedings on demand, or fatigue.
Second, choose your method of consumption. If you're a mom that doesn't like to take a bunch of vitamins to help lactation throughout the day, opt for your favorite lactation support pills, herbal teas, powder extracts, or liquid vitamins.
Last, keep track of the supplements that you are taking and when. Again, it is easiest to write them down in a planner. In this way, instead of trying to remember all of the vitamins you consumed in one day, you have it written down on paper to track your progress or regress.
Who Should Take Breastfeeding Supplements?
Mothers with low milk supply who want to pump for milk or enhance their milk should take breastfeeding supplements regularly. It is best to start taking a milk booster supplement with a professional after unearthing the root cause of low milk supply.
Especially if your newborn is eating colostrum during the first week of breastfeeding, as your milk begins to mature, and your baby shows slow weight gain. Again, it would be best if you conferred with a professional to help establish breastfeeding goals and the best products to increase milk supply.
When Should You Take Breastfeeding Supplements?
You should take breastfeeding supplements according to your lactation consultant, pediatrician, and health care provider. In addition, you should follow the brand's directions of use.
How Long Should You Take a Breastfeeding Supplement?
You should take breastfeeding supplements according to your breastfeeding goals. For example, for mothers that desire to breastfeed for two years, you may want to create a breastfeeding plan that includes a year of supplementation. However, if your goal is under one year, you can reduce the number of breastfeeding supplements you intend to consume.
Where Can I Purchase Breastfeeding Supplements?
You can purchase breastfeeding supplements online, at your local drug or department store, or with your lactation consultant. However, it is essential to note that not all supplement brands are created equal. Most herbal supplements are not regulated or evaluated for safety by the FDA.
In addition to a healthy whole fruits and vegetable-rich diet, you should purchase breastfeeding supplements from brands with an NSF International, ConsumerLab seal, or Certificate of Analysis label. These labels ensure that ingredients don't contain ingredients that may be harmful or undeclared for you and your baby.
Are Breastfeeding Supplements Effective?
Although research regarding breastfeeding supplement positive efficacy is anecdotal, research that supports the effectiveness is still under investigation. Two herbs with FDA safety approval to boost breastmilk supply are fenugreek and fennel. The FDA proves consumption of the herbs steadily increases milk production. However, the mother and her physician should determine the frequency and dosage.
What Are the Other Types of Supplements Besides Breastfeeding Supplements?
Finding the right breastfeeding supplements can be stressful, especially if you are already exhausted looking into other supplements for health. However, other supplements that can enhance breast milk production include protein and electrolyte supplements. Every breastfeeding mom needs to load up on calories and stay hydrated.
Protein supplements without unnatural fillers are gentle on the stomach and most likely safe for your baby. To avoid the ingredients, you want to boost your milk supply, opt for whey, collage, or plant-based proteins that are allergen-free. They taste better and are less likely to create an allergic reaction in the baby.
In addition, the same rule applies when choosing electrolytes– search for good ingredients like sodium, potassium, magnesium, chloride, phosphorus, and calcium. Also, avoid supplements and beverages that contain preservatives, added sugar, or alternatives such as stevia or monk fruit. However, coconut or watermelon water are excellent sources for easy electrolyte access.