Weight and mass gainer supplements help you gain weight by supplying the extra calories muscles require to grow. Mass gainer supplements increase caloric and protein reserves after the body has burned calories during rigorous workouts. The best weight gainer supplements and mass gainer protein powders will also add fiber, minerals, and healthy protein with those extra calories.
Weight and mass gainer supplements provide one of the most accessible ways to gain mass quickly. They have different variations of three main ingredients: calories, protein, and fat. Weight-gaining supplements are easy to use and typically work by mixing scoops of protein powder in water or milk to create mass gainer protein shakes.
Athletic Insight Top 3 Products
Best Overall >>> Crazy Nutrition Mass Gainer
Top Rated >>> Transparent Labs Mass Gainer
Best Budget >>> Optimum Nutrition Mass Gainer
Disclaimer: The information written by the Athletic Insight Research Team is intended to be informative but should not be construed as medical advice. These articles are not intended for the diagnosis, prevention, or treatment of health issues. Always consult your physician before beginning a new fitness, nutritional, and/or supplement regimen.
Listed below are the best weight and muscle gainers on the market. The top three and most widely-used gainers are at the top of the list.
Crazy Nutrition Mass Gainer
Transparent Labs Mass Gainer
Optimum Nutrition Serious Mass
1. Crazy Nutrition Mass Gainer
Crazy Nutrition Mass Gainer is a nutrient packed mass gainer supplement used to help increase muscle mass, improve strength, boost energy, enhance recovery time and act as a meal replacement. While it is often used for athletes, professional weightlifters, bodybuilders, and gym-goes looking to increase hypertrophy, Crazy Nutrition Mass Gainer is a complete source of nutrients which acts as an effective meal replacement for anyone.
Per serving, Crazy Nutrition Mass Gainer features 488 calories, 50 grams of protein, 55 grams of carbohydrates, and 10 grams of fat. To use Crazy Nutrition Mass Gainer, just add a serving to 15-20 oz. of water, shake and enjoy.
Crazy Nutrition Mass Gainer currently comes in two flavors; chocolate and vanilla. Each container comes with 20 servings, which if you choose to buy a subscription, the price per serving is just over $3, which is cheaper than any meal you'll find. Crazy Nutrition also offer a 60-day money back guarantee if you are unhappy with the product.
While Crazy Nutrition Mass Gainer comes with quite a few benefits, some side-effects have been reported for all mass gainers. These include; upset stomach, gas, sugar spikes, bloating. However, Crazy Nutrition claims to prevent most of these side effects thanks to using low gylcemic carbs, MCT oil, added digezyme (prevents bloating) and gluten free.
---
2. Transparent Labs Mass Gainer to Increase Body Mass
Transparent Labs Mass Gainer is a high-calorie mass gainer that can act as a supplement to a high-intensity workout or a complete meal replacement for weight gain. Transparent Labs' weight gainer supplement features easily digestible ingredients like oats, sweet potato, and coconut milk powder.
The benefits of this weight-gain supplement are in its pure and thoroughly tested list of ingredients. The base of this formula is whey protein and creatine. Studies show that whey protein and creatine effectively promote strength and power in workouts.
One important thing to note is that Transparent Labs' Mass Gainer uses Stevia, Tapioca maltodextrin, and monk fruit to enhance the taste. Though these are all great ingredients in a mass gainer supplement, they may not be the best choice for those who need to watch their sugar intake.
Transparent Labs Mass Gainer is pricier than most weight gainer proteins on the market. It comes in two different flavors and is $70 for about 15 servings or 6.5lbs. A typical serving size is two scoops.
---
3. Optimum Nutrition Serious Mass for Mass Gaining
Optimum Nutrition Serious Mass Powder is a high-protein, mass-gaining supplement for adding weight, making it the best weight gain protein powder. Optimum's Serious Mass is a popular weight gain powder because it is both high-calorie and fast-acting. Serious Mass powder has some of the best weight-gainer reviews from customers worldwide.
Serious Mass gainer powder features four flavors, and nutritional information varies slightly by flavor. Optimum mass gainer protein powder has 1,250 calories and 50 grams of protein in two scoops. The effect of the Serious Mass supplement is quick visual weight gain and extra fuel for workouts, making it the best protein powder for weight gain.
One thing to note is that usage varies by experience level. Usage is also different for men and women. Beginners may want to start with one scoop instead of two. The side effects of using this high-calorie powder may include an upset stomach, so start slow and use the recommended amount for your body type.
Optimum Nutrition Serious Mass is around $50 for six pounds of max gainer supplement powder. Six-pound containers of this best protein powder to gain weight typically last about two weeks when using two scoops for every serving.
---
4. Dymatize Super Mass Gainer for Weight Gaining
Dymatize Super Mass Gainer is a high-quality weight gainer protein powder made by athletes for athletes. Dymatize makes the second best protein to gain weight. The Dymatize brand is well-known for using clean ingredients and thoroughly testing its products.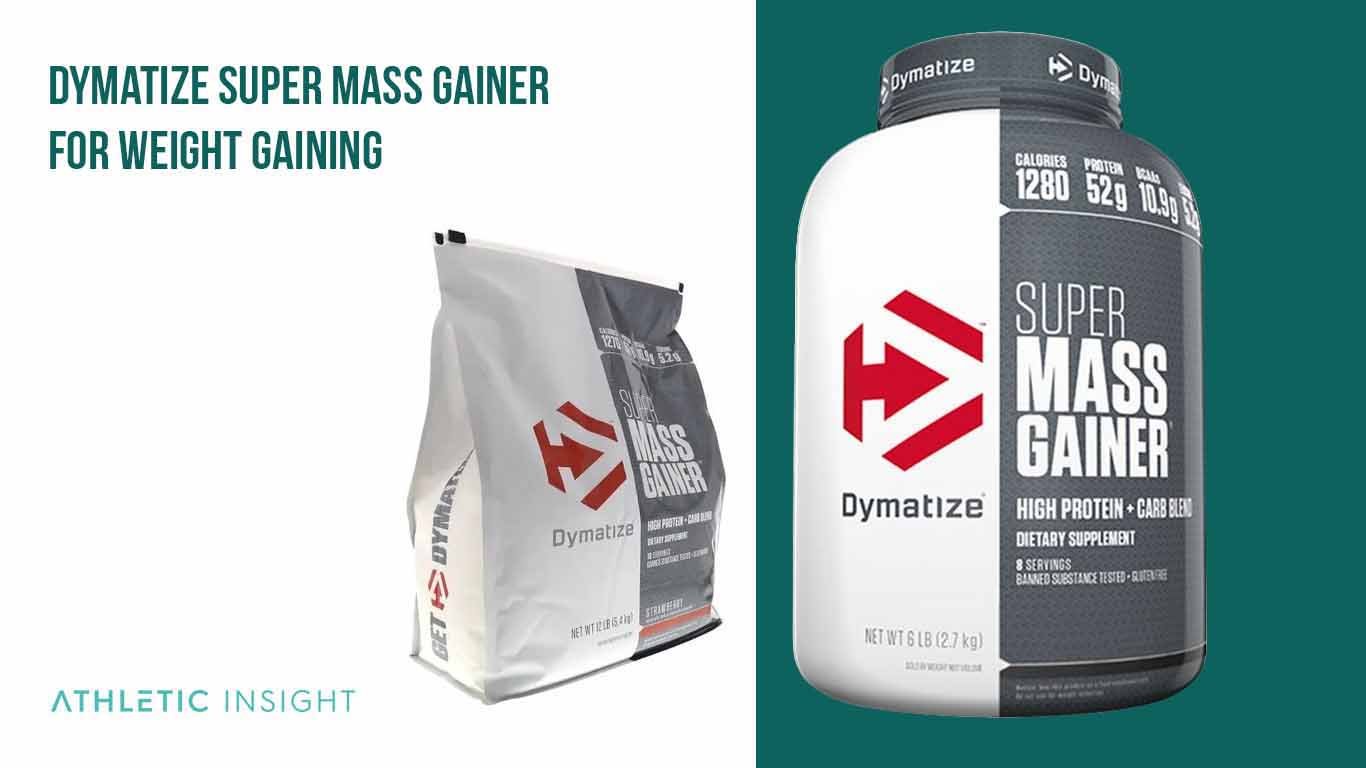 Each of the three Dymatize Super Mass flavor variations packs 52 grams of protein and 245 grams of carbs in each serving. Dymatize also promises zero banned substances in this formula. This means people using Super Mass gainer can rest assured that they get some of the healthiest ingredients on the market.
It is important to note that the Dymatize Super Mass Gainer serving size is 2 cups for every 24-32 ounces of water. A two-cup serving size is significantly bigger than most other mass gainer and weight gainer supplements. Adults that consume weight gainers often comment on how great this weight gainer shake tastes, but it is notably thicker than most protein powders.
A six-pound container of Dymatize Super Mass Gainer for weight gaining is around $45. The six-pound container is approximately eight servings due to the larger serving size.
5. Rivalus Clean Gainer for Increasing Muscle Mass
Rival Nutrition's Rivalus Clean Gainer is one of the best weight gainers for men and women and the third best protein for weight gain in general. Rivalus Clean Gainer features a blend of quinoa, brown rice, and oats, making it one of the cleanest weight gainer and protein supplements on the market. Because the body processes these ingredients easily, the effect is a smooth, familiar taste with minimal side effects.
The benefits of clean gainer protein are enhanced sports performance and quick workout recovery without the common digestion issues of most mass gainer protein powders. It is also low in sugar which is important for athletes looking to increase their weight but not sacrifice their health to do so.
Clean Gainer comes in six flavors. One serving is two scoops for every 12-14 ounces of water or milk. The cost is about $50 for 15 servings or 5lbs of Rival Nutrition's Clean Gainer.
6. Body Fortress Super Advanced Mass Gainer for Weight Gain
The makers of Body Fortress Super Advanced Mass Gainer believe getting big requires eating big. The Super Advanced Mass Gainer from Body Fortress has a combination of carbs, protein, and naturally-occurring amino acids to support lean mass gains with their protein supplement.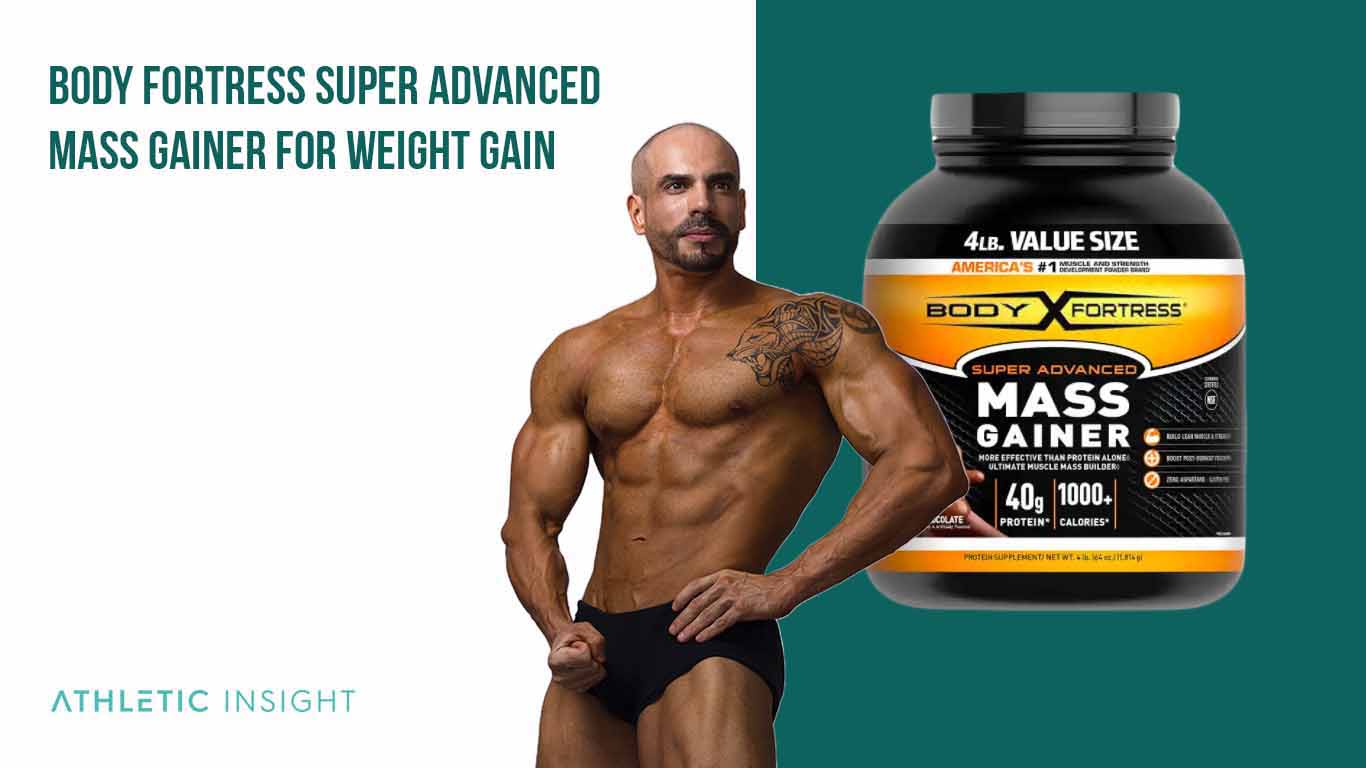 Body Fortress' Super Advanced Mass Gainer also features BetaPower Betaine, a nutrient made from molasses. Studies show that betaine can improve physical performance and longevity. However, be aware. Betaine does have side effects of nausea and upset stomach. Some adults also report body odor after supplementing their diets with Betaine.
The suggested serving size of Body Fortress Super Advanced Mass Gainer powder is three scoops per 12 fluid ounces. You can order containers in two-pound or four-pound increments. A four-pound container is around $40.
7. Universal Real Gains Weight Gainer for Increasing Muscle Mass
Universal Nutrition's Real Gains weight-gainer supplement is a well-rounded protein powder. Real Gains has slow and fast proteins, carbohydrates, fats, and fiber. This supplement features clean and balanced ingredients, making it an overall great choice for an everyday gainer supplement.
The greatest benefit of Universal Nutrition's Real Gains Weight Gainer is its serving size. Adults can expect 50+ grams of protein in a 150-gram or three-scoop serving size. People often comment that because of this ratio, they notice that Real Gains supplements last longer than other gainer powders.
Universal Nutrition's Real Gains weight gainer comes in two flavors and two different sizes. The smaller, six-pound container of high-calorie protein powder costs around $60 before shipping costs.
8. MuscleTech Mass-Tech Elite Mass Gainer for Muscle Building
The MuscleTech brand is endorsed by athletes and actors across the globe. Mass-Tech Elite Mass Gainer, one of MuscleTech's best sellers, is a high-calorie supplement for weight gain. It is a high-protein powder made with creatine to improve physical performance in all capacities.
The benefits of the added creatine in this supplement are numerous. Studies show a healthy dose of creatine improves brain, bone, muscle, and heart health.
If you are struggling to add bulk, Mass-Tech Elite mass gainer is a good weight gainer to consider. Mass-Tech Elite weight gainer features 80 grams of protein and 1000 calories per serving, which is more than most supplements. MuscleTech recommends a serving size of five scoops for every 2 cups of milk. A seven-pound container costs around $40.
9. MusclePharm Combat XL for Muscle Gaining
MusclePharm Combat XL is a popular gainer and dietary supplement for muscle recovery after an intense workout. The best mass gainers have simple formulas with natural and easily digestible ingredients. MusclePharm does this well, and it shows in their sales.
Combat XL's muscle-gaining supplement features four protein sources: whey protein, milk protein, micellar casein, and whey protein isolate. It also has added fat from coconut oil and chia seeds.
One serving size of Combat XL's weight gainer is four scoops or about 330 grams. MusclePharm recommends testing out different amounts in both water and milk to achieve the perfect consistency. Many people add bananas and peanut butter to add even more protein to the mix.
MusclePharm is a trusted brand name for athletes, and while not the best mass gainer protein, it's still quite excellent. The mass gainer is very popular and comes in two flavors. Because of the larger serving size, a six-pound container has eight servings and costs around $45.
10. True Athlete Natural Gainer to Increase Muscle Gaining
Vitamin Shoppe, a well-known store for natural supplements, is the company behind True Athlete Natural Gainer. True Athlete's Natural Gainer is a popular mass gainer supplement and is the first supplement to earn the Certified for Sport certification by the National Science Foundation.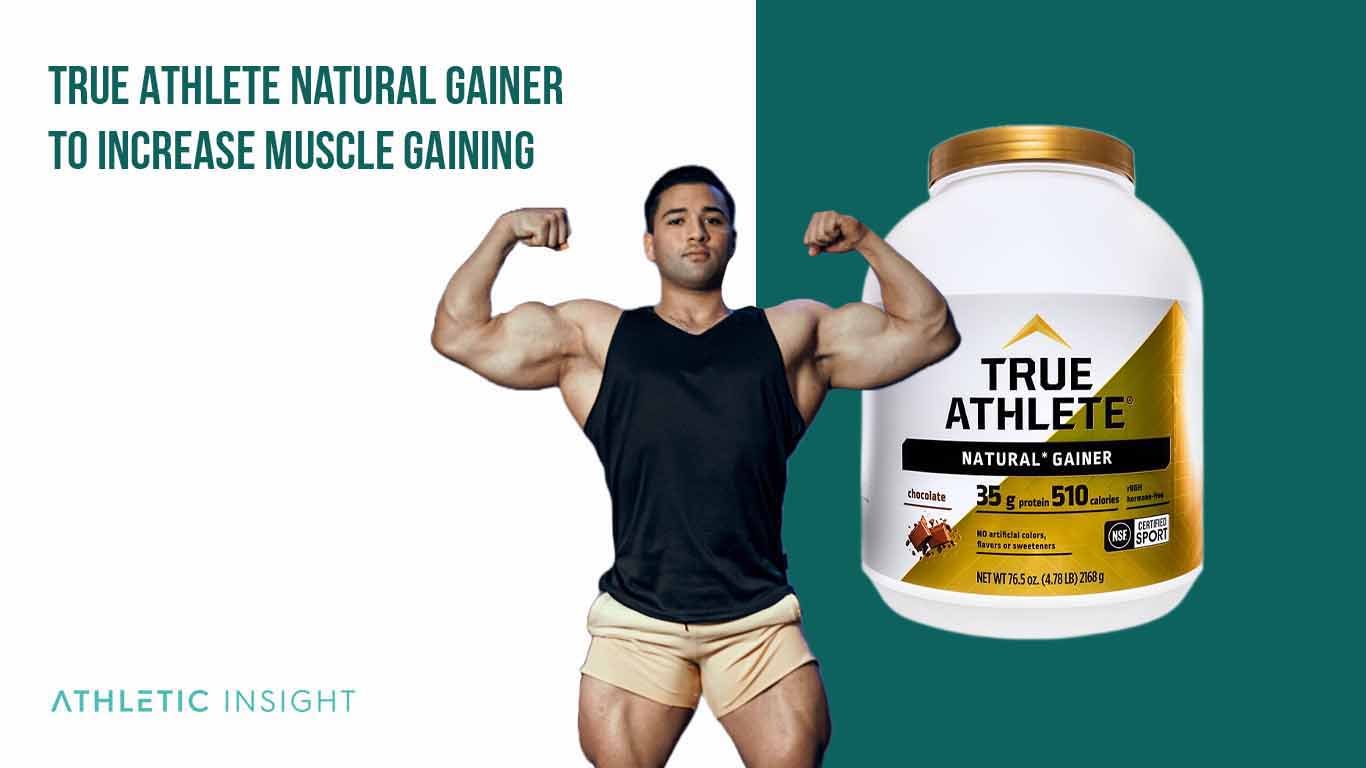 Vitamin Shoppe guarantees that True Athlete Natural Gainer has 100% approved ingredients for athletes. It has a base of whey protein and added fats from sunflower and flaxseed oil. The formula's all-natural ingredients are easy to digest. This alleviates the common side effects of stomach pain and kidney problems that come with many non-clean gainers.
With Ture Athlete's Natural Gainer, a smaller container goes a long way. A typical serving size is four scoops, and there are about 16 servings in each container. Each serving has 35 grams of protein and 510 calories. A four-pound container of these weight gain supplements costs about $50.
11. GNC Pro Performance Weight Gainer Supplement
GNC, the nutritional supplement powerhouse and possibly the best weight gainer for men, is the creator of one of the most popular weight gainer supplements on the market. Pro Performance Weight Gainer's wellness formula is a protein powder supplement that can be added to water to help you reach your weight and mass-gaining goals.
GNC's Pro Performance Weight Gainer features 50 grams of protein and 11 grams of carbohydrates per serving. GNC designed the formula to release the nutrients over time instead of all at once. Pro Performance Weight Gainer contains milk and soy, so it may not be suitable for people with soy or lactose allergies.
GNC recommends a serving size of four scoops for this mass gainer protein powder. A two-pound container costs around $30.
12. Naked Nutrition Naked Mass
Naked Nutrition's Naked Mass is one of the best weight gainer protein powders available for vegan gainers. This high-calorie supplement features clean whey protein, casein protein, and organic tapioca maltodextrin to create a healthy and gluten-free choice for vegan athletes looking to add mass quickly.
The benefits of this completely clean mass gainer protein powder are many. It has no artificial sweeteners, hormones, or soy. It is one of the most natural weight gainers on the market. Customers swear by it for these reasons.
The recommended serving size of Naked Mass is about 320 grams or four scoops. The powder is added to milk or water to make a weight gain protein shake. It has about 20 grams of sugar in each serving, so keep an eye on your sugar intake when using this formula.
Naked Nutrition's Naked Mass Supplement comes in two different flavors for a large eight-pound container. Each container has about 11 servings since the serving size with Naked Mass is larger than normal. An 8-pound container of this natural weight-gain supplement costs about $70.
13. Mutant Mass Weight Gainer Protein Powder
Mutant Mass Weight Gainer is a protein-packed fat gainer supplement for adding weight safely. Mutant Mass is Mutant's best-selling protein powder for weight gain. It boasts 1100 calories, 21 grams of fat, and 242 grams of carbs per serving.
Mutant Mass Weight Gainer gets its protein and fat content from multiple sources. It has five different fatty acids, including coconut, avocado, and sunflower oil, to create a dense formula that customers love. It also comes in 6 different flavors.
Mutant Mass Weight Gainer is popular for bodybuilders in more than 100 countries. It is important to note that it is one of the pricier weight gain drinks. A 5-pound bag costs around $40 before shipping.
14. BSN TRUE-MASS Weight Gainer
The BSN TRUE-MASS Weight Gainer is an ultra-premium mass gainer for gaining weight. It is easy to digest, so it is a popular choice for supplementing protein at any time of day. BSN supplements are well-known and ideal for recovery after intense workouts.
TRUE-MASS offers 700 calories and 50 grams of protein per serving. TRUE-MASS is also a great source of potassium and calcium.
It is important to note that BSN's TRUE-MASS weight gainer may not be the best choice for anyone looking for a clean, natural protein weight gainer. TRUE-MASS ingredients include corn syrup and soy. Corn Syrup is an artificial sugar source. Soy can cause side effects like constipation and nausea.
Adults comment most that BSN's TRUE-MASS is the best-tasting weight gainer on the market. TRUE-MASS weight gainer has three flavor offerings. Before shipping, a 16-serving container costs about $70.
15. Build-XT Muscle Builder Supplement
Build-XT Muscle Builder supplements work for men, but they are also a great choice for mass gainers for women. Build-XT Muscle Builder supplements are capsules that use revolutionary ingredients to boost strength and stamina while also building mass.
Build-XT's all-natural Muscle Builder capsules help optimize the body before a workout. The ingredients PeakO2 and elevATP lower exhaustion for athletes. AstraGin, the third most important ingredient in this formula, promotes the absorption of PeakO2 and elavATP into cells.
One of the best benefits of Build-XT is its portability. Unlike most other supplements that help weight gain, Build-XT Muscle Builder capsules require no mixing or blending. The capsules are easy to take before the gym, eliminating the need to stop by your house to mix a protein shake.
Build-XT's capsules are the most cost-effective weight gainers on this list. A bottle of 60 capsules is around $20 before shipping.
16. MuscleMeds Carnivore Mass Diet Supplement
MuscleMeds Carnivore Mass diet supplement is one of the most unique and best protein powders for weight gain shakes. Unlike most protein supplements that use whey protein as a base, Carnivore Mass uses hydrolyzed beef as its protein source.
The benefits of the MuscleMeds Carnivore Mass diet supplement are in its insulin-amplifying technology. Insulin is a crucial hormone for muscle recovery. Carnivore Mass works to increase insulin in the muscles after a workout. The effect of this insulin increase is faster muscle recovery and quicker absorption of nutrients.
The MuscleMeds Carnivore Mass weight gain supplement is ideal for heavy gym go-ers and bodybuilders. It is also lactose-free with no added sugar, which is hard to find in great protein powders.
A container will cost about $50 for members of the MuscleMeds website or up to $78 for nonmembers when it's not on sale. This six-pound canister has about 14 servings and promises to deliver anabolic superfoods to minimize fat storage while pumping up muscle gain.
What is the Best Weight and Mass Gainer Supplement Form?
The best weight and mass gainer supplement form is powder. Weight gainer protein powders are ideal for people looking to gain a lot of weight or a little. They are also popular with new gym-goers and bodybuilders.
Powdered mass gainer supplements allow people to measure precisely how many carbs and calories they want to consume. They also allow customers to find the right taste and mix that works for them. Powdered weight-gainer proteins are the most common form of gainer supplements for this reason.
Where is the Best Place to Buy Weight Gainer and Mass Building Supplements?
Whether you buy weight gainers online or in-store, the best place to buy weight gainer and mass-building supplements is from an authorized retailer.
Going to a natural supplement store is ideal for new customers who have questions about what would work best for them. Adults can use the salespeople in the store to discuss what choices are most popular and the specific nuances of each weight gain protein supplement.
Online stores offer the best prices for customers who already know which mass gainer is best for them. Ordering online from an authorized retailer is a great way to save money. Many retailers even offer discounts for repeat customers via online subscriptions.
Is it Necessary to Use Weight and Mass Gainer for Muscle?
No, weight and mass gainers are not necessary to grow muscle, but they can help. Mass gainers help gym go-ers grow mass fast, but weight and mass gainers are not necessary to grow muscle. Everybody is different. Many athletes have achieved fantastic results without supplements.
Building muscle can be done with or without supplements, but it cannot happen without exercise. Exercises like rows, squats, and deadlifts are the best mass-gaining exercises for building muscle. These exercises are productive and beneficial to the overall goal of a healthier physique.
Is It Healthy to Use Weight and Mass Gainer for Muscle?
Yes, the best weight-gain supplements and mass gainers are healthy and safe ways to gain mass quickly. However, there are factors to keep in mind as they may differ from person to person.
Mass weight gainer shakes are high in protein, fat, and carbohydrates. They can also add much-needed nutrients to the body. Unfortunately, it is possible to overdo it. Many people get impatient with their results and may ingest too much of these substances as they increase their intake. This could create an unhealthy balance of fat or carbohydrates in the body.
People who consume mass gainers may benefit from keeping a log of their calories and accurately measuring all protein shakes. This will help adults stay healthy and on track.
Does Protein Powder Help with Mass Gaining?
Yes, protein powder helps with mass gaining by supplying the body with more protein to burn. Proteins have building blocks called amino acids. According to the National Library of Medicine, the latest research proves that consuming protein after a workout gives the body the amino acids it needs to rebuild.
Adding protein to your diet helps stop the breakdown of muscle tissue. Studies show that elevated protein intake not only helps rebuild the muscles but helps them grow larger and stronger.
There are many ways to add protein to a diet, but protein powder and weight gainers are easy and accessible ways to do so.
Are there Specific Types of Diets for Mass Gaining?
Yes, there are specific diets for helping with mass gaining. The best diets for mass gaining are carb and protein-heavy. Protein is the most important element to add to a gaining diet.
The best mass gainer diets will have a variety of amino-acid-rich foods. Foods like eggs, tuna, salmon, chicken, and Greek yogurt are fantastic sources of protein. Combining these foods with a workout regimen is the healthiest and most-effective way to gain body mass.