Whey Protein Powder Supplements are made from the liquid that remains after making cheese. The remnant liquid that is left over is known as whey protein. It contains the nine essential amino acids, even when it's dried into a powder form.
The purpose of whey protein powder is to support healthy weight loss or gain without the individual taking in excessive calories. Supplementing a healthy diet with these protein powders may have additional health benefits, like reducing cholesterol, boosting the immune system, and fighting cardiovascular disease.
Most people should not use more than one to two scoops per day. It's best to take the whey protein powder after exercising, but taking protein before a workout also plays a major role.
Thorne, Crazy Nutrition and Transparent Labs are the top three whey protein powder manufacturers. There are three primary factors to consider when choosing a whey protein powder supplement.
Best Overall: Thorne
Top Performing: Crazy Nutrition
Best Budget: Transparent Labs
1. Thorne Best Whey Protein Supplements
Thorne, founded in 2010 by Thorne HealthTech, currently offers one protein powder option that comes in two flavors, vanilla and chocolate. Both the chocolate and vanilla whey protein offered by Thorne contain 100 calories and 21 grams of protein per serving.
Thorne is the cleanest source of protein on the market, consisting of pure whey protein isolate and sweetened with natural stevia extract (lead). Most competitors use artificial sweeteners which is one of the reasons Thorne stands out amongst the rest.
In addition to a clean list of ingredients, Thorne is also NSF certified which is the top certification that a health product can receive. Backed by research and thoroughly tested by the NSF global health and safety organization, Thorne protein powder is a safe option.
While it is not mandatory to buy protein powder solely based on the NSF certification, it is highly recommended not only for athletes, but average consumers as well. From dangerous metals, to banned substances, the NSF certification is the only way to guarantee a safe product.
Thorne can be purchased online on their website, or on places like Amazon. While the price tag may be a bit higher than others, it comes down to how much you value your health and whether a cleaner product is right for you. You can also save money on Thorne's website when you pair your protein with other health supplements.
---
2. Crazy Nutrition TRI-PROTEIN Whey Supplement
Crazy Nutrition is a health supplement brand manufactured by Wolfson Brands Limited out of the UK. Crazy Nutrition currently offers one whey protein supplement that comes in three varieties; chocolate, vanilla, salted caramel.
Each whey protein option offered by Crazy Nutrition contains 97 calories and 21 grams of premium protein. Their protein is made with six (6) natural, non-GMOP proteins; whey protein isolate, whey protein concentrate, micellar casein, milk protein concentrate, calcium caseinate, whey protein hydrolysate.
The Crazy Nutrition TRI-PROTEIN breaks down in three (3) phases, leaving the customer with more energy, strength and endurance. These phases are based on absorption, with the whey protein isolate and whey protein hydrolysate being fast acting, while the micellar casein and calcium caseinate being slow acting proteins.
Crazy Nutrition can be purchased on their website using the link below. If you purchase a subscription, you save 20% and can cancel at any time. Even more impressive, if you don't like it, Crazy Nutrition provides a money back guarantee.
---
3. Transparent Labs Whey Protein Supplements
Transparent Labs is a health supplement brand that offers highly researched and tested products. With a growing list of whey protein powders, the 100% Grass-fed whey protein isolate is their highest rated product.
Transparent Labs Whey Protein Isolate currently comes in nine (9) flavor varieties; Milk Chocolate, Peppermint Hot Chocolate, Chocolate Peanut Butter, Cinnamon French Toast, Strawberry, Mocha, Vanilla Peanut Butter, French Vanilla, Oatmeal Chocolate Chip Cookies. All of which contain no artificial sweeteners, artificial coloring or artificial preservatives.
All of the Transparent Labs Whey Protein Isolate flavors contain 120 calories and 28 grams of protein. The protein found within Transparent Labs whey protein comes from 100% whey protein isolate which is a fast acting formula.
If you would like to try Transparent Labs Whey Protein Isolate, the cost can be reduced by signing up for a subscription on their website. Also, the subscription option provides free shipping, further keeping the cost down for this clean whey protein option.
---
4. Optimum Nutrition Whey Protein Supplements
Optimum Nutrition, founded over 30 years ago, is a health supplement company owned by Glanbia global nutrition group. With many 58 products currently available, the best Optimum Nutrition Whey Protein Powders are Gold Standard and Platinum Hydrowhey.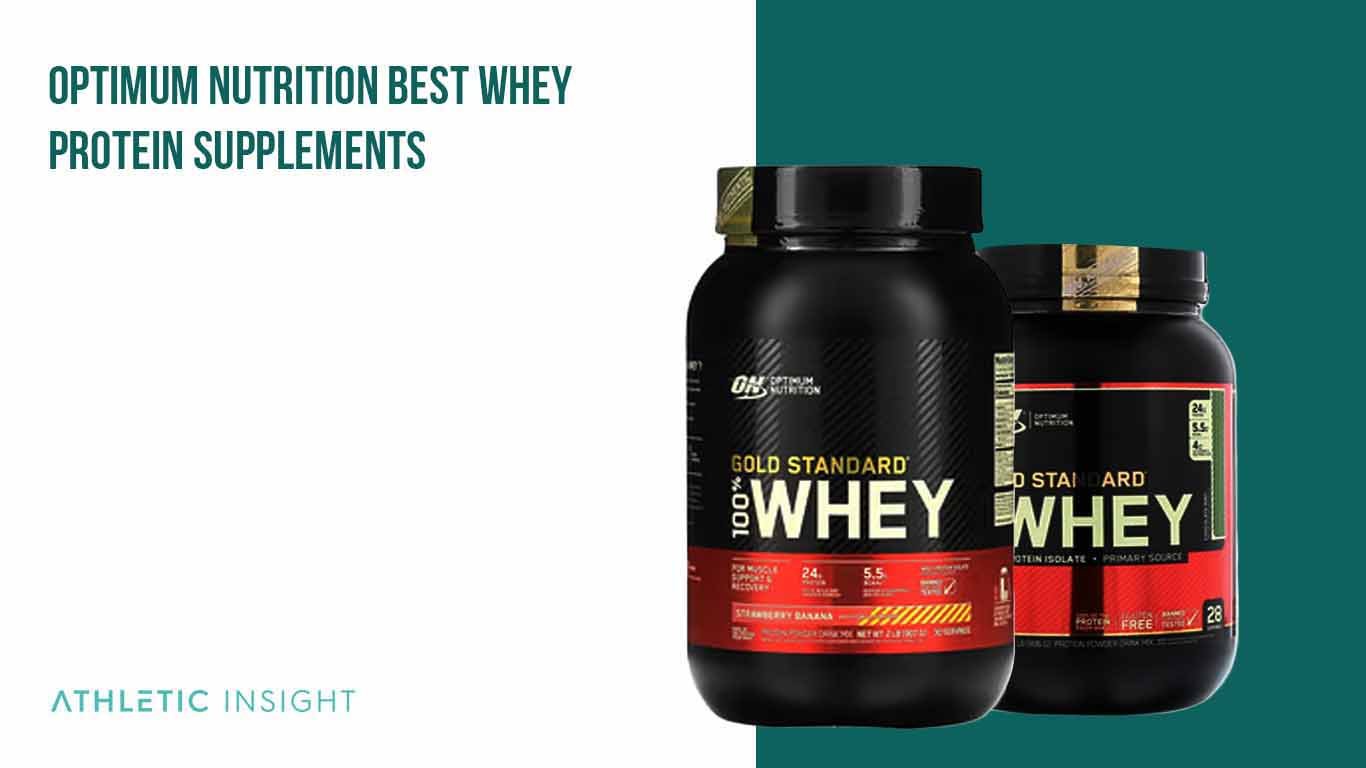 Optimum Nutrition's whey protein powders average 24 grams of protein and 120 calories per serving. These Optimum Nutrition products get their protein from cow's milk. The manufacturer sweetens the protein powders with artificial sweeteners, like sucralose.
Optimum Nutrition's Gold Standard line features 18 flavors, including banana cream, chocolate peanut butter, rocky road, and even an unflavored option. The Platinum Hydrowhey only comes in vanilla and chocolate.
This brand sells its whey protein powder supplements online through its website and major retailers. Optimum Nutrition started selling quality protein powders in 1986, giving the company more than three decades of experience in the industry.
The company is also one of the best-known and most popular options in the world. This recognizable brand boasts an impressive list of flavors despite few ingredients.
Perhaps, the main advantage to choosing Optimum Nutrition is the unique protein blend that uses whey protein isolates and concentrates plus peptides. It's one of the simplest and most beneficial whey protein powders available.
5. Dymatize Best Whey Protein Supplements
The best Dymatize Whey Protein Powders are ISO100, Elite 100% Whey, and Elite Casein. These whey protein powder supplements contain 25 grams of protein and an average of 130 calories per serving.
Each protein powder is slightly different. Dymatize ISO100 has hydrolyzed whey protein so it is easier and faster to digest. The Elite 100% Whey products use a blend of concentrate, isolate, and hydrolyzed whey protein concentrate. Finally, the Elite Casein relies on casein protein, so it takes longer to digest for extended energy.
These Dymatize products all contain some form of sweetener, usually sucralose. However, certain flavors include additional artificial sweeteners.
ISO 100 features flavors like Dunkin'™ Cappuccino, Dunkin'™ Mocha Latte, Fruity Pebbles, and Cocoa Pebbles along with traditional favorites like Chocolate and Vanilla. Elite 100% Whey is only available in Rich Chocolate and Gourmet Vanilla. The Elite Casein product line includes Smooth Vanilla, Rich Chocolate, Cookies & Cream, and Cinnamon Bun.
Purchase Dymatize products online through the manufacturer's website or from major online retailers.
Dymatize launched its first product line in the 1990s, giving the company almost three decades of experience in the industry.
The main advantage of choosing Dymatize is the ISO100 line. Not only does it offer some fun, satisfying flavors, but it also has a unique recipe that is fast and easy to digest.
6. MuscleTech Best Whey Protein Supplements
The best MuscleTech Whey Protein Powders are the Grass Fed Whey Protein Powder, Mass-Tech Extreme, and Nitro Tech. These three MuscleTech protein powders vary significantly in protein content. The Mass-Tech Extreme line averages 80 grams per serving, while the Grass Fed Whey Protein Powder and Nitro Tech average 20 grams and 30 grams respectively.
In terms of calories, MuscleTech offers a staggering 1,000 calories per serving. Conversely, Nitro Tech provides 170 calories and the Grass Fed Whey contains around 140 calories per serving.
The Mass-Tech Extreme products rely on six milk-derived sources of protein. Grass Fed Whey Protein powder offers a similar profile but all of the milk comes from cows raised in a pasture without hormone injections. The Nitro Tech line uses a blend of milk-based proteins.
Keeping with the clean theme, the Grass Fed Whey Protein powders skip the sweeteners for a purer experience. The other two protein powder lines include artificial sweeteners.
MuscleTech offers the Mass-Tech Extreme in Triple Chocolate Brownie and Vanilla Milkshake. The Grass Fed Whey powders come in Triple Chocolate and Deluxe Vanilla. For more flavor options, try the Nitro Tech line which includes Triple Chocolate, Vanilla Cream, Cookies & Cream, and Strawberry.
It's possible to purchase MuscleTech products online through the website or from major retailers. The company has almost three decades of industry experience and associations with major health supplement brands.
The main advantage to the MuscleTech line is the Mass-Tech blend that offers more protein than other options on the market without adding creatine.
7. Designer Protein Best Whey Protein Supplements
Designer Protein only offers one whey protein powder product. The company has other products including pre-made smoothies and egg-based protein powders. The Designer Whey products contain 20 grams of protein and 110 calories per serving. All protein comes from milk-derived whey.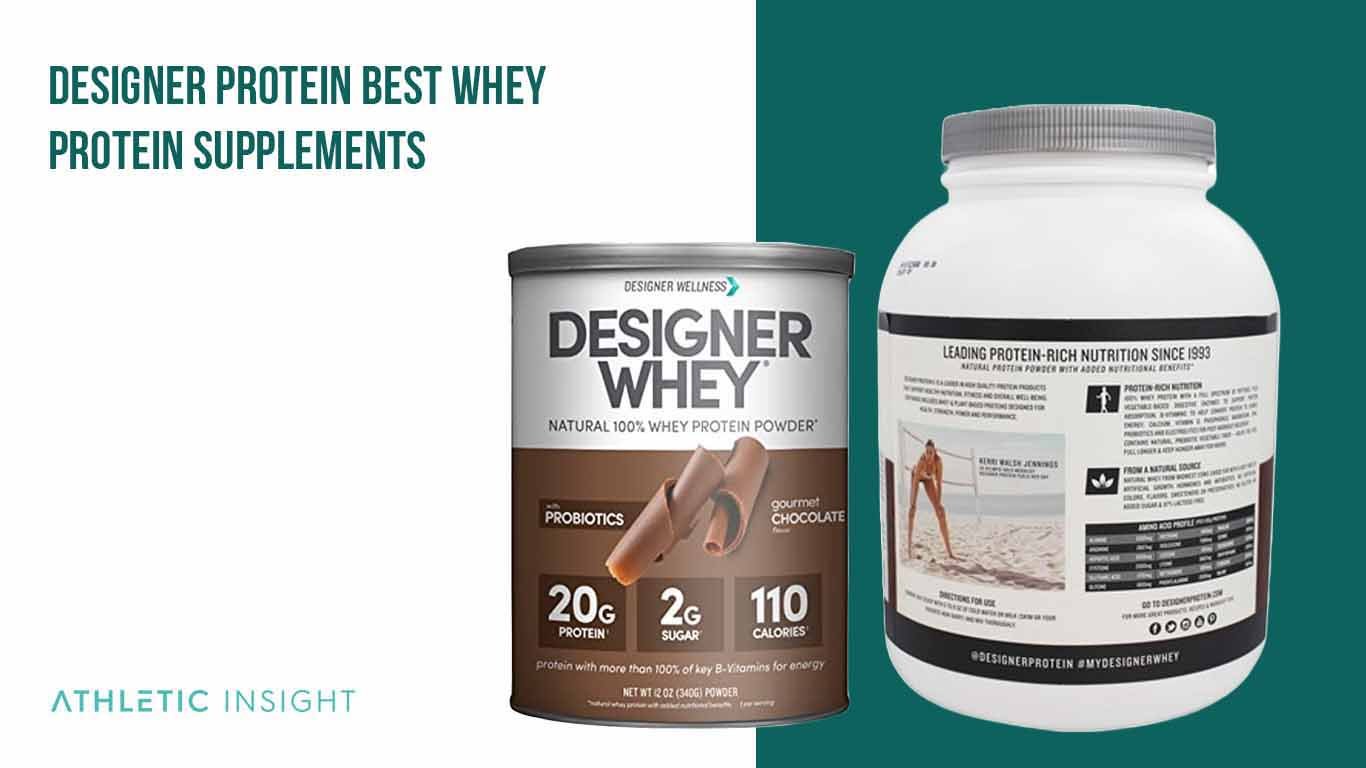 These whey protein powders contain no artificial ingredients or sweeteners. Choose unflavored protein powder or pick one of the four flavors available: chocolate, double chocolate, vanilla, and strawberry. It's available online through the Designer Wellness website or at other major retailers. Designer Protein is about to celebrate its third decade in the industry.
The main advantage to using a Designer Whey product is the clean ingredients list. While these powders have more ingredients than some other options, they use GMO-free ingredients and skip all of the artificial additives.
8. Myprotein Best Whey Protein Supplements
Myprotein whey protein powder supplements average 25 grams of protein and 100 calories per serving. THE Whey protein powder has the most protein and highest calorie count while the Clear Whey Isolate has the fewest calories and grams of protein per serving.
Impact Whey Protein powder relies on whey protein concentrate while Clear Whey uses Whey Protein Hydrolysate. THE Whey protein powder supplement has a unique protein blend including Lacprodan HYDRO Power. All three Myprotein product lines contain Sucralose as a sweetener.
Impact Whey Protein powder has an unflavored blend plus 24 flavors, including chocolate nut, chocolate mint, blueberry, rocky road, and white chocolate. Myprotein offers Clear Whey Isolate in 16 flavors including white peach, apple, and rainbow candy. THE Whey protein powder comes in eight flavors including cookies and cream, chocolate caramel, and salted caramel.
It's possible to buy Myprotein products in at least 70 countries, from the online store, and through major online retailers. Myprotein is one of the newer product lines with just two decades in business.
The main advantage of Myprotein's whey protein supplement line is the flavor selection. It offers some of the most unique flavors, especially in the Clear Whey Isolate line.
9. MET-Rx Best Whey Protein Supplements
The only MET-Rx Whey Protein Powders are Natural Whey and Protein Plus. These product lines carry 20 to 25 grams of protein per serving. MET-Rx protein powders have 100 to 160 calories per serving, depending on the blend.
MET-RX Natural Whey protein powder supplements source their proteins from a unique blend of whey protein concentrate and whey protein isolate. The protein in the Protein Plus powders comes from whey isolate and casein.
The Natural Whey products use natural sweeteners, while the Protein Plus line uses Sucralose. Both products come in two flavors: chocolate and vanilla.
MET-RX sells its products online and through major retailers. This company launched in 1991 and boasts decades of experience in the industry, with some ups and downs that resulted in a buyout in 1999.
The main advantage of using a MET-Rx product is the value compared with other products. There's nothing flashy and no range of flavors, but the price is right for the quality of protein powder.
10. Equate Best Whey Protein Supplements
Equate Whey Protein Supplement is the Walmart brand version of protein powders. There are two kinds, Equate Whey and Equate Isolate. The average protein content is 30 grams per serving. Equates Whey Powders range from 150 to 190 calories per serving.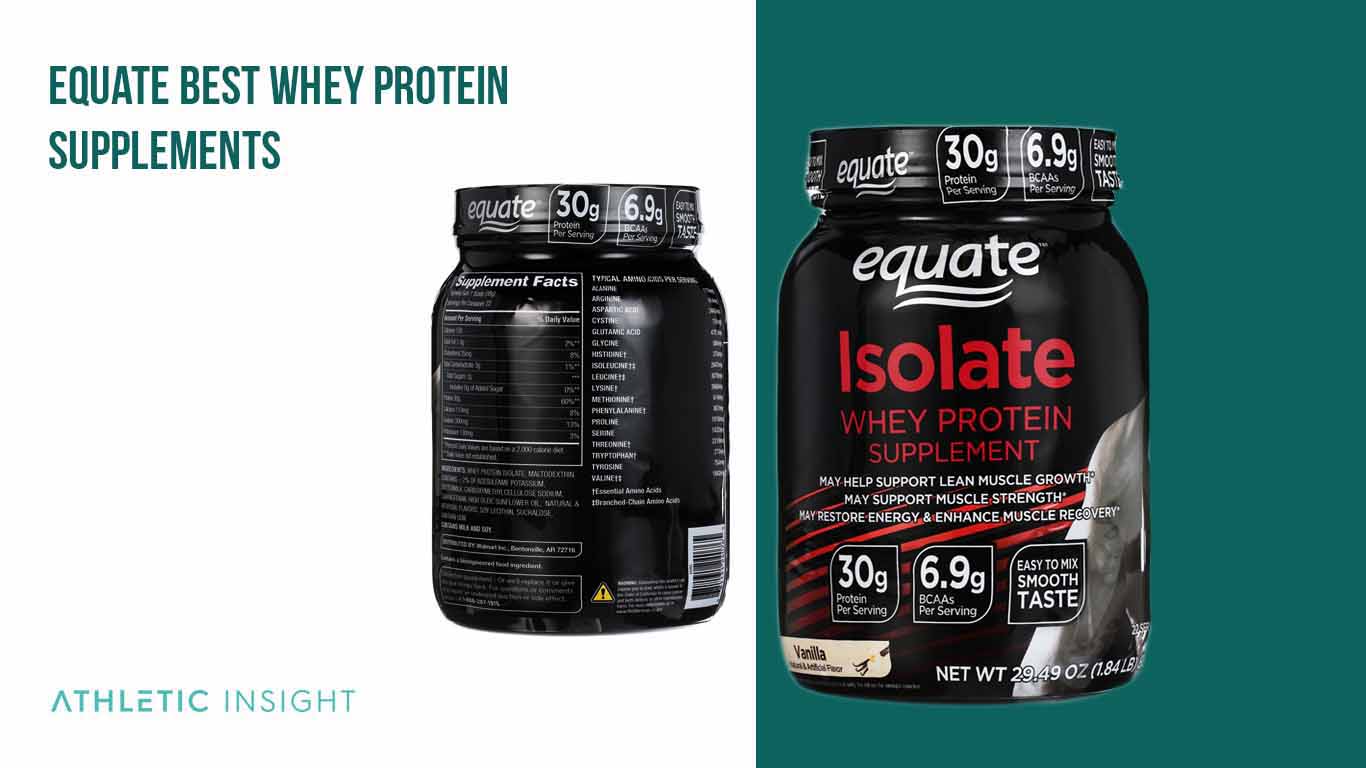 Equate Whey uses whey concentrate and whey isolate for protein. The Equate Isolate powders use only whey protein isolate. Both lines contain some artificial sweeteners. The Equate Whey Protein Supplement comes in vanilla, chocolate, and strawberry. Isolate powders come in chocolate or vanilla.
It's possible to purchase Equate Whey Protein Powder online or in most Walmart stores. Walmart is a widely known brand with more than sixty years in the retail industry. The Equate line is considered a generic brand, including protein powders.
The primary advantage of using Equate Whey or Isolate protein powders is that they are easy to find and one of the most inexpensive options.
What is a Whey Protein Powder?
Whey protein powder is a high-quality protein supplement derived from milk, and when considering what is whey protein, it's important to note its role as a byproduct of cheese production. As a byproduct of cheese production, it contains all nine essential amino acids, making it a complete protein. Its rapid absorption rate makes it a popular choice for post-workout recovery, supporting muscle repair and growth.
Whey protein is available in various forms, such as concentrates, isolates, and hydrolysates, each differing in protein content and digestibility. This supplement is a versatile addition to one's diet, often used by athletes, bodybuilders, and those seeking to enhance their protein intake.
How Do the Best Whey Protein Powders Differ?
Whether they want to gain weight or lose it, people buy protein powder for different purposes. Further, the type of activity can impact the type of protein that works best.
For example, runners spend time training and working their entire body, which tends to increase their metabolism. They need more calories to sustain what they burn and allow them to gain mass. A slow-release protein is ideal to maintain consistent energy levels for a multi-mile run. However, they don't want high-sugar content that they burn through too fast.
Conversely, Weightlifters need to worry about protein content to ensure they get around 1 gram for every pound of lean bodyweight they have. Weightlifters, strength trainers, and runners can benefit from different types of supplements, and that's where a Protein Powder Buying Guide can help.
How To Buy Whey Protein Powder for Strength and Muscle Gain?
While strength and muscle gain are not the same thing, they often go hand and hand. Hypertrophy naturally occurs when increasing strength which is why protein powder for muscle gain is also best for strength. Consider shopping at Thorne Health for the best whey protein powder for strength.
Do Whey Protein Powders Differ for Genders?
No, whey protein powders do not differ for genders. Despite the myths and some popular media reports, all genders can use essentially the same protein powder supplements. It's because the human body processes protein the same way.
That said, women tend to prefer lower calorie options to avoid undesirable weight gain. Likewise, men tend to burn calories faster than women and may prefer something with higher calorie content.
1. Best Whey Protein Powders for Women
Given the tendency for women to prefer a lower calorie option, the best protein powder for women is likely Myprotein's Clear Whey Isolate. Despite the incredible flavor selection and 20 grams of protein, the Clear Whey Isolate protein powders only contain 80 calories per serving.
Additionally, Myprotein's Clear Whey Isolate blends well with only water, making it ideal for a busy lifestyle. It also might work well to round out and spruce up a fruit and veggie smoothie to substitute for a quick meal.
2. Best Whey Protein Powders for Men
Though it fills a male stereotype, the best protein powder for men is MuscleTech Nitro Tech. It's the ideal blend of calories and protein to pack on muscle without overloading. For extremely active men who need to increase their calorie counts to pack on weight, the Mass-Extreme might be a better option for substituting a meal. 
There are no frills with the MuscleTech lines. It extends to the flavor options. Men get what they need with a burst of flavor and lots of protein to help gain muscle mass.