Vitamin C is an essential water-soluble vitamin that acts as an antioxidant for disease prevention, enhances tissue repair and growth, and promotes iron absorption. Although many people get their daily vitamin C intake through fruits and vegetables, taking supplements ensures the body gets the right amount each day.
Best Vitamin C
Helps Prevent Disease
Enhances Tissue Repair
Promotes Iron Absorption
The best vitamin C supplements are available in several forms, from tablets and powders to gummies and liquids, offering plenty of variety to match every person's intake preferences. Before taking Vitamin C, it is recommended to consult with a Healthcare professional.
Thorne Vitamin C with Flavonoids: Best Overall Choice
BrainMD Neuro-C: Best XYZ: Best Liquid Option
Pure Encapsulations Liposomal Vitamin C Liquid: Best Budget Pick
Nordic Naturals Vitamin C Gummies: Best for Children
1. Thorne Vitamin C with Flavonoids
Thorne Vitamin C with Flavonoids is the best vitamin C capsule available. It effectively supports enhanced immunity because of its enhanced absorption properties. The citrus flavonoid content in this vitamin C supplement provides greater antioxidant capacity, enhances skin, nail, and hair health, and benefits liver detoxification.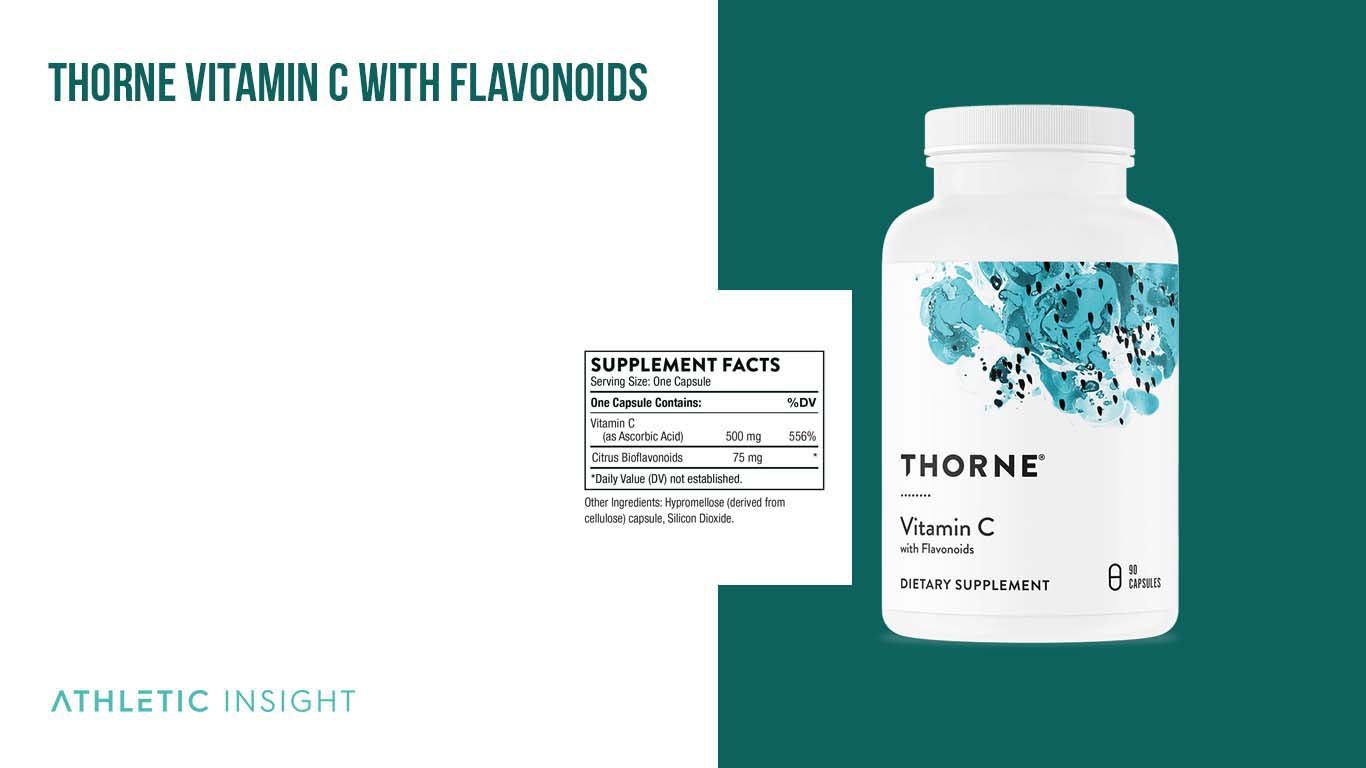 Thorne excludes dairy, soy, and gluten ingredients in its formula, making it safe for people with intolerances. Some people experience diarrhea after exceeding the vitamin C upper limit. To manage the side effects, reduce the number of tablets taken.
Adults should take one to three capsules daily with a glass of water, depending on vitamin C intake requirements. The bottle contains 90 capsules, each containing 500 milligrams of ascorbic acid and 75 milligrams of naturally occurring citrus flavonoids, and costs about $18.
---
2. BrainMD Neuro-C
BrainMD Neuro-C is a liposomal vitamin C supplement with excellent absorption properties. It is the best liquid vitamin C supplement for adults and kids because Neuro-C does not contain artificial flavorings or coloring.
Neuro-C is ideal for increasing the amount of vitamin C in red and white blood cells and improving immune and brain health without upsetting the stomach. Besides containing 1,000 milligrams of vitamin C, Neuro-C contains seven milligrams of vitamin E, providing essential nutrients for maintaining a healthy immune system.
Neuro-C has a citrus and vanilla flavor profile, is vegan-friendly, and doesn't have an unpleasant aftertaste. This vegan-friendly vitamin C supplement contains 32 servings per container for approximately $47, but BrainMD offers discounts for setting up a subscription.
Despite having better absorption capabilities than traditional vitamin C capsules or tablets, people can experience stomach issues when they exceed the recommended dosage or consume it on an empty stomach.
The best way to take BrainMD Neuro-C is to pair one tablespoon daily with a meal. Contact a medical professional before using this supplement.
---
3. Pure Encapsulations Liposomal Vitamin C Liquid
Pure Encapsulations Liposomal Vitamin C Liquid is considered the best liposomal vitamin c supplement because its sunflower oil-extracted phospholipid content enhances its absorption rate.
Other benefits include cellular function support and vegan ingredients. And Like most vitamin C brands, Pure Encapsulations has its share of potential side effects, such as nausea, vomiting, and stomach cramps.
The recommended dosage for this liquid vitamin C supplement is one teaspoon on an empty stomach per day, about ten minutes before a meal. The liquid must be held in the mouth for 30 seconds before swallowing.
This supplement is ideal for anyone over 18, but it's a good idea to consult a medical professional before taking it when pregnant or lactating. Always avoid giving this supplement to children.
The high-potency vitamin C content of Pure Encapsulations makes this liquid supplement one of the pricier options on this list of the best vitamin C supplement options, just under $40.
---
4. Nordic Naturals Vitamin C Gummies
Nordic Natural Vitamin C Gummies are the best vitamin C gummies for kids and adults. Each serving contains 250 grams of vitamin C and has a tart tangerine flavor profile. Other featured ingredients in this GMO-free, vegetarian, and vegan vitamin C supplement include organic tapioca syrup and cane sugar.
Like many of the best vitamin C supplements, Nordic Naturals supports enhanced immunity, antioxidant protection, and collagen production. Potential side effects include stomach cramps, nausea, and diarrhea. Some other potential side effects include stomach uneasiness caused by its citric acid content.
It is best to take two Nordic Naturals Vitamin C gummies daily with food. Each bottle costs around $15, making it affordable for families to meet their vitamin C needs.
Many people consider Nordic Naturals one of the best vitamin C brands because their formula is safe for kids and adults. The only word of caution is that children should be able to chew the gummies thoroughly to prevent a choking hazard.
---
5. Swanson Vitamin C Powder
Swanson offers the best vitamin C powder supplement for those seeking an alternative to standard capsules and chewables. The NSF-certified powder dissolves easily, allowing anyone to mix it with water or their favorite smoothies or shakes.
Some benefits of adding this vitamin C supplement to a diet include supporting the immune system, promoting cardiovascular health, enhancing iron absorption, and counteracting free radical production.
Before using Swanson's vitamin C powder, it's important to know that some people experience side effects, like stomach pain and nausea. Also, people who take other medications and are pregnant or nursing should speak with a doctor before adding this vitamin C supplement powder to their diet.
The recommended dosage for this vitamin C powder is one scoop, or 1,000 milligrams, daily with water or other beverages to prevent gastrointestinal reactions. The average price for this vitamin C powder is around $20, making it a fairly-priced option.
6. Bulk Supplements Vitamin C Powder
Bulk Supplements is another company offering an NSF-certified vitamin C powder. The powder dissolves in water fast and doesn't contain added sugar and other allergens, such as gluten, soy, and dairy.
This Bulk Supplements powder supplement contains plenty of ascorbic acid content beneficial for supporting cardiovascular health, improving the immune system and joint health, supporting tissue and cartilage growth, and protecting the body from free radicals.
Like other vitamin C brands, Bulk Supplements can cause gastrointestinal issues because the ascorbic acid can irritate the digestive system. Adults can get one gram of vitamin C per serving, and one serving is ⅓ teaspoon. Take it in water up to four times per day.
Bulk Supplements offers several size options, running from one-pound bags up to 55 pounds. The 500-gram bag costs around $20 on average.
7. Amazon Elements Vitamin C
Amazon Elements offers a line of supplements, including these vitamin C tablets. The benefits of using this supplement include enhanced immunity and healthy skin. Some key features of this supplement include being gluten-free and vegan-friendly, so people don't have to worry about disrupting their dietary lifestyles.
Although every bottle undergoes quality testing, the tablets won't agree with people sensitive to excessive amounts of ascorbic acid. Increased intake of Amazon Elements tablets can increase the risk of kidney stones in some people.
Be wary about storing this supplement because high heat and direct sunlight can damage the bottle and capsules. Avoid chewing these tablets because they will leave a bad aftertaste.
The recommended dosage for Amazon Elements is one tablet per day. Pregnant or nursing women and those awaiting surgery should consult their health practitioner before taking these tablets to determine an appropriate dosage that meets their needs.
Each bottle offers a ten-month supply of tablets with 1,000 milligrams of vitamin C. Amazon Elements costs approximately $20, though there is an option to save with a subscription.
8. Garden of Life Vitamin C Organic Spray
Garden of Life Vitamin C Organic Spray is an excellent vitamin C supplement for anyone who has trouble taking pills or liquids. This organic spray traces every ingredient they use when producing supplements to ensure each one lacks harmful chemicals. It's certified vegan, organic, and non-GMO.
The Garden of Life Vitamin C Organic Spray supplement incorporates natural whole-food ingredients, including organic amla extract that's packed with bioflavonoids to enhance absorption. Benefits of using this supplement include immune system support and promoting skin and tissue health.
Although this organic vitamin C spray is safe for adults and children and contains organic whole-food ingredients, some people can experience headaches, bloating, and nausea. As always, consult with a doctor before taking.
The recommended dosage for this organic spray is five sprays per day. One bottle containing 60 milligrams of spray costs around $12.
9. Care/of Vitamin C
Care/of Vitamin C is a subscription supplement service offering vitamin C without ascorbic acid. The company substitutes the nutrient with magnesium and calcium ascorbate. These nutrients and bioflavonoids give the capsule better absorption properties and cause less stomach uneasiness than those containing ascorbic acid.
Despite being an effective supplement for those looking for vitamin C without ascorbic acid, it is possible to experience side effects, including stomach pain, constipation, and diarrhea.
Care/of prioritizes claims that each capsule is easy to digest and contains the right nutrients to support immune health and promote healthy skin. The company submits the supplement to third-party testing to ensure it meets strict guidelines, including zero unnecessary fillers, and is gluten-free.
Each package of Care/of Vitamin C contains a 30-day supply of pills. Adults can take this pill on an empty stomach or with a meal if they have a sensitive stomach. Care/of Vitamin C costs around $7 per month.
10. NOW Chewable C 500
People looking for a chewable vitamin C supplement that isn't a gummy might want to consider NOW's naturally flavored option. NOW is a family-owned company that prioritizes crafting supplements with sustainably-sourced ingredients.
This chewable tablet tastes like orange juice and delivers antioxidants to maintain healthy skin and build immunity.
Since this chewable tablet incorporates sodium ascorbate and ascorbic acid as primary sources of vitamin C, they may cause digestive side effects. The most common symptoms are nausea, stomach cramps, and diarrhea.
NOW recommends taking one to two chewable tablets daily, depending on intake needs. Taking these chewables with food can reduce the risk of developing potential side effects.
People who are pregnant, nursing, or taking other medications should contact a medical professional before taking this vitamin C supplement.
Each bottle contains 100 half-inch, five-calorie chewable tablets with 500 milligrams of vitamin C and costs approximately $16.
11. Nature's Bounty Vitamin C with Rose Hips
Nature's Bounty is another reputable supplement company offering vitamin C capsules. This product also contains rose hips, which naturally contain vitamin C. The benefits of this vitamin C tablet include providing antioxidants for combatting free radicals and protecting most cells in the body.
Despite being one of the best vitamin C tablets on the market, people can experience some common side effects. Nature's Bounty vitamin C supplements can be problematic for people sensitive to taking large doses of vitamin C, potentially causing nausea, stomach cramps, and gas. Those with health issues should consult a doctor before taking this supplement.
It's also a relatively large pill compared to some of the other options, and this supplement is not chewable. The best way for an adult to take this once-daily supplement is with a meal.
Each tablet contains 1,000 milligrams of ascorbic acid, the most affordable form of vitamin C. Nature's Bounty costs under $15 for a bottle containing 100 coated caplets.
12. Llama Naturals Elderberry Gummies
Llama Naturals Elderberry Gummies are daily vitamin C supplements made with natural fruit ingredients to ensure authentic flavors. Unlike most popular vitamin C brands, this third-party-tested supplement doesn't contain added sugars or sweeteners.
Each Llama Natural gummy contains natural organic vitamin C from acerola cherries, elderberry extract, and other plant-based ingredients. The company slow-cooks the gummies in low heat to preserve every phytonutrient to maximize the effects.
The benefits of taking these whole-food vitamin C gummies include enhanced immunity support and antioxidants for skin health. Like most vitamin C supplements, side effects include nausea, heartburn, stomach cramps, and diarrhea.
Although Llama Naturals is an excellent sugar-free vitamin C supplement for anyone looking for formulas with natural ingredients, those considering these gummies should consult a health expert before purchasing a bottle.
The recommended dosage for these organic vitamin C gummies is two daily with food. The average cost of Llama Natural Elderberry Gummies is approximately $25 for a 60-count bottle of gummies.
What Is the Most Effective Vitamin C Supplement?
The most effective vitamin C supplement is the one that offers the fewest side effects while providing the greatest benefit. It varies from person to person because everybody is different.
Best Vitamin C
Helps Prevent Disease
Enhances Tissue Repair
Promotes Iron Absorption
For example, ascorbic acid is the best vitamin C for many because it's readily available and effective. However, overindulging in this nutrient can trigger stomach pain and gastrointestinal issues caused by its acidity.
Liposomal and liquid vitamin C supplements have a higher bloodstream absorption rate than tablets and pills, and their high-potency vitamin C properties have a stronger reaction compared to other vitamin C supplements.
What Are the Types of Vitamin C Supplements?
The types of vitamin C supplements include tablets, capsules, liquids, gummies, and powders. These vitamin C supplements vary in quality based on the forms of vitamin C incorporated into their formulas.
Here are some of the best forms of vitamin C that most supplements offer.
Ascorbic acid
Mineral ascorbates, such as calcium ascorbate and sodium ascorbate
Vitamin C with flavonoids
Liposomal vitamin C
How Many Vitamin C Supplements Should One Take?
The amount of vitamin C supplement a person should take daily varies from brand to brand and by age. An adult's average daily vitamin C intake is 90 milligrams for men and 75 milligrams for women, with an upper limit of 2,000 milligrams.
Children require less vitamin C per day, from 15 milligrams for children under three to 45 milligrams for pre-teens.
Many vitamin C brands list their daily dosage instructions on their packaging. For instance, taking one vitamin C capsule daily can provide 500 milligrams, while another might offer 1000 milligrams per serving.
Although vitamin C has water-soluble properties that are less toxic than fat-soluble vitamins and don't get stored in the body, potential risks of taking vitamin C supplements include mild side effects, like diarrhea, nausea, stomach cramps, or heartburn. High doses of vitamin C cause kidney stones in some people.
Is Vitamin C the most beneficial supplement for health?
No, a vitamin C supplement is not the most beneficial supplement for health. Supplements should be consumed to supplement deficiencies that one may have in their diet, so for some people, there are other supplements that may be more beneficial.
Is Vitamin C Helpful?
Yes, vitamin C is helpful. Vitamin C is an essential vitamin that strengthens the body's immunity against most ailments, heals body tissue, and acts as an antioxidant against free radicals.
It's possible to get enough vitamin C from consuming fruits and vegetables daily. However, taking vitamin C supplements can fill any gaps and ensure the body gets what it needs.
Can vitamin C and vitamin B be taken together?
Yes, it is safe to take vitamin C and vitamin B supplements together. Both vitamins are not only found in multivitamins and other dietary supplements, but many natural foods contain both vitamin C and vitamin B.
Best Vitamin C
Helps Prevent Disease
Enhances Tissue Repair
Promotes Iron Absorption