A vitamin B complex is a collection of nutrients that are vital to maintaining good health within the body. There are eight distinct forms of vitamin B, each of which having a different function. Vitamin B pills are known to cause higher energy levels, enhanced mood, and enhanced brain function.
If you have a vitamin B deficiency, a physician may advise you to take supplements to restore your levels such as the ones mentioned in this article. The various types of vitamin B supplements include capsules, tablets, and liquid drops. Using excessive doses of vitamin B supplements can result in negative side effects, therefore it is necessary to adhere to your doctor's advised dosage.
1. Thorne B-Complex #12
Thorne B-Complex #12 is a distinctive vitamin B supplement with active B vitamins and an extra dose of B12 and folate. Despite each vitamin's role in maintaining the body's health, they work together to ensure that the body obtains as many nutrients as possible.
Although most healthy individuals do not need additional doses of B12 and folate, aging, digestive disorders, and compromised livers can reach new heights of wellness with extra nutritional reinforcement.
The best vitamin B12 and folate supplements form a robust support system for red blood formation and tissue and cellular repair– the body's vital healing strategy after an injury, severe damage, or cell death.
In addition, Thorne B-Complex plays a significant role in B vitamin deficiency that impacts mental health and pregnancy. As a result, monitoring mood shifts in irritability and confusion is easier. and its impact on proper fetal development is positive.
---
2. Thorne Stress B-Complex
Thorne Stress B-Complex optimizes healthy immune function with adrenal compatibility by integrating key ingredients Vitamin B, 5-MTHF, choline, and biotin into an easy-to-take capsule. All of these are essential in returning stressed or active lifestyles to a balanced state of healthy living.
The Stress B-Complex vitamin B5, also known as pantothenic acid, supports a therapeutic cortisol response and homogenizes neurotransmitter production resulting in a better mood without stress-related fatigue.
In addition, 5-MTHF or folate combines with choline and biotin to promote healthy brain function reducing the edge of adrenal dysfunction and hormone regulation.
Although Thorne Stress B-Complex is the best vitamin B complex, vegetarian friendly, and gluten, dairy, and soy free, they are not compatible with methotrexate cancer therapies and common hypersensitive reactions to supplements.
---
3. Nordic Naturals Vitamin B Complex
Finding active forms of Vitamin B in whole foods is essential to healthy cellular function, but it's even easier with third-party tested Nordic Naturals Vitamin B Complex. Nordic Naturals is a blend of eight activated B vitamins– as a result, they are efficiently absorbed by the body and support natural metabolic activities such as cellular respiration and energy expenditure.
Nordic Naturals Vitamin B Complex capsules are reliably ideal for vegetarian and vegan lifestyles but suitable for any lifestyle. They feature non-GMO verified activated methylfolate that help treat low levels of folate caused by pregnancy, poor diet, intestinal issues, and liver disease. They also contain activated methylcobalamin to facilitate red blood cell production and optimal nerve function.
Nordic Naturals designs the best B complex Vitamins to include high-quality coenzyme vitamins B6 or P5'P to help support the body's measured blood levels inside the body and contribute positively to immune health. In addition, water-soluble coenzyme riboflavin or R5'P fosters healthy cellular development, blood flow, and healthy skin and hair.
---
4. Pure Encapsulations B-Complex Plus
The Pure Encapsulations B-Complex Plus offers a balance of scientifically verified B vitamins without shellac coatings, questionable fillers, preservatives, or hydrogenated oils. Instead, Pure Encapsulation fills its B-Complex with high-quality non-GMO ingredients compatible with any lifestyle, including vegan and vegetarian.
It features Pure Encapsulations signature broad-spectrum vitamin support that contains the vitamins and minerals you need in a single dose.
Metafolin L-5-MTHF to serotonin, melatonin, epinephrine, and dopamine neurotransmitter production to support optimal brain and mood health.
They have naturally occurring Methylated Vitamin B12 or cobalamin that aid DNA production and nervous system function.
A blend of all eight essential B Vitamins.
However, B-Complex Plus is only suitable for healthy adults ages 18 and older. People living with conditions prohibiting vitamin B supplement absorption should seek a medical professional before adding a comprehensive vitamin b supplement blend to their daily regimen.
---
5. Integrative Therapeutics Active B-Complex
Active B-Complex from Integrative Therapeutics is the best B vitamin complex, dairy and gluten-free vegan armored with active vitamins and minerals for quick access to complete body wellness. In addition, the blend features bioactive Quatrefolic methylfolate that allows the body to absorb high-quality folic acid in its most reduced and active form.
In addition to Vitamin B1 and B2, Vitamin B6, and B12 mix to create an internal environment for the body's neurotransmitters serotonin, dopamine, and GABA to grow and operate with the nervous and immune system– With Integrative Therapeutics Active B-Complex, your body can move, breathe, and think better than with a stand-alone healthy diet.
Integrative Therapeutics integrates exceptional ingredients with clinician-formulated doses to bring the best vitamin B supplement for adults that want the best evidence-based short and long-term supplement for integrative wellness.
6. Douglas Labs B-Complex with Metafolin and Intrinsic Factor
Douglas Laboratories is a global leader prized for its premium quality science-based formulas that support active, healthy lifestyles. With a GMP-compliant manufacturing facility and NSF International stamp certified for sport, you can ensure their products do not contain prohibited substances.
Douglas Labs B-Complex features folate in a naturally dense bioavailable calcium salt metafolin.
They make this supplement appropriate for bodies with MTHFR gene variations directly impacting folate's activation and metabolism processing. In addition, people with cardiovascular and thromboembolic diseases such as blood clotting and heart attack can confer their physician about its benefits.
Similarly, Douglas Labs Intrinsic Factor protein helps the body's intestines restore, sustain, and quickly absorb vitamin B12 from natural foods. As a result, Douglas Labs B-Complex formula shows a lot of promise in supporting B12 insufficiencies that lead to anemia and neurological dysfunctions. However, most healthy individuals can enjoy the usefulness of supplementation.
7. Seeking Health B-Minus
Seeking Health B-Minus is a vegan-friendly vitamin B supplement that does not contain vitamin B12, folate, or significant allergens. Although the body will naturally discard excess B12, when you're getting enough from your diet and other supplementations, high levels of them can have adverse outcomes such as headache, nausea, and acne or rosacea outbreaks.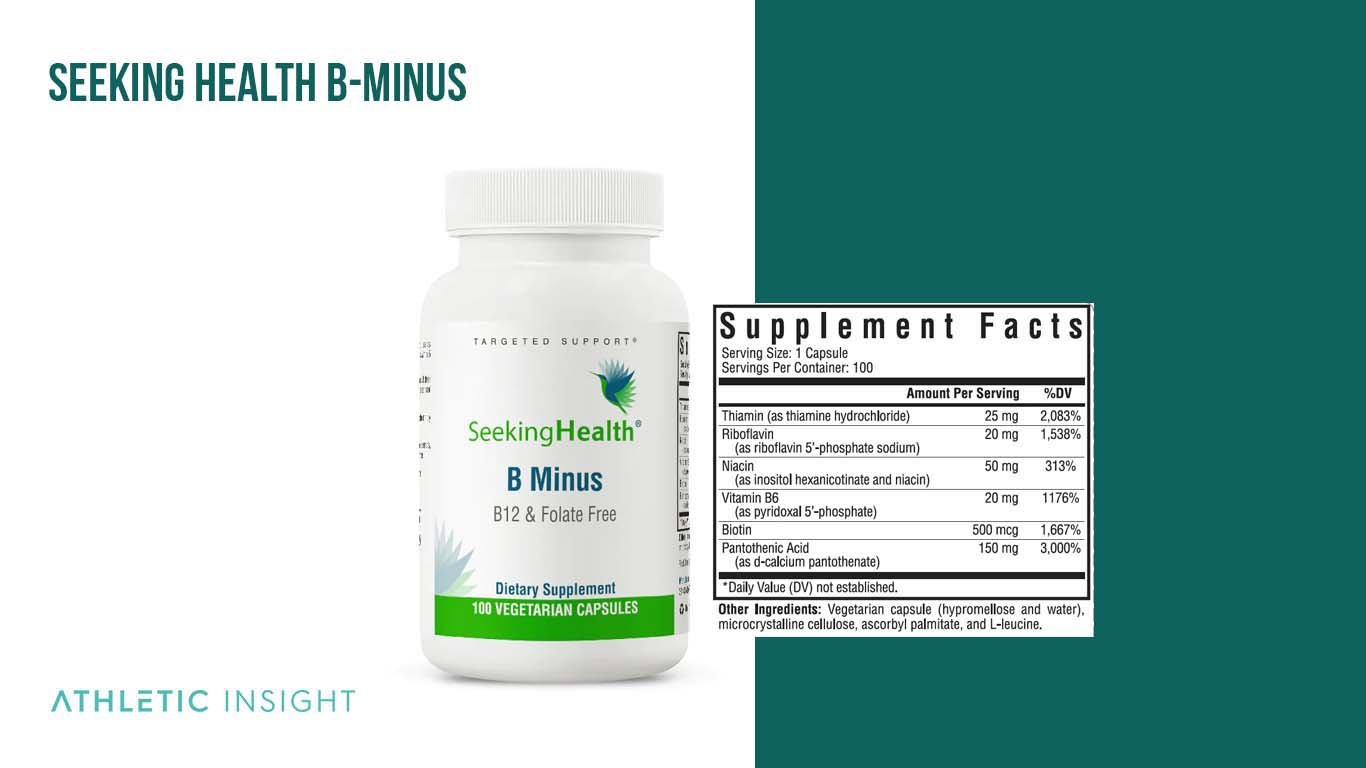 In addition, high doses of folate can create unsafe adverse reactions such as upset stomach, diarrhea, swift behavior changes, and allergic skin reactions. However, despite vitamin B12 and folate, B-Minus still contain a premium formula of six essential B vitamins.
With B-Minus, you can expect the best B complex supplement with bioavailable water-soluble B vitamins that support healthy energy production, cognitive and immune function, and hormone balancing.
The capsules absorb best when paired with or without food in the morning or afternoon. However, if you need clarification on whether B-Minus suits you, refer to our healthcare professional to help jump-start you on a personalized regimen.
8. Pure Encapsulations B-Complex Liquid
The B-Complex Liquid by Pure Encapsulations is a dense concentration of quick-absorbing essential B vitamins that the body needs to resist anxiety, fatigue, and skin problems and fortify immunity. You'll find a full range of bioavailable thiamin, riboflavin, niacin, vitamin B6, vitamin B12, and pantothenic acid.
The B-Complex Liquid is the best vitamin b supplement, using only the purest sustainable ingredients without poisonous allergens, additives, or fillers. As a result, boosts of energy, shifts in positive moods, memory retention, and great taste are expected benefits.
9. Brainchild Nutritionals B-Complex Liquid
Unlike most vitamin B supplements focusing on the physiological benefits and impacts of adding the best vitamin B complex supplement into a daily regimen, Brainchild Nutritionals focuses on mental health.
Brainchild Nutritionals B-Complex Liquid is a blend of the best essential B vitamins and lemon or mango flavor formulated for sensitive individuals who experience high stress.
Brainchild Nutritionals prides it's supporting highly sensitive people of all ages, from children to adults, with high-quality, nourishing supplements for autism, ADD/HD, heavy metal toxicity, Alzheimer's, and more. Their products are made in small batches in the USA to ensure fresh formulas that are potent and clean.
In addition, the B-Complex liquid formula includes all of the essential B vitamins that sustain healthy energy levels and stress management. The benefits are best experienced when paired with a mineral multivitamin and a healthy diet. Parents seeking cognitive and mood support for their child through supplementation should consult their pediatrician before starting a regimen.
10. Care/of B-Complex Vitamin
Care/of B-Complex Vitamin formula includes active forms of essential B vitamins with no harmful additives or fillers. In addition, it features bioavailable methylfolate instead of folic acid and riboflavin to help extract energy from the body's metabolic processes.
Although B vitamins are most abundant in omnivore diets, Care/of ensures that B-complex is encapsulated into the best B complex vegan-friendly and certified clean 30-day supply. Each capsule contains ten nutrients: eight B vitamins containing methylfolate and methylcobalamin.
Methylfolate is a functional form of folate, helping maintain healthy hair growth and promoting healthy melatonin doses to regulate sleep patterns.
Methylcobalamin is the most accessible form of B12 that can boost the body's metabolism and help maintain weight gain.
In addition, Care/of B-Complex Vitamin is the best B complex vitamin, making it easy to monitor your vitamin B supplement regimen with its subscription option. After you make your first purchase, Care/of sends you a 30-day supply of supplements every month.
11. Ritual Essentials for Women 18+
Ritual Essentials for Women 18+ is a multivitamin loaded with the vitamins that women 18-49 need to supplement what their diets cannot give them. Instead of integrating B vitamins into the B vitamin complex, Ritual Essentials combines B vitamins with traceable ingredients so that you know where exactly your vitamins are sourced inside its supply chain.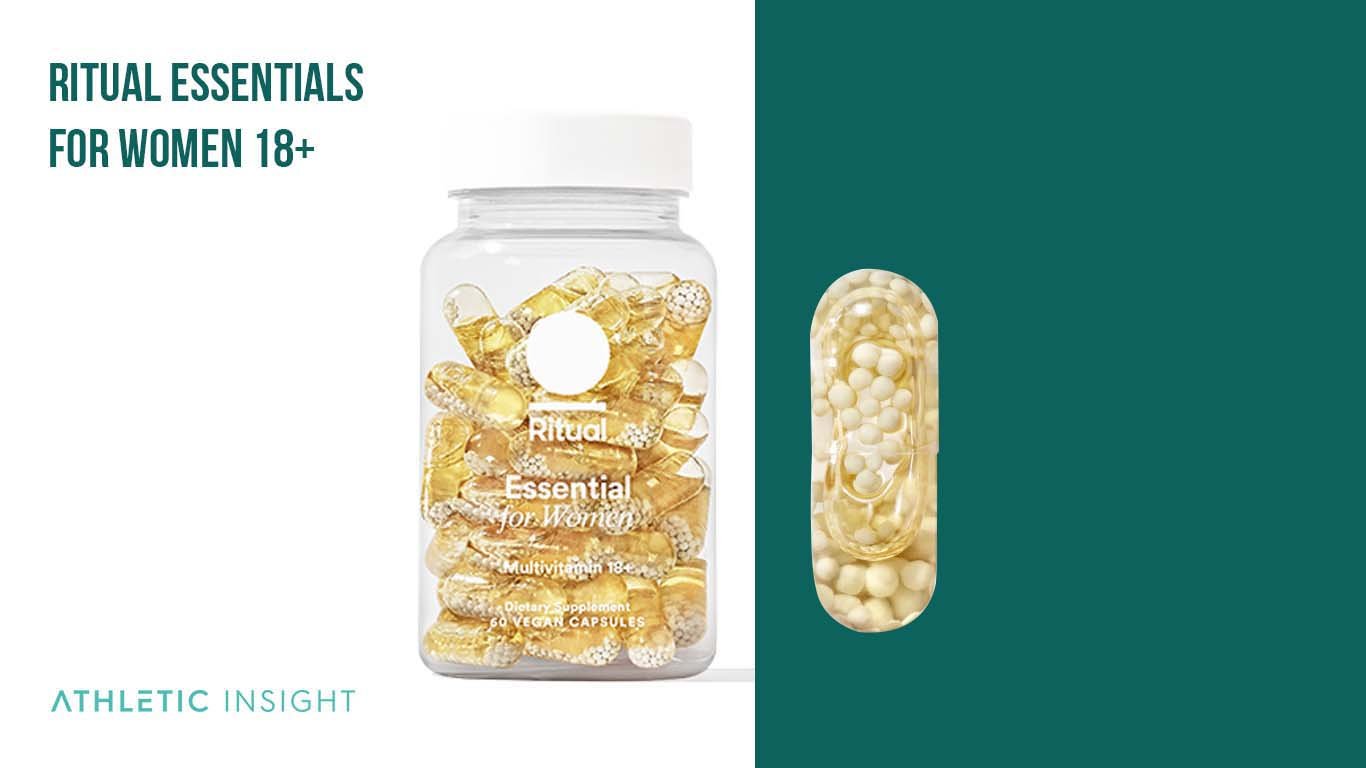 They combine Vegan Omega-3 DHA from Canadian microalgae and methylated B complex (B12) from the Connecticut and New Jersey to support brain health and systemic wellness. And a methylated Folate from Italy with chelated Iron from Italy elevates red blood cell formation and reduces the development of anemia in women.
In addition, Ritual Essentials turns most multivitamins on its head by combining dry ingredients with a patent oil technology that allows the small intestine to absorb each vitamin slowly.
12. Persona Vitamin B12
Persona Vitamin B12 is the best vitamin B12 complex for people looking for one B vitamin to complement their regimen and prevent B12-specific deficiencies. The body needs vitamin B12 to maintain a healthy brain and nerve function by providing a coating around the nerves to guard communication from the brain to the body.
In addition, Persona Vitamin B12 aids in the production of blood cells that work to carry oxygen through the bloodstream. With high-quality sourced ingredients, science-based formulas, and FDA-cGMP compliance, you can ensure that Persona B vitamins can help you reach the next level of your health journey.
13. Amazon Elements Vitamin B12
Each Amazon Elements Vitamin B12 is an easy-to-dissolve lozenge with high-quality potency, purity, and integrity standards that meet Good Manufacturing Practices. As a result, supplement recalls due to microbe or heavy metal contamination are absent.
You can expect a boost in energy and focus without the vitamin hangover in B vitamins that contain artificial colors, flavors, and chemical preservatives.
Instead, Amazon Elements Vitamin B12 formulates the best vitamin B for immune support without GMOs, fillers, or additives. In addition, the supplement is vegan-friendly in a two-month 60-day supply of dissolvable tablets.
14. Pure Encapsulations PureNutrients Gummies
Pure Encapsulations Pure Nutrients Gummies is a low-sugar chewable multivitamin gummy that contains a mineral complex and a fruity flavor that is kid friendly. They contain the best B vitamins in addition to vitamins A, C, D2, E, and K to develop muscular, healthy bodies.
Although the multivitamin doesn't contain adult sizes doses of the B vitamins, they are still compatible with adults looking for a low-dose B complex without missing out on complimentary supplements.
In addition, PureNutrients Gummies are hypoallergenic and free of gluten, eggs, peanuts, and wheat. However, parents should seek a pediatrician before putting them on a multivitamin regimen to ensure safe dosing.
What are Vitamin B Supplements?
Vitamin B Supplements incorporate a complex of essential B Vitamins that support the body's well-being and overall function. Although most healthy individuals can obtain a healthy balance of B vitamins from a well-balanced diet, deficiency still surfaces between busy life schedules and available nutrients.
A Vitamin B deficiency can show up in the form of skin rashes, cracks near or around the mouth, fatigue, and anemia. However, Vitamin B complex supplements fill those missing gaps preventing specific health conditions affecting energy levels, eyesight, digestion, cell metabolism, and more.
Below are the eight essential B vitamins that create the full-bodied Vitamin B Complex.
B1 Thiamine
B2 Riboflavin
B3 Niacin
B5 Pantothenic Acid
B6 Pyridoxine
B7 Biotin
B9 Folic acid
B12 Cobalamin
Without these essential vitamins, maintaining optimal health is challenging. However, Vitamin B complex supplements efficiently sustain cellular metabolism, brain function, energy levels, and cardiovascular health thrive.
How to take Vitamin B supplements?
The best Vitamin B to take depends on habits and preferences. Tablets are the best option when you don't mind swallowing pills and can stick to a schedule. In addition, B vitamin capsules are slowly absorbing, easy to find in any drug or grocery store, and typically fit any budget.
However, the best liquid B complex quickly absorbs inside the bloodstream to deliver swift nutrients without binders, fillers, or additional additives. So, although they initially cost more, you're paying for a fresher B vitamin that packs more nutrients than vitamin B capsules.
On the contrary, people with digestion specifications or restrictions can benefit from vitamin B complex injections. An intramuscular vitamin B injection is the best form of vitamin B, offering the body a dense concentration of bioavailability that help maximize absorption, especially for people living with conditions that sabotage the body from absorbing the vitamin at a higher cost.
Who can take Vitamin B Supplements?
Everyone can take Vitamin B supplements in moderation, as B Vitamins are safe building blocks to a healthy, well-functioning body, especially for athletes, older adults, vegetarians, vegans, and pregnant or breastfeeding women or men wanting to boost their testosterone production.
Vitamin B supplements are essential for athletes that want clean energy that fuels their workouts and supports recovery. B vitamins such as thiamin, riboflavin, pyridoxine, and cobalamin also support the athlete's blood cells and carry oxygen to the muscles during weight cuts, high-volume training, or nutritional enhancement.
The best way for older adults over 50 to maintain cognitive wit is with easy-to-absorb Vitamin B supplements like B12 cobalamin and B6 pyridoxine. B12 and B6 supplements are easy to absorb with age, especially when the body is not intrinsically obtaining the vitamin from a nutrient-dense food source.
On the contrary, B12 is an essential animal-based B vitamin that plant-based diets such as vegetarians and vegans infrequently consume. Meats, dairy, and eggs are the best source of B vitamins. However, a plant-based lifestyle can substitute the deficiency with a vitamin B supplement.
Pregnant or breastfeeding women require additional B vitamins to their lifestyle to help support optimal fetal brain development, maintain energy levels, and lower the risk of congenital disabilities and preeclampsia.
Men that want to boost their testosterone levels, which decrease with age, can choose vitamin B supplements that contain B1, B2, B12, or a Vitamin B complex to help regulate their hormones.
However, people with health conditions such as ulcerative colitis or rheumatoid arthritis that impair vitamin B absorption should seek out a medical professional that can help provide them with sufficient dosage.
In addition, if you experience symptoms of B vitamin deficiency such as severe fatigue, anemia, or significant loss of appetite, consult your doctor for the proper dosage tailored to your needs.
How much do Vitamin B supplements cost?
Complete B vitamin supplements use reliable research and monitor effectiveness. However, big brands that must be more transparent about developing their product or third-party testing are often more economical. Reliable vitamin B supplements cost between $10 per capsule to $95 per injection.