Beta-hydroxy-beta-methyl-butyrate (HMB) is a branched-chain amino acid that promotes protein synthesis and inhibiting protein degradation. People often use these supplements to get the most out of leucine, since only 5% of it breaks down to produce HMB.
Hormone-binding B vitamins are necessary nutrients for strength and endurance. You must take HMB dosages throughout the day for them to be most effective. Consider taking one gram in the morning, lunch time, and evening. Here are the top three best HMB supplements for muscle growth if you're short on time.
1. Transparent Labs
Transparent Labs HMB is the top recommended product on this list because it is clean, affordable and backed by research. While others on this list are pure HMB formulas, the Transparent Labs formula is a Creatine HMB blend.
While the other supplements on this list may help with recovery and developing muscle, the Transparent Labs Creatine HMB blend is superior. Since creatine helps the muscles produce more energy, increases muscle growth, fights diabetes, improves brain function, and increases endurance, it is easily top of the list.
There are currently 11 flavor varieties offered through this product, each of which is naturally sweetened with stevia extract. Each serving contains 5000 mg of creatine Monohydrate, 1500 mg of HMB, 5 mg of BioPerine (helps with absorption), and 12.5 mcg of Vitamin D.
While there are a few places to purchase Transparent Labs products, the easiest and most cost effective location is ordering straight from their website. Coming in at $44.99 for a subscription, each serving cost around $1.49.
---
2. Optimum Nutrition
After utilizing Optimum Nutrition HMB, you'll recover faster, feel better, and be less sore, allowing you to get more out of your workouts. Whether your goal is hypertrophy, strength, or muscle endurance, you'll want to use HMB.
Because Optimum Nutrition HMB is not a pre-workout supplement, you should stack it with others rather than take it on its own.
Each capsule contains 1 gram of HMB. The suggested dosage is one capsule three times a day. Taking 3 grams of HMB per day can limit protein breakdown in highly active muscles. HMB is effective for muscle protection and healing.
On the internet, this supplement has garnered a lot of excellent reviews. The company behind it is Optimum Nutrition, a well-known supplement manufacturer.
Optimum Nutrition HMB is available online as well as in stores. Buying it online will ensure fresh supplements are shipped to you whenever you need them.
---
3. Double Wood Supplements
Beta-hydroxy-beta-methyl-butyrate (HMB) is associated with improvements in leg extension strength and bench press results. It improves endurance during workouts and is necessary for high-intensity sports. HMB may assist inexperienced athletes in avoiding injury while increasing their strength when they raise their effort levels.
Scientific data and extensive third-party testing support double Wood Supplements' products. Their website is easy to use, fast to load, and double-optimized for safe buying.
The majority of Double Wood reviews are favorable, praising the company's products and its customer service. Because of its speedy shipment and excellent customer service, Double Wood has few detractors.
You may make an order right now on the Double Wood website. If you sign up for the newsletter, you may earn a 15% discount on some purchases. If you are dissatisfied with your purchase, you have 30 days to return it. This discount is valid for 30 days after delivery. Those with paid shipping are prioritized above orders with free delivery.
---
4. NOW Sports
NOW Sports HMB helps preserve lean muscle tissue by regulating protein breakdown in the body. It may help sustain muscle strength and bulk when combined with regular exercise and a good diet. It may also help with recovery after heavy exertion.
It helps preserve lean muscle tissue by regulating protein breakdown in the body. Additionally, it can help sustain muscle strength and bulk when combined with regular exercise and a good diet. It's GMO-free, vegan/vegetarian.
For the best results, use 2 capsules with meals 2–3 times per day in conjunction with an exercise plan. NOW Sports is an American family-owned and operated business that has been packaging since 1968.
The NPA A-rated GMP certification means that every stage of the NOW manufacturing process has been reviewed, including our laboratory/testing processes (for stability, potency, and product formulation).
During the summer, things may arrive warm, although Amazon stores and ships items following manufacturer guidelines when available. The packaging may vary.
---
5. Nutricost
Nutricost HMB is a low-dosage HMB supplement. It comes in 500 mg capsules, meaning it has a lower dosage per capsule than some of its higher-ranked competitors.
It's extremely neatly packed with chemicals, so it's a fantastic alternative if you're looking for a lower-dose capsule-based supply of HMB. In addition, because of its performance-enhancing properties, HMB is a popular dietary supplement in the health and fitness sector.
Nutricost HMB may increase muscle mass and decrease muscle breakdown when paired with exercise. In addition, it strengthens the musculoskeletal system and may lower blood pressure and cholesterol levels. As a dietary supplement, take two capsules daily with 8-12 oz of water or as directed by your healthcare physician.
6. NutraKey
Beta-hydroxy-beta-methyl-butyrate (HMB) from Nutrakey is a naturally occurring amino acid that is more effective than other amino acids in retaining muscle mass and preventing muscular atrophy.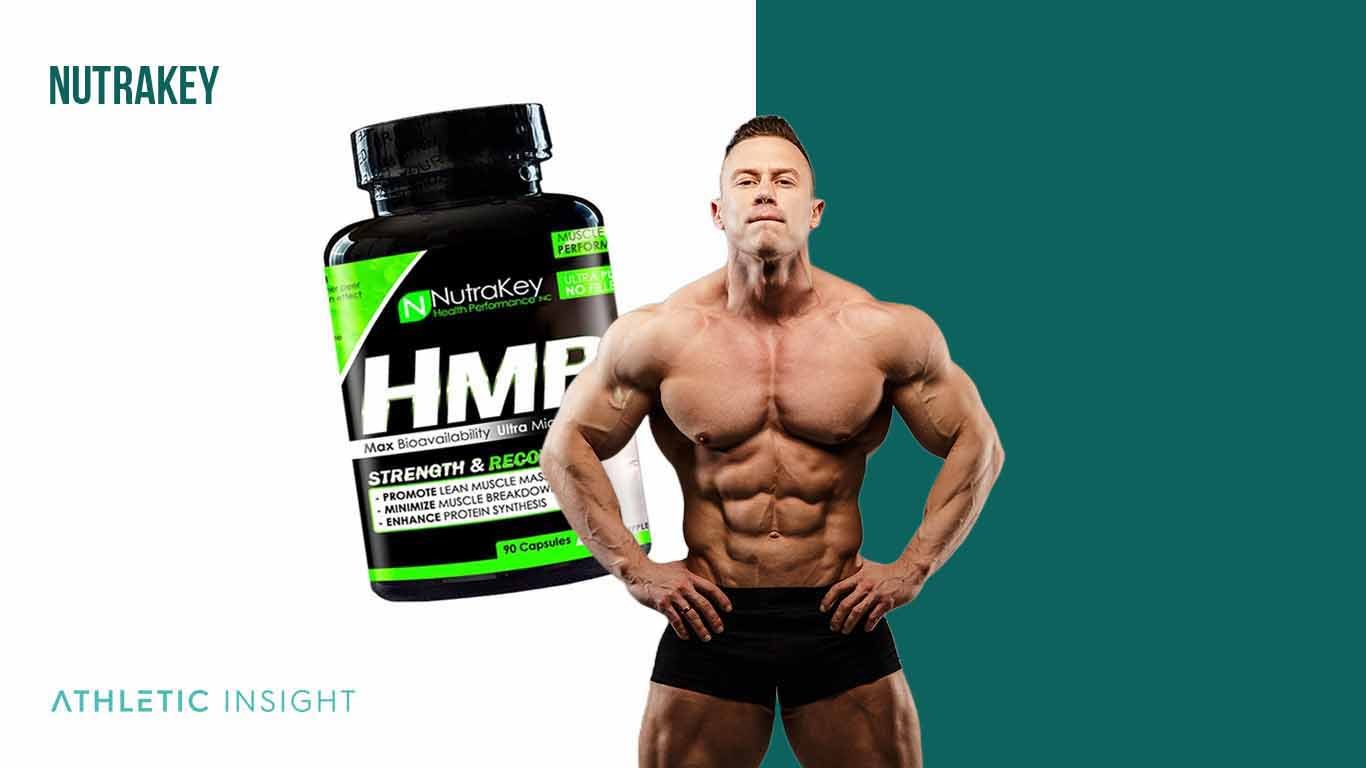 As a fundamental component of muscle cells, HMB promotes quicker recovery and stronger gains by enabling athletes to exercise harder and adapt to their training more quickly.
High-mobility Bodies (HMB) may protect muscle cells from death by supplying necessary protein for repair and recovery. This means that endurance-trained muscles become more efficient and resistant to exhaustion, while resistance-trained muscles gain size and strength.
Reduced pain benefits all athletes by shortening recovery time and enhancing muscle output.
NutraKey hyper-micronized formulas were developed particularly for maximum bioavailability in the body. The amount of formula absorbed increases in each dose, saving you money and time at the gym.
Beta-hydroxy-beta-methyl-butyrate is effective, but when paired with BCAAs and creatine, it provides much larger results than either product alone.
7. MET-Rx HMB 1000
MET-Rx HMB 1000 is an HMB supplement produced by MET-Rx, a brand focused on helping athletes get to the next level through superior supplementation. Like the other HMB supplements mentioned, MET-Rx HMB 1000 will aid in muscle recovery, growth, and strength production.
The recommended dose is one capsule taken once a day to provide 4 grams of HMB. Beta-hydroxy-beta-methyl-butyrate is a metabolite of the branched-chain amino acid L-Leucine that may help with muscle mass and strength maintenance during weight training.
According to reviews, Met Rx HMB 1000 offers an acceptable HMB dose and works well. It can improve lean mass and strength in several ways. It's often used throughout cutting cycles to keep the lean muscle mass you've already gained while attempting to reduce weight.
---
8. BulkSupplements Pure HMB Powder
Pure HMB powder is available from BulkSupplements, a bulk supplement that sells pure HMB powder in its most basic form. Because the body cannot synthesize amino acids, they must be obtained via the consumption of amino acid supplements and protein-rich meals.
When studies revealed that BCAA supplements increased muscle myofibrillar protein synthesis by 22 percent, they sparked a flurry of interest in the sports nutrition community. When taken in conjunction with EAAs, they significantly improve performance by 50%.
Bulk herbs are created from various plant components, including seeds, roots, leaves, petals, and other plant parts. Because the creatine monohydrate pill is free of gluten and lactose, it is the most effective nutritional supplement for muscle development and strength enhancement.
Unlike capsules, bulk supplements must be blended with a beverage or put in an empty capsule before consumption. This is because bulk supplements are powders rather than capsules.
These supplements are reasonably priced, have undergone laboratory testing, and are guaranteed to be pure.
---
9. MuscleTech Clear Muscle
MuscleTech's Clear Muscle is a muscle-building supplement that may help you improve your exercise performance, strength, and recovery by increasing your muscle mass and strength. This is accomplished by reducing muscle protein degradation while increasing protein synthesis in the muscle (but more on that later).
Even though Clear Muscle targets men, there is no reason why women cannot benefit from it. MuscleTech Clear Muscle may be obtained on the internet or at GNC stores. As a one-component supplement, Clear Muscle has just one active ingredient, BetaTOR, also known as "Free acid beta-hydroxy beta-methyl-butyrate." This implies that it contains no other ingredients.
Biochemically, BetaTOR was developed by Metabolic Technologies Inc and is found in several MuscleTech products (as well as a couple of Japanese supplements).
10. Naturebell HMB Supplement
Naturebell is a new health supplement brand with little known about them. According to their Amazon seller account, their HMB supplement is highly rated. Additionally, Naturebell HMB is free of gluten, GMOs, dairy, soy and tree nuts.
This HMB supplement comes with 180 capsules, each containing 500 mg of ß-Hydroxy ß-methylbutyrate (HMB). If you are looking to support your production of protein to strengthen your muscles, give Naturebell HMB a try.
---
What Is the Best HMB Supplement for Muscle Growth?
The best HMB supplement for muscle growth is one that has a high HMB concentration. This will assist in increasing the quantity of HMB in your body, which will result in increased muscular development.
Beta-hydroxy-beta-methyl-butyrate is a chemical that has been demonstrated to be beneficial in muscle growth. It is an amino acid that occurs naturally in the human body and contributes to the rise in HMB levels in the bloodstream.
Optimum Nutrition HMB is the way to go for those seeking the best HMB supplement for muscle growth. It contains only the highest quality ingredients. Every one of the main components demonstrated to be effective in muscle building is included in this supplement.
Are HMB Supplements Effective?
Beta-hydroxy-beta-methyl-butyrate is a molecule that your body produces when the amino acid leucine is broken down. It may offer some benefits when taken as a supplement.
According to certain research, it may aid reduce muscle loss and boost training responses. It may also help untrained people and the elderly improve their muscles. Other potential benefits include improved exercise recovery, reduced inflammation, and age-related cognitive decline.
When taken with creatine, vitamin D, and other amino acids such as glutamine and arginine, it may give additional benefits. These combinations may help with muscle growth and performance and muscular strength, and muscle loss prevention.
It's important to realize that many potential benefits need more examination. However, HMB seems safe at usual doses of 3 grams per day. Consult a healthcare professional before taking HMB, as with any dietary supplement.
Where To Buy HMB Supplement for Muscle Growth?
Because HMB is such a well-known vitamin, it can be found at almost any health and fitness shop, both online and in person. It is recommended to find an online retailer that you can trust, which will ensure that you receive fresh, safe ingredients on a shipping schedule that you set.
How Long Should You Take HMB Supplement for Muscle Growth?
According to the International Society of Sports Nutrition, the use of HMB as a dietary supplement is completely safe (ISSN). However, you should see your doctor before starting if you have any concerns about taking HMB or any pre-existing medical conditions. As a result, the timing of supplements is not set in stone since it is dependent on how long you exercise.
According to the American Institute of Physiotherapists, taking HMB before or after exercise may help you keep your HMB levels high in the body while increasing your efficacy and getting more out of your workout. In addition, the vast majority of individuals are in favor of HMB when consumed orally.
Doses of 3 grams or less per day seem safe for use for up to a year. Within 2-4 weeks, you should significantly improve your strength and muscular growth.
What Is the Difference Between Creatine and HMB When It Comes to Muscle Growth?
The daily HMB dosage is 3 grams, split into three doses of 1 gram each (breakfast, supper, and evening). The primary goal of HMB is to retain muscle mass by slowing the breakdown of muscle protein (MPB). It is stored in our muscles and aids in muscle cell and fiber repair and maintenance.
Beta-hydroxy-beta-methyl-butyrate (HMB) supplementation has been shown in studies to prevent muscle damage. Muscle injury is no longer correlated with muscular growth; it may impede it. Proper HMB supplementation may result in a modest reduction in fat mass as a side effect.
Creatine is one of the most extensively researched supplements available today, with hundreds of studies investigating various effects and benefits. In terms of fitness goals, the primary function of creatine is to supply fuel to our muscles through ATP production. This means that the amount of creatine we keep is related to the amount of energy our muscles can spend.
It is recommended to consume 5 grams of creatine every day, all at once. However, a one-week loading phase with 20-25 grams consumed daily may benefit. Creatine has been shown in studies to alleviate weariness while also increasing strength and maybe muscle mass.
What To Know About Best Supplements While Buying an HMB Product?
Only positive effects on muscle, body fat, blood pressure, cholesterol, and other key health indicators were observed in nine separate studies. HMB supplements often include whey protein, glutamine, creatine, and carbs.
Taking HMB in conjunction with other vitamins can improve your muscles. Creatine, for example, allows you to exercise your muscles harder, while HMB decreases muscular breakdown and recovery durations.
The amount of HMB you should take is determined by your body weight. 2 grams per day should be sufficient for anyone weighing up to 130 pounds (60 kilograms). Take 1 gram four times a day if you weigh more than 130 pounds. Start slowly and take one gram at a time if you're new to HMB.
Muscular mass and strength may be tested in 2-4 weeks once you start taking HMB. If your mission is to find the best supplements for muscle growth and hypertrophy, look no further than HMB. 
What Are the Best Supplements Besides HMB?
Whey protein powder is a popular supplement among both bodybuilders and athletes. It's widely considered one of the greatest muscle-building supplements, and it's usually reasonably priced.
Whey is a high-quality protein that promotes quick and effective lean muscle building. In addition, it digests more slowly than whey protein powder, providing the body with longer-lasting advantages.
Another supplement that is considered one of the best supplements is Branched-Chain Amino Acids (BCAAs). These BCAAs are an essential component of an effective muscle-building workout. BCAAs may be used as a pre-or post-workout supplement. 
Beta-Alanine is a non-essential amino acid produced naturally in the body but not in sufficient amounts to benefit physical activity. However, when taken in larger doses, it improves physical performance while also offering some post-workout benefits.
L-glutamine is regarded as the most abundant amino acid in the human body. It is required to recover damaged muscles, such as those suffered during exercise. When used as a post-workout supplement, L-glutamine levels in muscles are recovered.
Bioperine is a supplement that aids in the bioavailability of other substances with which it is combined rather than promoting muscle growth. Many high-quality supplements include Bioperine to help the body absorb more nutrients and supplements, such as vitamins and minerals.