Branched-chain amino acids (BCAA's) are the essential amino acids which consist of Valine, Leucine, and Isoleucine. Taking a BCAA powder or supplement helps sustain muscle, improve energy, and fight off muscle fatigue during long workouts.
The process of supplementing with a BCAA plays an essential role in building muscle. These essential amino acids slow or prevent muscle loss through the metabolization process. The importance of taking BCAA supplements depends on your exercise goals as well, whether you are going for endurance, hypertrophy, or strength training.
Athletic Insight Top 3 Products
Best Overall >>> Thorne Amino Complex BCAA
Top Performing >>> Crazy Nutrition Intensive Pre-Train BCAA
Best Budget >>> Transparent Labs BCAA Glutamine
Disclaimer: The information written by the Athletic Insight Research Team is intended to be informative but should not be construed as medical advice. These articles are not intended for the diagnosis, prevention, or treatment of health issues. Always consult your physician before beginning a new fitness, nutritional, and/or supplement regimen.
Using BCAA for men leads to higher performance in the gym and an increase in muscle growth. The process of taking a BCAA for women will also lead to muscle growth and less muscle fatigue.
1. Thorne
Thorne Amino Complex BCAA is the top product available on the market, it's a clinically validating BCAA powder for both pre and post workouts. The Amino Complex supplement is NSF certified and science-backed, making it the best overall BCAA.
With two unique flavors, Thorne Amino Complex offers a cost effective product for around $40. For just over $1 per serving, you'll receive the benefits of a premiere BCAA product capable of providing energy, supporting lean muscle growth, and faster recovery.
In addition to the benefits of faster recovery, lean muscle mass production and enhanced energy, Thorne Amino Complex helps decrease fat synthesis, improves redox status and produces mitochondrial biogenesis (energy).
Like all products, it is best to consult with a health professional before starting a new supplement protocol. Thorne BCAA, although higher quality, can lead to the following side effects; fatigue, decreased control over motor functions, bloating.
---
2. Crazy Nutrition
Crazy Nutrition offers a BCAA product called Intensive Pre-Train, which is a top rated supplement packed with 19 key ingredients. Pre-train, Crazy Nutrition's BCAA solution, offers a concentrated product with the benefits of improved energy, focus, and muscle strength.
Coming in with three unique flavors, Crazy Nutrition offers the best tasting BCAA on the market. This vegetarian formulated product contains a smooth energy to ensure there is no crash afterwards like most competitors loading their products with caffeine. Crazy Nutrition also uses piperine (pepper) for better absorption, further enhancing it's efficacy.
While Crazy Nutrition costs $60 for a single tub containing 20 servings, there is no other product available, or cup of coffee, that'll give you the amount of energy and focus. For under $3 per scoop, Crazy Nutrition offers the most effective product, even more effective than Thorne.
Although Crazy Nutrition BCAA supplement tastes the best and provides the most, you'll want to check the ingredients before purchasing. If you need a clean product, stick with Thorne. If you don't mind an ingredient such as sucralose (sweetener), then Crazy Nutrition is worth considering.
Like all BCAA products, side effects include bloating, nausea and reduced coordination. So, be sure to consult with a professional before consuming.
---
3. Transparent Labs
Transparent Labs BCAA Glutamine product is the best budget option when it comes to BCAA. While there are cheaper options available, Transparent Labs provides the perfect solution between price and quality.
The benefits of Transparent Labs BCAA Glutamine include faster recovery times, improved performance and increased focus and energy. Each scoop contains the recommended amount of BCAAs and the product is clean with no artificial sweeteners, coloring or preservatives.
Coming in with five unique flavors, Transparent Labs offers the best rated BCAA product for just under $1 per serving if you choose a subscription. There is also a money back guarantee and if you bundle with other products, you save more.
Side effects of using Transparent Labs BCAA Glutamine include loss in coordination, bloating, and dizziness. If you are uncertain of taking a BCAA supplement, consult with a professional beforehand.
---
4. Xtend
Xtend is a basic BCAA powder that comes in various flavors, including blue raspberry ice and knockout fruit punch. The Xtend BCAA powders hydrate, repair muscles, and aid in recovery during the post-workout phases.
A few benefits that come from taking Xtend BCAA powder include rehydration, muscle growth, or hypertrophy, it contains zero sugars, and it is a good source of potassium.
Some side effects may include loss of coordination and sudden fatigue. Therefore, do not use it while operating a motor vehicle or other activities that require motor coordination. Some people also report headaches due to the artificial sweeteners used within the product.
Xtend BCAA is a quality supplement with above-average customer reviews. However, while it is generally helpful for the gym, it is not the most potent BCAA supplement for muscle building.
Still, you can purchase Xtend BCAA for only $27.99, or subscribe for regular deliveries. The standard subscription price is $19.59.
5. AminoLean
AminoLean is an energy-boosting pre-workout powder that features 30 total servings per container and is gluten-free. The powder contains essential amino acids as well as natural caffeine.
Taking AminoLean will affect your energy levels, giving you the necessary boost that you need before a workout. It also helps with weight management, curbing your appetite with natural ingredients. It can also improve your mental focus, similarly to creatine and nootropics.
The AminoLean BCAA supplement variations for women, and men, are loaded with nutrients and vitamins that give one an energy boost without the crash.
Some side effects may result from taking AminoLean, such as stomach pain and bloating. While it may help weight management, it is not highly effective for strict weight loss plans. Also, if you have a high caffeine tolerance, you may not feel the effects since AminoLean has low caffeine amounts.
AminoLean is a pre-workout designed for consumption at least 30 minutes before your gym session, but you may also use it to replace morning coffee or as an afternoon pick-me-up. Some important things to keep in mind about AminoLean are as follows.
It's keto-friendly
It contains no sugar
The weight management ingredients include CLA, L-Carnitine, and green tea
It helps build lean muscle
Zero carbs
You can order different sizes, but the standard 9.52-ounce container costs $21.97 for a one-time purchase or $19.77 for a subscription.
6. Alpha Amino
Alpha Amino is a performance-enhancing BCAA supplement powder with 30 servings per container and is one of the best amino acid supplements.
Taking Alpha Amino improves your performance and mental focus in the gym. Created by the leading pre-workout brand in America, Alpha Amino combines 14 essential amino acids to support your recovery and performance.
This BCAA supplement adds necessary energy to your routine without any caffeine. The natural energy boost comes from the unique blend of 14 different amino acids.
Some side effects may result from taking Alpha Amino. The supplement contains some sucralose, which may cause adverse reactions in some adults.
There are some essential things to keep in mind when taking Alpha Amino.
It's loaded with electrolytes
Icy blue razz flavor is available
5 grams of BCAAs per serving
Zero sugar
Zero carbs
Zero calories
Never take more than four servings per day. You should take Alpha Amino during your workout for the best results.
For a one-time purchase, you can purchase Alpha Amino for $27.94. If you sign up for a subscription, you only pay $26.54.
7. Genius BCAA
Genius BCAA is a serving of essential amino acids that improve muscle growth and build cerebral strength.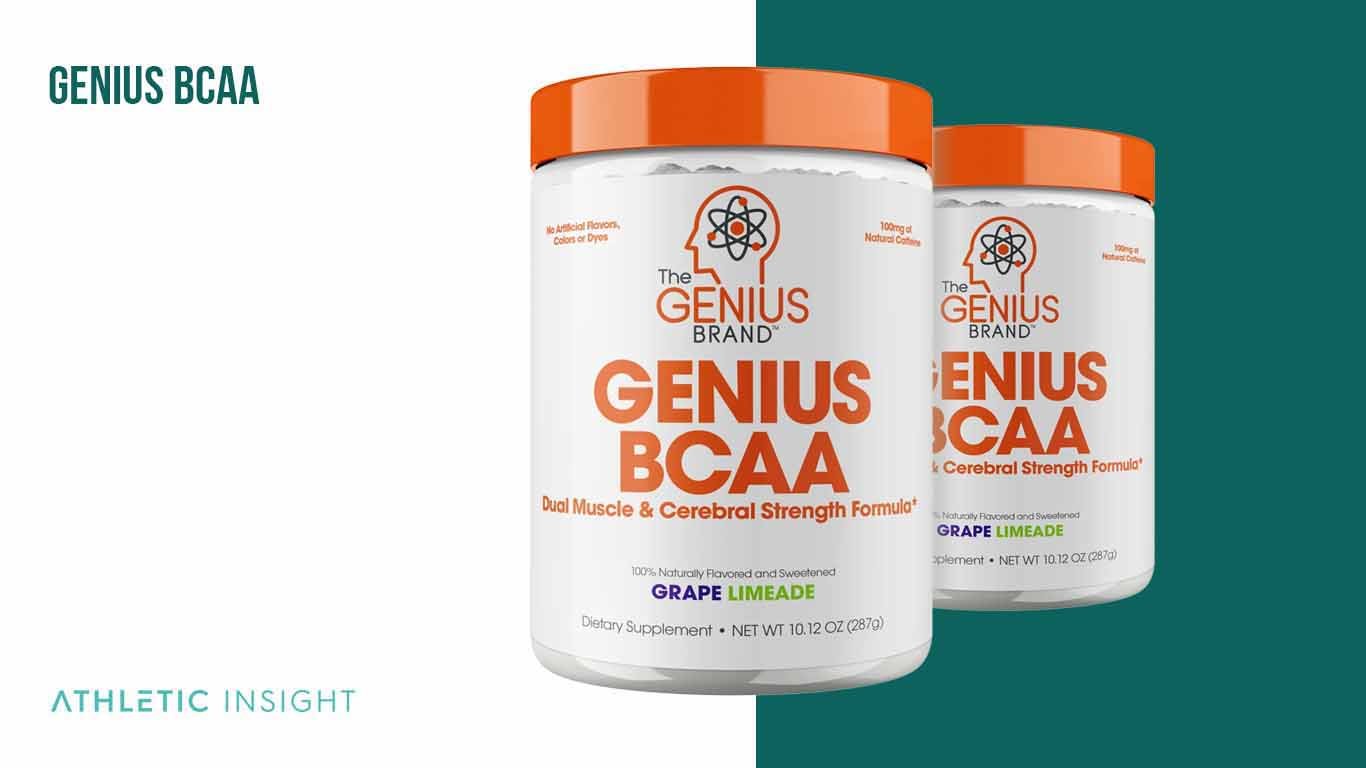 Taking Genius BCAA will give you the boost you need to get through a challenging workout. You can take this BCAA supplement or stack it with other performance-enhancing supplements.
You can get a healthy dose of essential vitamins and minerals when taking Genius BCAA. With the performance-supporting Rhodiola Rosea and taurine, you can improve your focus daily.
Some side effects may result from taking Genius BCAA. WIth 100mg of natural caffeine in every serving, you may experience caffeine jitters or an increased heart rate. Genius BCAA may not be your best option if you have caffeine sensitivity.
Genius BCAA designers had versatility in mind when they crafted the unique formula. You can take the supplement in the morning, right before you go to the gym, or later in the afternoon when you need a little extra energy.
Some important things to keep in mind about Genius BCAA.
Accelerates recovery with L-Glutamine
Reduces soreness
Enhances mental clarity with nootropics
Helps overall performance
You can make a one-time purchase of Genius BCAA for $34.99. Or you can sign up for the subscription option and pay $27.99.
8. Naked BCAAs
If you need a vegan option for your BCAA supplement, consider Naked BCAAs. With approximately 100 servings in a container, Naked BCAA is the unflavored supplement to boost your performance with premium vegan ingredients.
Using Naked BCAAs aids in workout recovery and performance. The carefully crafted formula utilizes a unique recipe for optimal results.
You can build lean muscle more easily with Naked BCAAs. It can also help your body increase protein synthesis with some of the industry's most effective amino acid combinations.
Some issues with taking Naked BCAAs include the following.
Unpleasant smell
Confusing scoop size
Chalky texture
Naked BCAAs contain the highest pharmaceutical-grade supplements available, boasting rapid absorption. With the essential amino acids leucine, isoleucine, and valine, this BCAA supplement formula is for men and women.
Naked BCAAs is a vegan supplement option that is non-GMO and soy-free. With 5 grams of BCAAs per serving, this supplement has zero carbs and calories. No artificial sweeteners are added, and the supplement contains zero caffeine.
For a one-time purchase of Naked BCAAs, you will pay $34.99. For a subscription, you will pay $33.24.
9. Nutricost BCAA Powder
Nutricost BCAA Powder is a carefully ratioed supplement designed for muscle growth and faster recovery after an extended time at the gym. With six grams of BCAA per serving, users of Nutricost benefit from necessary amino acids in a concentrated dose.
Using Nutricost BCAAs aids in workout recovery and performance outside of the gym. You can supplement your morning coffee with this powder for more mental clarity and focus throughout the day. Regular use of the supplement can also help with steady improvements in the gym.
Nutricost BCAA comes in various flavors that most other BCAA supplements don't offer. You can find it in grape, pineapple, watermelon, raspberry lemonade, strawberry kiwi, or unflavored.
There are some potential issues to be aware of when using Nutricost BCAA Powder.
Not suitable for individuals younger than 18
Pregnant or nursing women should avoid the supplement
Be cautious when using in conjunction with prescription medication
Some flavors contain food coloring
The BCAA powder from Nutricost is filled with high-quality amino acids in every scoop. The blend is optimized to produce the best results possible, and the supplement is third-party tested to ensure quality control.
With Nutricost, you don't have to worry about GMOs sneaking into your supplements. The powder is also vegetarian and gluten-free.
For a one-time purchase of Nutricost BCAA Powder, you will pay $23.95. For a subscription, you will pay $22.75.
10. MusclePharm BCAA Essentials
MusclePharm BCAA Essentials is an optimized branched-chain amino acid complex that gives your body refueling and hydration. For proper recovery from the gym and everyday life, MusclePharm is an effective solution.
Using MusclePharm aids in workout recovery, performance, and steady improvements in the gym. With a specialized blend of essential amino acids, this supplement is unique from other options available on the market.
MusclePharm offers unique benefits, such as the following.
Supports lean mass growth
Reduces muscle breakdown
Increases protein synthesis
There are some potential issues to be aware of when using MusclePharm BCAA Essentials.
Do not exceed the daily recommended dose
Not suitable for children
Could contain trace elements of common allergens
MusclePharm is processed in a facility that processes milk, eggs, soybeans, fish, tree nuts, peanuts, and shellfish. Use caution if you have an allergy of any kind.
You should take your MusclePharm at least 30 minutes before a workout for optimal results. You can also take it immediately after your workout.
To purchase MusclePharm, you will pay $15.99.
11. BCAA5000
BCAA5000 is a super-dose supplement designed for expediting muscle growth and improving recovery times within the first few uses. So if you want to build lean muscle, using BCAA5000 will help you reach your goals.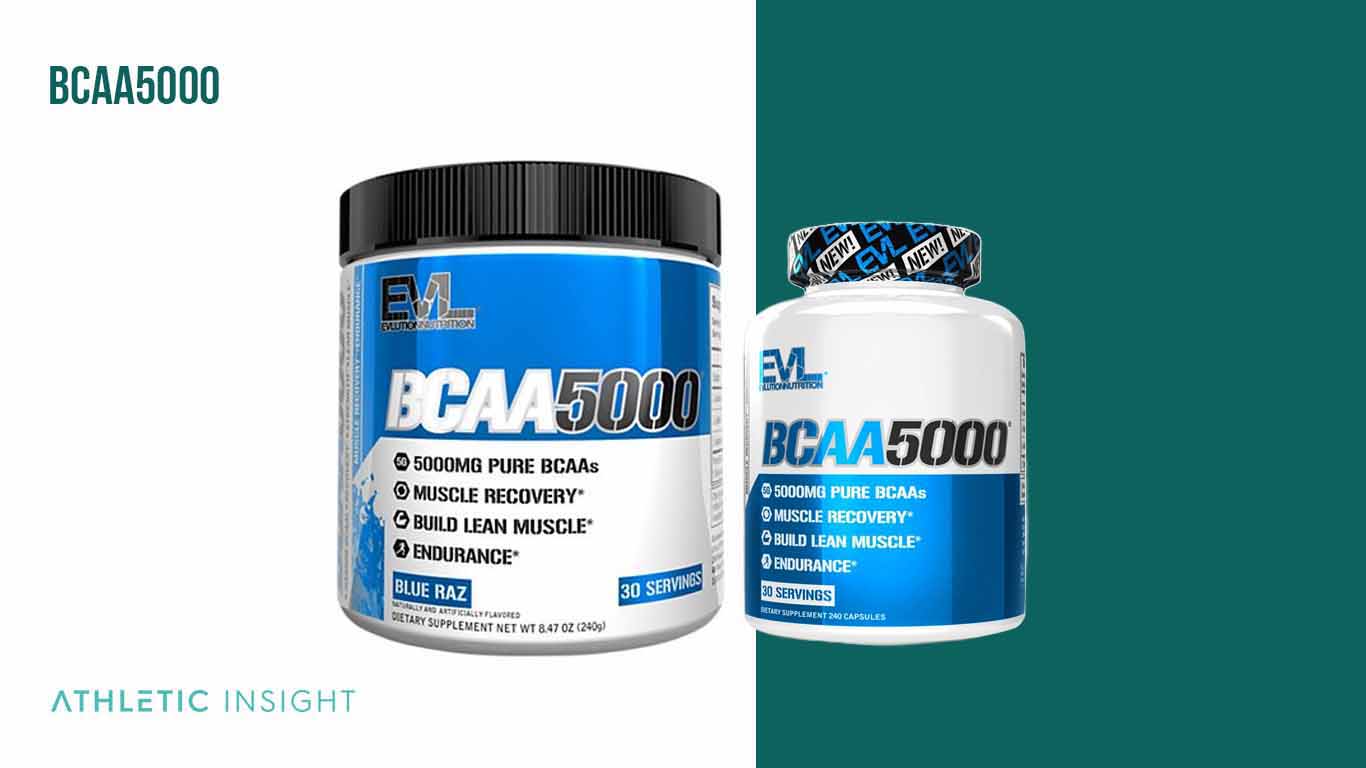 BCAA5000 has a unique focus on endurance. Not all BCAA supplements supply customers with enough power to build endurance. That's what sets BCAA5000 apart.
This supplement powder is completely stimulant-free, gluten-free, and sugar-free.
One of the critical features that BCAA5000 provides is protection against muscular breakdown and fatigue. This supplement is clean, but it also has an excellent flavor that helps make taking it more enjoyable.
There are some potential issues to be aware of when using BCAA5000.
The powerful supplement could be too potent for some adults
Not to be used by those with pre-existing medical conditions
Not suitable for children
Could cause dizziness or fatigue
BCAA5000 is a powerful supplement that works to improve performance in every aspect of life. When taken as a pre-workout, it boosts performance in the gym. In addition, it aids in rapid muscle growth and recovery when taken after a workout.
For a one-time purchase of BCAA5000, you will pay $21.99. For a subscription, you will pay $19.79.
12. ON Instantized BCAA
ON Instantized BCAA is a keto-friendly branched-chain amino acid supplement for muscle growth and recovery. The supplement supports muscle growth in the gym, giving you more recognizable results with prolonged use.
Using the ON Instantized BCAA supplement also aids in workout recovery. The unique formula gives your muscles the energy they need to recover faster, which helps with better performance and endurance.
ON Instantized BCAA comes in three primary flavors, although the most popular unflavored option. The Instantized process means it easily mixes into water, juice, or your favorite post-workout shake.
There are some potential issues to be aware of when you're using ON Instantized BCAA.
May cause dizziness
May cause occasional fatigue
Not suitable for anyone under 18
Not ideal for women who are nursing or pregnant
ON Instantized BCAA is best used as a pre-workout, helping your muscles work harder and less fatigue during a gym session.
For a one-time purchase of ON Instantized BCAA, you will pay $34.99. For a subscription, you will pay $33.24.
13. Huge BCAA – Best BCAA Powder
If you want to find the best BCAA powder for muscle growth and recovery, you should consider Huge BCAA. The Huge BCAA supplement comes loaded with the best amino acid blend available, and every scoop contains nearly 15 grams.
The main benefits of using Huge BCAA include the following.
Faster muscle growth
Improved lean muscle mass development
Better post-workout recovery
Less muscle fatigue
This supplement contains high-quality ingredients like L-Glutamine and coconut water powder. These all work together to create a more effective supplement experience.
You can even stack Huge BCAA with other supplements. The best option is using Huge BCAA as a pre-workout, but it can also be used as a post workout if you'd prefer.
Some side effects from using Huge BCAA may include dizziness or headache. If you experience prolonged fatigue, you should stop using it immediately.
You can order Huge BCAA for $39.99. You may also choose the option of four interest-free payments of $10.
What is the Best Form of BCAA for Muscle Gain?
The best form of BCAA for muscle gain is the powder form because it allows you to get all the necessary amino acids in one or two scoops. Taking BCAA in other forms, such as pills, requires a much higher dosage.
What Are the Best BCAA for Muscle Gain for Women?
The best BCAA for women is the Thorne BCAA supplement. These supplements are more geared toward a woman's physique, allowing steady muscle growth without causing damage or fatigue. Taking BCAAs is highly recommended, and it is one of the best muscle gain supplements for women to take.
What Are the Best BCAA for Muscle Gain for Men?
The best BCAA for men is Crazy Nutrition BCAA. Crazy Nutrition BCAA delivers a hefty dose of BCAAs that are critical for muscle growth and recovery in men. It also helps with mental clarity, focus, and the prevention of muscle deterioration. 
What Is the Difference Between HMB and BCAA?
The main difference between BCAA and HMB is their role in muscle development. BCAAs focus primarily on increasing muscle protein synthesis. HMBs work differently, mainly preventing muscle breakdown.