Nutrisystem is a meal-delivery program focusing on portion control, low glycemic index meals, and balanced nutrition. It provides a convenient, prepackaged meal plan that eliminates the guesswork regarding healthy eating. Nutrisystem is a flexible program that works for both men and women, and you can tailor it to your specific health needs.
Nutrisystem helps you reach your weight loss goals and create healthy habits as you will learn how to make healthier food choices and plan out meals. Nutrisystem also takes care of the cooking, calorie counting, and portion control so that you don't have to.
Nutrisystem
Prepackaged Meals
Increased Weight Loss
Better Overall Health
Nutrisystem offers a wide variety of meals, snacks, and desserts that are tasty but still nutritious. They also have an online community with direct access to dietitians and counselors who can offer guidance on creating a healthy lifestyle.
This article will discuss Nutrisystem's meal plan in detail and give you the knowledge to start it yourself if it's right for you. This article covers meals and snacks, nutrition content, pricing, delivery options, pros and cons, and more. It is crucial to understand Nutrisystem in its entirety before making an informed decision on whether it will help you reach your diet goals.
What Is a Nutrisystem Diet?
The Nutrisystem diet is a 28-day program that delivers prepackaged meals and snacks to your home. Nutrisystem is designed for anyone looking to lose weight and eat healthier. Nutrisystem meals contain balanced nutrition with the right amount of proteins and healthy fats. It also offers snacks and desserts to keep you satisfied between meals.
Nutrisystem's meals and snacks are designed to keep you full and energized throughout the day. Each meal minimizes cravings and helps you avoid the temptation of snacking to stay in a caloric deficit. This diet plan cuts down on the mental strain of meal prepping, leading to an easier transition.
Each meal prioritizes lean protein and carbohydrates with a low glycemic index rating. Carbohydrates that score low on the glycemic index include whole grains and non-starchy vegetables like carrots, squash, and lettuce.
The benefits of low glycemic index carbs are that they are digested more slowly, meaning that you won't experience a sudden spike in blood sugar. Nutrisystem meals also contain plenty of dietary fiber to keep you feeling fuller for longer.
Nutrisystem meals are low in sodium, and many have fewer than 500 calories per meal, making Nutrisystem an excellent choice for anyone trying to lose weight or manage their diabetes. Nutrisystem also offers vegetarian and diabetic options tailored to specific dietary needs.
How Does Nutrisystem Diet Work?
The Nutrisystem Diet works like all other weight-loss diets, it puts your body in a caloric deficit and encourages you to burn the excess fat stored in your body. Nutrisystem's meal plan provides a wide variety of meals and snacks that adhere to a low-calorie diet while providing adequate nutrition and foods that help feel full and avoid cravings. Unlike crash diets, the Nutrisystem diet only uses a slight caloric deficit which means you can sustain this diet for long periods.
One of the most common reasons people fail on diets is because they start eating things that are not allowed or overeat. Nutrisystem prepackages all their meals to prevent this from happening, so you don't have to worry about shopping or cooking. Additionally, you are allowed to eat six small meals per day. Eating frequently helps reduce cravings and keeps you in a caloric deficit.
You can only eat Nutrisystem meals during the first week of the diet. This week will enable you to build healthy habits and introduce the proper portions you should follow to complete the diet successfully. During the first week, you should also eat four low-glycemic vegetables and drink at least half a gallon of water.
During this first week, you will notice your body starts to change. You will experience hunger pains because you are at a caloric deficit. Additionally, you have lower energy levels. Nutrisystem recommends adding energy-boosting snacks such as fruit and nuts to keep you energized throughout the day.
After the first week, you can continue to purchase Nutrisystem meals, or you can implement what you learned and do your shopping and cooking. Nutrisystem recommends that your diet consists of lean proteins, vegetables, and carbs. You are allowed to eat three servings of lean proteins, one to two servings of carbs, and at least four servings of non-starchy vegetables per day.
Additionally, you are encouraged to limit or cut out all high-calorie condiments, alcohol, and sweets for the duration of your diet.
What Are the Health Benefits of the Nutrisystem Diet?
There are numerous health benefits of the Nutrisystem diet such as improved blood sugar levels, improved blood pressure, improved cholesterol levels, weight loss, better nutrition and portion control, and improved energy levels.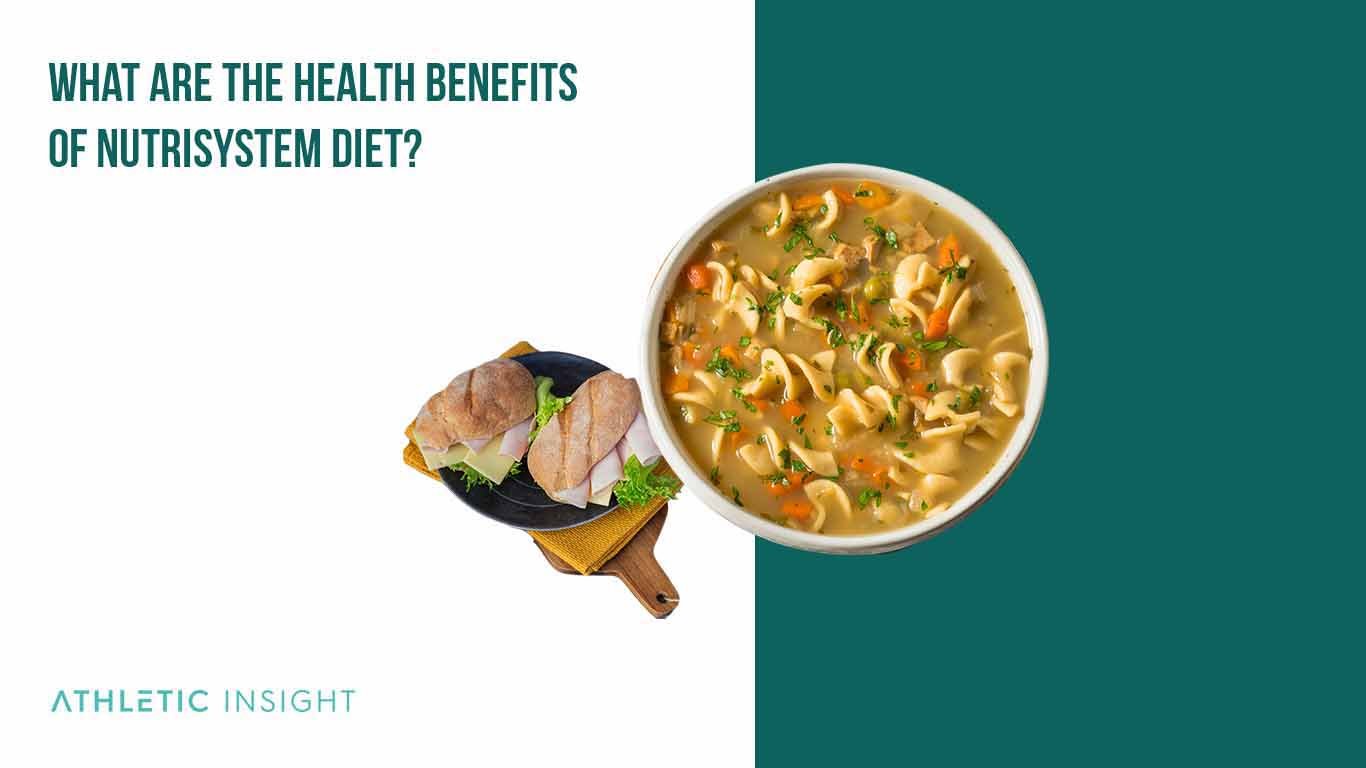 Improve blood sugar, blood pressure, and good cholesterol levels: With the Nutrisystem diet, you can maintain your blood sugar levels and prevent diabetes from occurring. Plus, its products are low in fat and contain no trans fats, making it beneficial for those wanting to keep their cholesterol levels balanced.
Losing weight: The Nutrisystem diet is a simple, effective way to shed those unwanted pounds quickly. With low-calorie meals and snacks delivered straight to your door, you'll find it easier than ever to stick with the program and maintain an energy deficit that will help you lose weight fast.
Better nutrition and portion control: Nutrisystem is an ideal diet plan that teaches you how to control your portion sizes and make healthy nutrition decisions. One of the most challenging parts of managing weight is recognizing proper portions, but Nutrisystem helps take the guesswork out!
Improving energy levels: Reinvigorating your body with the vital nutrients it needs, Nutrisystem diet shakes come with nourishing fats, fiber, and protein. Not just that, but they'll also help you maintain energy throughout the day! Additionally, snacks provided by this system are also rich in fiber to keep those vitality levels high.
What Are the Health Risks of the Nutrisystem Diet?
Despite the benefits, some health risks are associated with the Nutrisystem diet.
Feelings of deprivation: The Nutrisystem diet is beneficial, yet there are challenges to be aware of. When one consumes fewer calories than their body requires for extended periods, deprivation can occur, which leads to overeating once the program ends.
Low energy: If you don't take the time to supplement your Nutrisystem diet with regular meals or engage in physical activity, your calorie intake will be too low, causing a drop in energy levels. Low energy levels are crucial to consuming enough calories while following this program and staying active.
How to Do Nutrisystem Diet?
You can start the Nutrisystem Diet by following these steps.
Step 1: Choose your plan – Nutrisystem offers many different plans, so you can choose the one that best fits your lifestyle.
Step 2: Order Nutrisystem meals – Nutrisystem offers a wide selection of delicious, pre-made meals delivered straight to your door.
Step 3: Create Nutrisystem meals – Nutrisystem also allows you to create meals by shopping for healthy groceries.
Step 4: Follow Nutrisystem guidelines – Nutrisystem provides portion control, healthy snacks, and meal timing guidelines. Follow these instructions to ensure you stay on track with your Nutrisystem diet.
Step 5: Stay active – Exercise is an integral part of any healthy lifestyle, and Nutrisystem encourages you to stay active throughout the program.
Step 6: Reward yourself – Nutrisystem allows you to reward yourself after achieving your goals. You can treat yourself to a Nutrisystem snack or dessert once in a while to satisfy your cravings.
Nutrisystem recommends that the caloric intake be around 1200 to 1500 calories per day. Nutrisystem meals should make up most of your diet intake, with the rest coming from healthy snacks and meals.
You should follow the Nutrisystem diet for a minimum of two weeks, but Nutrisystem suggests that you can continue it for as long as it takes to reach your desired weight. You should consult your doctor before beginning any diet.
It would be best if you also were mindful of any other food consumed throughout the day. Nutrisystem encourages you to have an extra snack or fruit and drink plenty of water throughout the day.
In addition to closely following the caloric restrictions, you should also exercise regularly. Nutrisystem recommends at least 30 minutes of exercise every day. Finally, removing any other foods from your residence helps you avoid temptation.
Nutrisystem
Prepackaged Meals
Increased Weight Loss
Better Overall Health
What Foods to Eat on Nutrisystem Diet
One of the best parts of this diet is that you can eat a wide range of food.
Lean protein: Nutrisystem encourages you to have lean protein such as chicken, fish, and eggs.
Whole grains: You can eat whole grains such as brown rice and quinoa.
Low-fat dairy: Low-fat dairy products are a great way to manage cravings.
High-fiber carbs: Nutrisystem encourages you to eat healthy, high-fiber carbs like fruits and vegetables.
Fruits and vegetables: While on this diet, you can eat as many fresh fruits and vegetables as you like.
What Foods to Avoid on Nutrisystem Diet
There are several foods you must avoid while on this diet.
Candy: Avoiding candy is essential to maintain healthy eating habits.
Baked Goods: While completing this diet, you must refrain from eating baked goods since they are high in calories and won't keep you satiated.
Processed Snacks: Processed snacks are another type of food that can quickly boost your calorie intake, and you should avoid them.
Who Should Do Nutrisystem Diet?
The primary reason people begin following the Nutrisystem diet is that they are interested in losing weight and building a healthy lifestyle that will help them sustain weight loss.
People choose Nutrisystem if they have a busy lifestyle with no time to prepare fresh meals. Nutrisystem also provides a convenient way to control portion sizes and daily caloric intake. Nutrisystem is also often prescribed as a dieting option for medical issues like diabetes.
Anyone can benefit from doing the Nutrisystem Diet. However, two groups of people help even more from this program. The Ntruisysttem bodybuilding diet is an excellent choice for bodybuilders looking to shed excess fat and lower their body fat percentage. Nutrisystem is also a perfect option for people looking to make healthier lifestyle choices and manage medical conditions such as diabetes.
What circumstances lead people to follow the Nutrisystem Diet?
The most common circumstance that leads people to follow this diet is a failure with previous diets and the desire to lose weight without giving up carbs.
Who are the people who need to do a Nutrisystem Diet?
Nutrisystem is suitable for people of all ages, genders, and body types. Nutrisystem also provides specialized plans for those with diabetes or who are bodybuilding. Nutrisystem also has programs specifically designed for people with diabetes, vegetarians, and bodybuilders.
What Are the Best Recipes for Nutrisystem Diet?
These are some of the best recipes you can use when making your meals.
3-Step Banana Pudding: This easy recipe only takes three simple steps to prepare and will satisfy your cravings for a sweet treat.
Roasted Asparagus: Roasting asparagus provides a flavorful and easy side dish.
Skinny Stuffed Peppers: To avoid carbs, you need to get creative, and this stuffed pepper recipe is a great way to get in your vegetables in a tasty way.
Beetroot and Halloumi Salad: This delicious and Nutrisystem-friendly salad is crunchy, tasty, and full of flavor.
Skinny Chicken Teriyaki: This easy-to-follow recipe has only five ingredients and is a great, healthy way to get more lean protein in your diet.
What Is a Sample Nutrisystem Diet Plan?
This example is what you can expect during the program's first week. Take a look at our Nutrisystem diet plan menu sample.
Day 1: Nutrisystem breakfast sandwich, mixed nuts; apples; Nutrisystem creamy vegetable soup, side salad; Nutrisystem pretzels; Nutrisystem chicken pizza; Nutrisystem chocolate ice cream
Day 2: Nutrisystem berry oatmeal; low-fat yogurt; grilled chicken sandwich, pear; low-fat string cheese; Nutrisystem braised beef with vegetables
What Are the Facts About Nutrisystem Diet?
There are some critical facts you should know about the Nutrisystem Diet, including how long it is, how effective the diet is, how you can customize it, some of the famous people who used it, and the deserts included in the diet.
Length of the Program: Nutrisystem is a 4-week program. You can achieve significant results in this time period. However, you can repeat the 4-week program as many times as you would like to meet your weight loss goals.
The Efficacy of the Diet: Nutrisystem is an effective way to lose weight, as evidenced by clinical trials and user testimonials. Nutrisystem can help you reach your weight loss goals quickly and easily.
Customize Nutrisystem: The Nutrisystem diet can be tailored to meet your specific dietary needs. Nutrisystem offers plans for vegetarians, people with diabetes, and unique nutritional needs.
Famous People Use Nutrisystem: Many famous people endorse Nutrisystem, including Melissa Joan Hart, Marie Osmond, and the late Dan Marino. Nutrisystem is an effective weight loss program that has helped many famous people reach their health and fitness goals.
Nutrisystem Deserts: You can enjoy Nutrisystem ice cream treats while on Nutrisystem. Nutrisystem has a wide selection of delicious frozen desserts low in calories and fat. Nutrisystem ice cream treats are a delightful way to satisfy your sweet tooth while staying on track with your weight loss goals.
How Long Should You Be on a Nutrisystem Diet Program?
You should stay on the Nutrisystem diet for at least a week or two to experience the full benefits. You can follow it for up to four weeks to reach your target weight.
How Much Does a Nutrisystem Diet Cost?
The Nutrisystem diet is relatively affordable. A month of meals can cost between $300-495 dollars, and shipping is free!
Is Nutrisystem Diet a Cheap Diet Plan?
Yes, the Nutrisystem Diet is an affordable and cost-effective diet plan and meal delivery service. Nutrisystem is one of the most affordable options for a comprehensive weight loss plan, and there are also some affordable meal-replacement options.
Is Nutrisystem Diet Considered a Healthy Diet?
Yes, the Nutrisystem diet is healthy. You get all the nutrients and vitamins your body needs to stay healthy. Nutrisystem meals are naturally low in saturated fat and cholesterol, high in fiber, and contain no trans fats. Nutrisystem is also approved by the American Diabetes Association and the American Heart Association, making it a safe and effective diet plan for many health conditions.
Can You Drink Soda While on a Nutrisystem Diet?
No, it would be best if you did not drink soda while on the Nutrisystem Diet. The high number of calories takes you out of a caloric deficit.
Nutrisystem
Prepackaged Meals
Increased Weight Loss
Better Overall Health