The Dukan Diet is a multi-phase weight loss diet developed by French doctor and nutritionist Pierre Dukan that focuses on high-protein, low-fat foods, and light exercise. This diet can help people lose weight, manage their blood sugar, and learn new ways of eating and managing their relationship with food. The diet works by cutting down on calories, fats, and sodium.
While there are no other versions of the Dukan Diet, there are adaptations to the diet to make it suitable for vegetarians, vegans, and those who are lactose intolerant. You can download Dukan Diet PDFs online for the original diet and its adaptations.
You may have heard of the Dukan diet as the "Jessica Simpson Dukes of Hazzard diet" or the "diet Kate Middleton recently used to slim down", but this article explores the details of the Dukan Diet, including its phases, food list, recipes, and more.
How Does the Dukan Diet Work?
The Dukan Diet works by first strictly limiting carbohydrates, then slowly reintroducing them, in moderation, over time. It also cuts down fats, sodium, and processed foods. The Dukan Diet is important because it is ketogenic, which keeps your body burning fat for energy.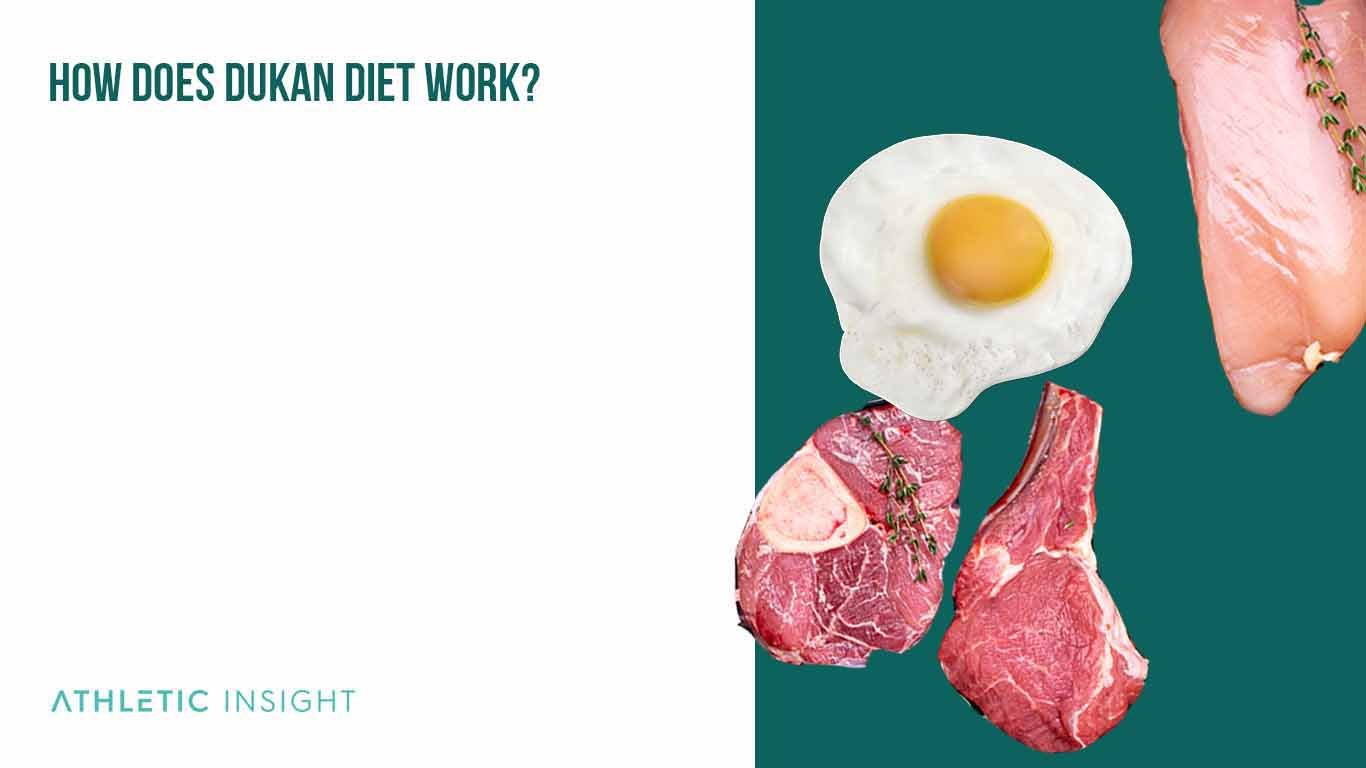 The Dukan Diet, like most diets of its type, works by restricting calories so that you lose weight at a rapid pace. But a diet doesn't do you good if you can't stick to it.
If you're hungry, you will likely snack or give up the regimen entirely. This is why the Dukan Diet focuses on protein-rich products.
Protein is great at staving off hunger and helping you feel satiated for long periods. If your body feels satisfied with your meals, you're less likely to snack on unhealthy, high-calorie foods like chips.
What Are the Phases in the Dukan Diet?
There are four unique phases of the Dunkan Diet; The Attack Phase, The Cruise Phase, The Consolidation Phase, The Stabilization Phase.
The Attack Phase
The Cruise Phase
The Consolidation Phase
The Stabilization Phase
1. The Attack Phase
This first phase of the Dukan Diet is aptly called the Attack Phase. It's the most strict phase of the diet because it allows the least variety of foods and the least number of calories. The Dukan Diet Attack Phase typically lasts between two and five days.
During this phase, you may feel a bit like a caveman! The only allowable foods are proteins like lean beef, chicken and fish, liver, reduced-fat ham, reduced-fat cheese, and egg. Besides these proteins, you can only eat 1 ½ tablespoons of oat bran.
The Oat bran is presumably a way to give you a small amount of carb energy and help you feel fuller, but it also helps fight constipation that often comes with diets that don't feature fruits and vegetables.
2. The Cruise Phase
During the Dukan Diet Cruise Phase, you can relax and add some healthy vegetables to your diet. During this leg of the diet, it's recommended that you alternate between one day of the Attack Phase, a protein-only diet, and one day of the broader Cruise diet. Some people choose to only alternate like this during the first days of the cruise phase.
The Cruise Phase lasts as long as needed to reach your weight loss goal.
3. The Consolidation Phase
During the Dukan Diet Consolidation Phase, you can introduce even more foods into your diet, including some starches. You can add bread, potatoes, cornmeal, and starchy vegetables. You may even have some fruits at this phase.
The key? Moderation! For example, you can have two slices of whole meal bread per day but only one serving of pasta or rice per week. The number jumps to two servings later in the phase.
The length of time you stay in Consolidation depends on how much weight you have lost. To calculate, multiply the number of pounds you've lost by five.
Celebration Meals are another welcome part of the Consolidation Phase. You can eat what you want (within reason) during these meals, and they're an excellent way to enjoy a little break from the diet routine or to celebrate a birthday or evening out with friends.
4. The Stabilization Phase
The Stabilization Phase of the Dukan Diet is meant to be your permanent lifestyle. During this phase, the strict rules go out the window, and you can make sensible diet choices, leaving just three to follow.
Choose your diet using the "safe foods" list from the Consolidation Phase as a guide.
Stick to "protein-only" on Thursdays
Continue consuming 3/12 Tablespoons of oat bran each day
What Are the Health Benefits of the Dukan Diet?
The Dukan Diet can help you lose weight quickly. This is essential for those struggling with obesity and obesity-related illnesses like heart disease and diabetes.
The Dukan Diet can also help boost your intake of vegetables, so you get more vitamins and minerals in your diet daily. You won't get this benefit during the first phase of the diet, which is all protein, but later on, the diet offers unlimited vegetables.
Because the Dukan Diet relies on natural foods and rejects processed convenience foods, some people who follow it report less bloating, more energy, and fewer symptoms of inflammation.
What Are the Health Risks of the Dukan Diet?
The health risks of the Dukan Diet are similar to those of other restrictive diets. People may experience nutrient deficiency, constipation, and fatigue. However, these risks apply primarily to the early phases of the diet, not the later ones.
Because the Dukan Diet is ketogenic, you may experience low blood sugar, headache, nausea, sleep disturbances, and bad breath symptoms.
You're less likely to have these problems as the diet progresses to the later phases and loosens its food restrictions.
You'll be consuming about 1,100 to 1200 calories while in the early phases of the Dukan Diet, You're meant to follow the Stabilization phase of the diet as a lifestyle permanently. The early phases have prescribed lengths.
Two to five days for phase one
Variable length for phase two (as long as it takes to reach goal weight)
Variable length of time for phase 3, depending on how much weight you lost in the first two phases.
Some practices to follow while on the Dukan Diet include staying hydrated with at least six cups of water daily and maintaining 20 minutes of physical activity per day.
How To Do a Dukan Diet
The Dukan Diet is a phased diet with a specific food list, so you must follow it closely to see results. Because of this, it's wise to shop for the foods you'll need before you begin. To start, stock up on foods for your first phase so you'll have them on hand.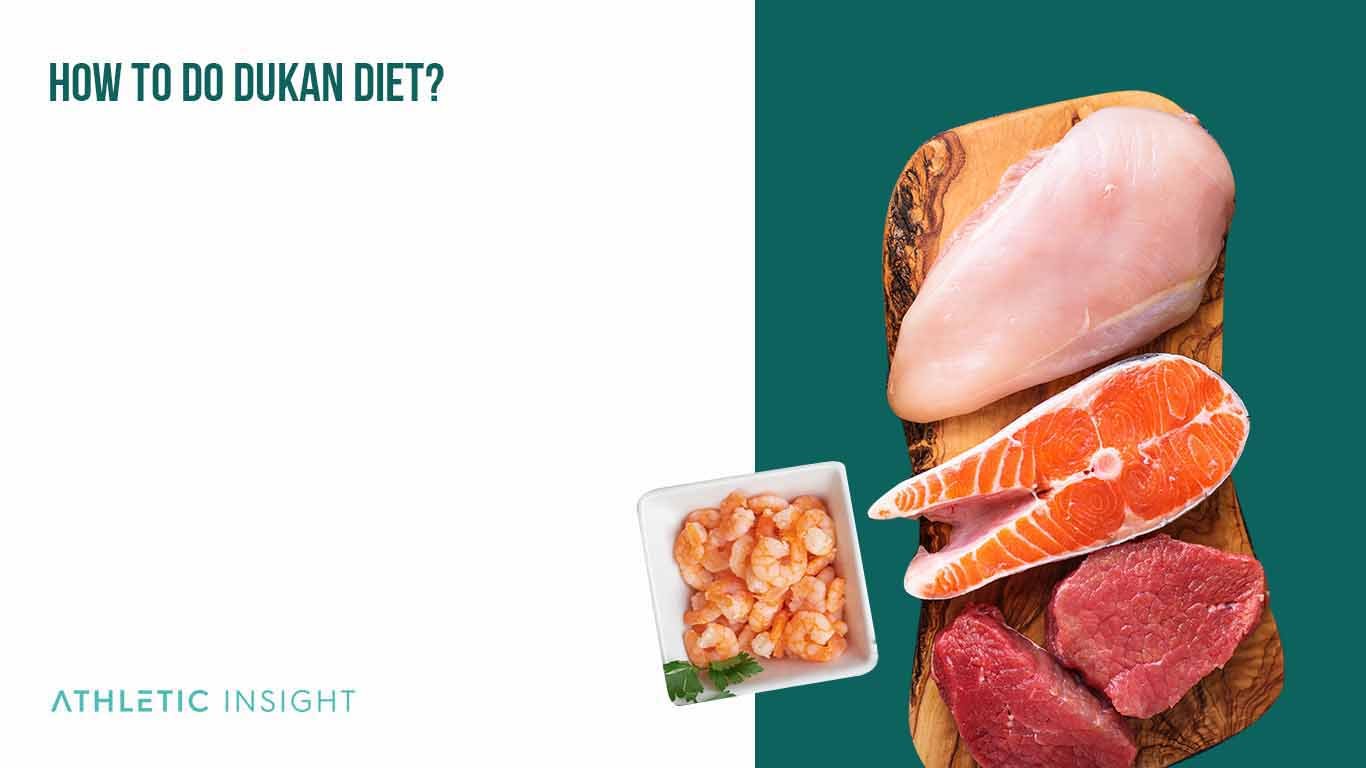 First Phase: During the first phase, you'll be eating a very limited diet. It will be low-calorie and high-protein. It's not recommended that you engage in strenuous exercise during this phase, as you may experience fatigue or lightheadedness.
Second Phase: The second phase of the Dukan Diet has more calories and options than the first, but it lasts longer, requiring more self-discipline. It's a good idea to develop some recipes that make the foods tastier.
Third Phase: The third (Consolidation) phase opens up your options a lot more. The best advice is not to let your guard down. You can eat more, but don't get lured in by old, unhealthy favorites and hijack your progress.
Fourth Phase: By the fourth phase of the diet, you should be coasting comfortably, having grown accustomed to new eating and lifestyle habits.
The diet gets easier over time as you develop new eating habits. Seeing weight loss results is a motivating factor as well. Be sure to drink plenty of water while on the Dukan Diet. This will help you feel full longer and improve your overall health.
What Are the Foods That You Can Eat While on a Dukan Diet?
A Dukan Diet goes through four phases, each allowing for different food which can be seen below.
Phase 1: Lean meats of all types, shirataki noodles, fat-free dairy products (cottage cheese, skim milk, Greek yogurt), oat bran
Phase 2: All the foods from phase 1, plus unlimited non-starchy vegetables (broccoli, mushrooms, cauliflower, cucumber, onions)
Phase 3: All the foods from phases 1 and 2, hard rind cheese, 2 slices of whole grain bread per day, 2 servings of lower-sugar fruit daily, 1 to 2 starchy foods (think rice, pasta, potatoes) per week, one or two celebration meals per week, and 3 tbsp. of oat bran daily
Phase 4: At this phase, pretty much anything you want, in moderation, as long as you stick to an all-protein day one day of the week (Thursday is suggested).
What Are the Foods That You Should Avoid While on a Dukan Diet?
You should not eat anything that's outside the prescribed menu during whatever phase of the plan you're in. Once you hit stabilization, certain foods can be reintroduced in moderation. Here are the main foods to avoid while on the Dukan Diet.
Meats: Any processed meats like bologna, bacon, and sausage
Poultry: Any type of processed poultry, such as deli-style turkey or chicken fingers
Fish & Shellfish: Any processed seafood like fish sticks or crab cakes
Meat-based Ingredients: Any processed, meat-based ingredients like whey or cholesterol
Eggs: Eggs that don't come from chickens, quails, or ducks
Dairy Products: Any type of dairy product that contains fat, such as whole milk, mozzarella cheese, cheddar cheese, and sour cream
For the diet to be as effective as possible, people should avoid these foods because they prohibit the body from inducing a starvation-like response. Similar to the Atkins diet, limiting carbohydrates forces the body to convert fat stores into energy.
Who Should Do the Dukan Diet?
The Dukan Diet Plan most benefits people looking to lose weight fast but who also want to learn better eating habits and achieve a healthier lifestyle over time.
What Are the Best Recipes for a Dukan Diet?
Below are some of the best recipes for a Dukan Diet.
1. Breakfast Crepe (Attack Phase)
Ingredients
1 Egg
4 Tablespoons Egg White
2 Tablespoons Fromage Fraiche dupe((a mixture of 50% of each of nonfat Greek yogurt and nonfat cottage cheese, pureed in a blender)
4 Tablespoons Oat Bran
1 healthy squeeze of Sriracha (Thai hot chili sauce)
Salt and Pepper, to taste
2 Drops Olive Oil
Instructions
Put oat bran in a bowl, add non-fat Fromage and one egg. Mix all the ingredients thoroughly and pour onto a non-stick pan that has been greased beforehand with a few drops of oil, then wipe with kitchen paper. Cook for 2-3 minutes on each side. Makes one serving/pancake
2. Steamed Shrimp Cajun Style
Ingredients
1 pound 26-30 count shrimp
1 cup water
Juice of 1 lemon
1 tbsp Old Bay seasoning
1/2 tablespoon paprika
1 tablespoon celery salt
1/2 tablespoon salt
1/2 tablespoon cayenne pepper
1/2 teaspoon ground ginger
1/2 tbsp garlic powder
Instructions
Using a medium pot, combine the water, lemon juice, and spices to a boil. Once it is boiling, add the shrimp and turn it down to a simmer. Cover the pot and cook the shrimp until it is opaque or about 4-6 minutes. The shrimp should be cooked through and pink.
What Is a Sample Dukan Diet Plan?
The meal plans depend on which phase you're in which can be seen below.
1. Attack Phase: The first phase of the Dukan Diet is the Attack Phase. Below are diet examples for breakfast, lunch, and dinner.
Breakfast: Warm drink, Low-fat cottage cheese, Two slices of grilled chicken breast, Low-fat yogurt
Lunch: Lean sliced steak with seasoning, Cinnamon Oat Bran Pancake (snack)
Dinner: Garlic Tiger Prawns, Garlic chicken slices
2. Cruise Phase: Next, look at a sample meal plan that works for Cruise Phase.
Breakfast: Scrambled eggs, Low-fat cheese and tomato
Lunch: Tuna patties, Vegetable salad
Snack: Oat Bran Porridge
Dinner: Barbecue Chicken, Steamed zucchini, Carrots with lemon pepper
3. Consolidation Phase: Next up is the Consolidation Phase.
Breakfast: 1 hard-boiled egg, A slice of hard cheese, Apple, one slice of whole-grain toast
Lunch: Chef salad with low-fat dressing 
Snack: Greek yogurt parfait with berries
Dinner: Grilled salmon, Sauteed spinach with garlic, One serving of brown rice
4. Stabilization Phase: During this phase, there are no specific meal plans. You can get creative and find yummy recipes wherever you like, as long as you stick to the three main rules. 
What Are the Facts About the Dukan Diet?
The Dukan Diet doesn't involve counting calories. This takes some of the hassles out of your daily meals.
The Dukan diet isn't the best choice for vegetarians or vegans. This diet is very meat-heavy, and trying to swap in plant-based alternatives like beans can lead to you exceeding the allowable carbohydrate limit. However, there are adaptations that make it possible.
Exercise on the Dukan Diet involves a 20-minute daily walk, but you can substitute it for whatever comparable activity you prefer. Add exercise sometime after the first phase.
The Dukan diet starts restrictive but is scaled to become increasingly freer as you modify your lifestyle and learn new habits. The ultimate goal is to have a normal, healthy relationship with food.
Can I exercise on the Dukan Diet?
Yes, you can exercise while on the Dukan diet and it is encouraged. During the Attack phase, aim for 20 minutes of brisk walking per day and then increase to 30-60 minutes in the Cruise phase.
What is a Pure Protein Day in the Dukan Diet?
A "pure protein" day is a day when only lean proteins are consumed, along with 1.5-2 tablespoons of oat bran and 1.5 liters of water. When considering a protein source, go with the option that is most lean.
How is the Dukan Diet different from the Atkins Diet?
Both the Dukan diet and the Atkins diet have many similarities such as being low-carb and high-protein diets. However, the Dukan Diet is lower in fat and has a more structured plan with specific phases and rules.
Can vegetarians follow the Dukan Diet?
Yes, vegetarians can follow a modified version of the Dukan Diet, where protein sources can include tofu, seitan, tempeh, and other plant-based protein products. It will be more challenging due to the high emphasis on animal proteins in the traditional Dukan Diet. For that reason, a vegetarian should stick with a vegetarian diet instead.
What is the role of Oat Bran in the Dukan Diet?
Oat bran is included in the Dukan Diet because it's a good source of fiber, which can help to keep you feeling full. It's also believed to have other health benefits, such as lowering cholesterol and aiding in digestion.
Is the Dukan Diet sustainable for long term dieting?
Yes, the Dukan diet is sustainable for long term dieting. The final phase of the Dukan Diet is intended to be followed indefinitely to maintain this weight loss journey. Some people find it challenging to adhere to the diet's strict rules in the long term.